Hose Codes: The Intimacy of Stockings
Baroque Hosiery Revival, Wolford, SKIMS, and Women in Love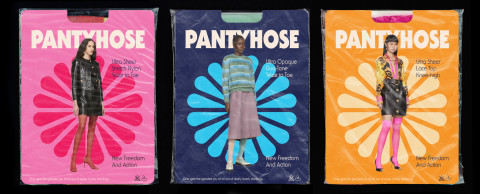 Is there a garment more simultaneously demure and salacious than a pair of tights? Presently at Gucci, legs are stained with strawberries, lacey pull-ups turned chroma-key green. Fendi plasters tights with its iconic logo, for all those who need announce a very expensive upper thigh. Marc Jacobs re-introduced two-tone tights, one leg periwinkle, the other ballet pink. At NYFW, rococo-absurdists Puppets and Puppets presented models wearing no skirts or pants, only tights hand-dyed with fermented vegetables, swirls of blue and bark, made in collaboration with Emily Dawn Long. Collina Strada, known for full body florid prints, has oversized daisies floating across their stockings. It is unclear if we should categorize such items as garments or undergarments. Are they costume? Dancewear? A private or public layer? Lingerie that goes down to your toes, but in a sexy way, as the word "pantyhose" suggests? Do they cover or reveal?
In my mother's copy of D.H. Lawrence's , a jaundiced Penguin from her twenties, there is a small inscription on the inside of the back cover, in gauzy pencil: "stockings, p. 491." The writing is so faint, it seems impossible that it has lasted forty years, like a footprint in the soil of an overgrown back garden. The book, published in 1920, is the story of two sisters, Gudrun and Ursula, and their sinuous romantic entanglements. Nearly five hundred pages in, on the precipice of Ursula's departure to get married, a "going-away-forever, never-to-return, sort of thing," her sister gives her "thick silk stockings, vermillion, cornflower blue, and grey," tucking them under her pillow. These are Vermeer colors: blood, sky, and cloud. Going away forever colors. Ursula protests, saying she can't deprive Gudrun of her "jewels," her "lambs." But no other gift would do. The sisters agree, between love, marriage, birth, and death, "one gets the greatest joy of all out of really lovely stockings."D. H. Lawrence was one of the first of the male literary canon to be critiqued by second wave feminists—Simone de Beauvoir devoted a whole chapter to him in (wryly titled, "D.H. Lawrence, or Phallic Pride")—and details like the stocking obsession were used as evidence of his women protagonists' shallow aesthetic preoccupations and attachments. Even the potential for sexual liberation is hollowed out, as the women reach orgasm by way of accessory. But in her exuberant 1975 essay, "Lorenzo, the Closet Queen," Angela Carter proposes that Lawrence's fixation on dress is not misogynistic, but his own desire funnelled through the overcooked femininity of his characters. In short, she supposes Lawrence's women are the author in drag, caked with the powder of frippery and furbelows—and it is hosiery that sparks this diverted thrill. Carter observes, "stockings, stockings, stockings, everywhere. Hermione Roddice sports coral-colored ones, Ursula canary ones. Defiant, brilliant, emphatic stockings! But never the suggestion the fabric masks, upholsters, disguises living, subversive flesh. Lawrence is a stocking man, not a leg man." The women are not written down to be simple objects of pleasure; they are simply allowed to find the pleasure in their own objects.
Often, hosiery now functions as corsetry with stirrups, after the advent of the control top. But, up until the 19th century, stockings or hose weren't particularly gendered in Europe, and functioned mostly as class signifiers, measuring wealth by the fabric used, veering between poles of delicate silk and coarse wool. Having innovated seamless stockings in the 1950s, beloved and enduring Austrian hosiery brand Wolford maintains this tradition, continuing to sell coveted cashmere silk tights for $285 a pair. When men's trousers became the norm in early 1800s England, popularized by renegade bourgeois dandies in imitation of work wear (in case you were wondering, nothing has ever been different), the uniform of masculinity transitioned permanently to pants and socks. As mass industrialization solidified, the layers of women's undergarments became democratized, communicating less about wealth and more about gendered codes of propriety, although those were obviously classed in themselves. By the 1900s, the state of one's stockings was a measure of what kind of woman you were, what kind of sex you had or wanted to have, where you were going and where you had come from.In 1912, the 21-year-old artist Egon Schiele was arrested and imprisoned on charges of "public immorality." In court, the judge took one of his nude drawings and held it over an open flame, watching the girl on paper turn to ash. After he was let out, Schiele only lived seven more years, but managed to replace the destroyed pages ten times over, drawing and re-drawing variations on the same girl, the same love scene. Within any significant selection of his many works, there is always a sub-section called "Stockings." In fact, Schiele's nudes are rarely naked. Bloomers are crushed at the ankles like a flowering tree after a big storm, blouses pulled over heads and boots still laced. Even in the most explicit works, the tights remain. There's "Nude with Blue Stockings," "Woman with Blue Stockings," "Nude with Violet Stockings," "Nude with Green Stockings" (three of those, actually), "Woman in Red Stockings," and so on. They are usually the only color streaking his notoriously pallid bodies, and the colors are vital and bright. Often, a thick ribbon knotted tight around the thigh keeps the stockings up, in lieu of garters. Like any good fetish, the erotics of these details are not flights of extravagant sexual fancy, but the flutter born from banal daily use, heightened intimate practicalities. The etiolated limb meets a rising tide of blue, which foams and gathers at the crease. In some of my favorites, the woman is drawn with her hands wrapped in the foot in the tight—not in some bondage way, but just in the way you slip your hands into tights like gloves before pulling them up over your knees.
Schiele dies at 28 in 1919, on the verge of the 1920s, a renaissance of angular limbs, visible knees. Hemlines rise, and the use of sheer rayon becomes popular for hosiery. With sheer stockings, fetish gathers around a new daily material: the seam, drawn straight up the back of the leg. Long gone are the days of canary yellow, emerald ankles; they were replaced by an invisible second skin, existing mostly to be touched, or to prevent a type of touching. Legs were dressed in a kind of sheen, a reflection of light. By 1939, when the chemical company DuPont invented nylon, cheap to produce and easy to wear, most American women were expected to wear sheer hose every day. They became so deeply integrated into women's lives that during WW2, when DuPont halted its nylon production to produce silk military parachutes, women famously painted their legs with makeup and drew seams up the back with eyeliner. The labor of femininity spirals: stockings imitate skin so much that eventually the skin must imitate stocking. Roughly eighty years later, Kim Kardashian-West in Yeezy popularizes head-to-toe outfits of skin-tight skin-tones, often wearing leggings or tights as pants. This summer, she has also launched her own shape-wear line, SKIMS, (formerly bearing the heavily criticized name, KIMONO), underwear which are largely indistinguishable from West's outerwear. Both, it seems, are meant to approximate not wearing anything at all, fabric as trompe-l'oeil flesh. Nakedness is still a moving target.In the 1960s, Mary Quant introduces the mini skirt, an experiment in exposure. Legs everywhere. Photographers like David Bailey and Donovan shoot women from the ground, lying on their bellies, looking up at endless thighs, instead of from above, down their shirts. Conscious of the radical shift demanded by the mini, and the whiplash popular sexuality can experience if the change is too sudden, Quant included an entire look of separates, with elements that are positively modest: shy middle parts, long ribbed sweaters, tap dancer Mary Janes, and of course, the now iconic, brightly colored opaque tights. The colors weren't Vermeer anymore: fabric the color of cherries and apricots, orchids and hotel pools. These tights both covered the body, diluting the impact of the mini, and turned the volume up on its mini-ness through hysterical shades. They yell, "No fire here!!!" in a crowded theatre.The Sexual Revolution coincided with an elevation of tights to sartorial essentials, visible and stylized. In a time promoting non-monogamy, group sex, and (supposedly) orgasms for all, the leg becomes the primary focus—for its ambulatory possibilities? Suddenly, a woman's seductiveness was not measured by how tightly the ribbon was tied, but how quickly she could untie it. It does not surprise me that baroque hosiery is making a comeback now, in our own context of perennially open relationships. Whose pleasure is it, anyway? There is something to be said for the blunt relief of bodily containment. I don't think women wear stockings, corsets, or shapewear just to emphasize or distract from popular culture's body part du jour. I think something about them feels good, feels weighty and womb-like, upright and arch. Perhaps, they make us feel dancerly, aware of new muscles, implied elegance. We can feel a spot-light warming our ankles. Opaque tights offer a silhouette of oneself, round yet flesh-less, blank yet cohesive. They are the thinnest film of armor. In the now legendary scene in Antonioni's , Jane Birkin flashes her pubic hair (the first time in non-pornographic cinema!), in a play fight turned threesome with David Hemmings. The only thing I remember from watching the scene as a teenager is Hemmings struggling to pull her mint green tights down, his hands grasping at her hips, the elastic taut, her girlish legs kicking and kicking in resistance.