I Would Die 4 U,
A Love Letter to the Brand That Is Always in Bloom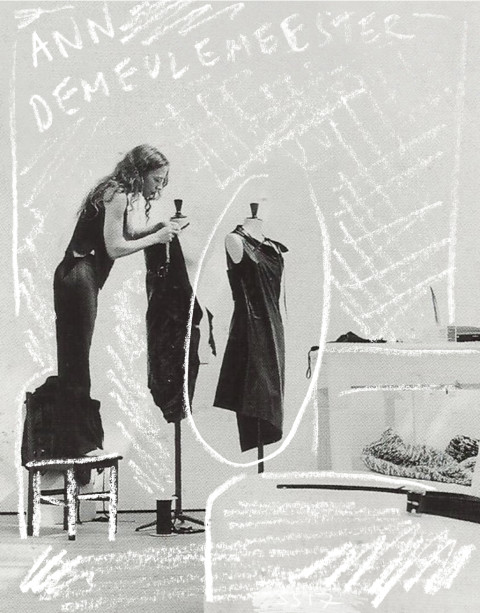 BTS, the number one band in the world, has a conspiracy theory about their album cycle that is centered on an Ann Demeulemeester shirt. Designed by Demeulemeester's successor Sebastian Meunier in 2017 in reference to her multitude of embroidered text pieces, the "I AM RED WITH LOVE" shirt was worn in one performance and made such an impression on fans that it inspired a fan theory about their next tour. Across reddit, weibo, and Twitter, fans connected the simple phrase with a moodboard of their beloved band's next tour theme, cycle, and hypothetical song titles—Beatlemania for the 2019 crowd. The shirt was a red herring placed by a well-heeled stylist, but the messaging is something Demuelemeester would have found touching, given how much of her clothing was inspired by her own rockstar muses. Like anything powerful, an impeccably designed garment can inspire both admiration and hysteria by the force of desire it summons. It is something the Demeulemeester brand has excelled at accruing since the beginning of the brand itself.
Ann Demeulemeester's inaugural decade is the birthplace of endlessly replicated looks still trotted out in facsimiles more than twenty years later—on pop star stages like BTS debuts as much as the runways. Her earliest seasons, 1985 onwards, are primarily lost to the digital void, but you can see that by spring 1997 she was already unpacking the ideas she's been extrapolating upon ever since. There were carefully misbuttoned cardigans and perfectly pressed button ups, asymmetrical shoulder straps sliced over gauzy white transparent tops, calf leather jackets and dresses, oily and smooth, draped to look nearly wet but always dry to the touch. The gowns were draped to look as if they were constantly in motion and in perpetual bloom.Paired with the bedhead and minimal makeup of that season, the looks in that collection helped define the 90s. Milla Jovovich in a half-on cardigan, gauzy tank top, and baggy trousers is the predecessor of 2019 Olsens wearing half-on cardigans and identical facial expressions. Stella Tennant with an extremely slouchy button up paved the way for the Lemaire for UNIQLO blouses that hope to offer the same nonchalance. And the perfectly cut blazer Erin O'Connor wore down the runway in 1997 is endlessly copied by other womenswear companies hoping to offer the same sample of cool—you will find versions at Celine, at Saint Laurent, at Dior. Alongside her Antwerp colleague Helmut Lang, Demeulemeester established the look du jour for a generation, an era, and now, nostalgically referenced by the internet era: a mood.
But all these descriptions still fail to capture exactly why Ann's touch has inspired so much devotion from no less than poet-rockstar Patti Smith herself. Demeulemeester engineered every garment to feel as if you've owned it all of your life; she predicted every way a garment can age, fade, stretch, and shape itself to your body over time, and collapsed the time required to reveal that hard-won form. Fashion archivist Michael Kardamakis describes it like so: "There's allowance on the elbow, that integrates motion in the same way a garment you have worn to death integrates movement. For example: she lines the interior of the cuff with textured fleece to make it more comfortable. You can't see this when you wear it. She does this across her range—it's in a blazer, a coat, a sports jacket—they have this underlying similarity."
In an early interview, she explained some of these artistic impulses, and it sounds a lot like alchemy: "I want to cut nonchalance into my clothes. To do that, you have to work with balance. For example, a jacket pocket will hang differently after you've put things in it. Clothes will eventually take the shape of your body—a favorite coat will have a completely different soul than an identical jacket before it has been worn. The idea that garments are alive is a big inspiration. I want to fill them with soul. I've worked on that for a long time through the cut, the fabrics, and the treatments. I want to create the shape of your arm in the sleeve of the jacket." She worked less like a fashion designer, and more like a conjurer of souls and as an architect for the bodies that house them. Munier extends the architect reference in his own ways now—in reissuing the brand's famous "bird-claw" boots, he borrowed automobile manufacturing technology to further elongate the heel.There are other secret signs of her devotion to knowing how a garment evolves. By Fall 2007, many of her pieces had a system of ties and buttons along the interior of garments to adjust the length of skirts and dresses and jackets. It also enables you to wear the items back to front with just as much utility. In the Spring collection of that season, she had just as much fun in other details. There were pearls on vests, chains as necklaces, and waistcoats layered in triplets. A few years earlier, she debuted a wraparound leather necklace in the shape of barbed wire. One could also wear it as a crown. The effect lends you the same aura that her boots do: that of a beautiful and terrible angel. It remains one of her best gifts to us.
There is magic at work in these early years. Maybe it's because she drew her inspiration from stories of magic and possibility. Most notable was her collection based on Virginia Woolf's Orlando, a satire of a gender-switching, superhuman heroine that creates poetry over centuries across all forms. It was also a thinly veiled love-letter to a doomed queer romance between Woolf and the writer Vita-Sackville West. The androgyny and romanticism in that story is something Demeulemeester designed with in every collection. Her clothes are made for lovers who share each other's clothes. It works—most of my former lovers and I have stolen each other's Ann silks, for a time, not only because we loved merging with each other but we loved how easy it was to do with Demuelemeester as armor against the rest of the world. The best of Ann makes everything fit so easily, even if it took years of heartbreak and repetition to do . Just like love, I suppose.And just like the keepsakes of a doomed romance, it's actually the most delicate pieces she worked on that seem to have made the most long-lasting mark. Her sheer garments with lyrical embroidery are among her most memorable works. They are now museum pieces, archived with the fervor of poets interpreting Sappho. "Curious wishes feathered the air" inscribed clothes peppered with beads and floating tulle. There are long white skirts with lines from Patti Smith's "Woolgathering," beaded in red along the belt. A mesh silk top whispered, "into a realm that could not be measured" as early as 2000. It's a technique Meunier has clearly carried over with success. He's continuing to make clothes designed for lovers—the glossy tailcoats and leather harnesses of his latest collection would look gorgeous and dangerous on anyone.In one of the last shows she designed herself, Ann returned to the source material that made her creations so romantic and imminently wearable: the poet Rimbaud, and the poem . She created a woman persona based on his own travels. I remember a single line: "I sat beauty down on my lap, and I found her galling."She remarked after that show that if Rimbaud had been alive today, he would have been a rock star. Tim Blanks responded that Rimbaud would have likely been a Demeulemeester customer. When I hear BTS and their army of fans screaming with delight, I suspect they'd both be right. But the role of rock-star Demeulemeester muse is occupied at the moment, and to great effect, too. I'm sure nobody minds. The fangirls sure don't.
i-D, Allure, TeenVOGUE