Introducing 032c Resist: Where Freedom and Fantasy Meet Friends Forever
DJ Peggy Gou and 032c Designer Maria Koch Are Speaking All the Same Languages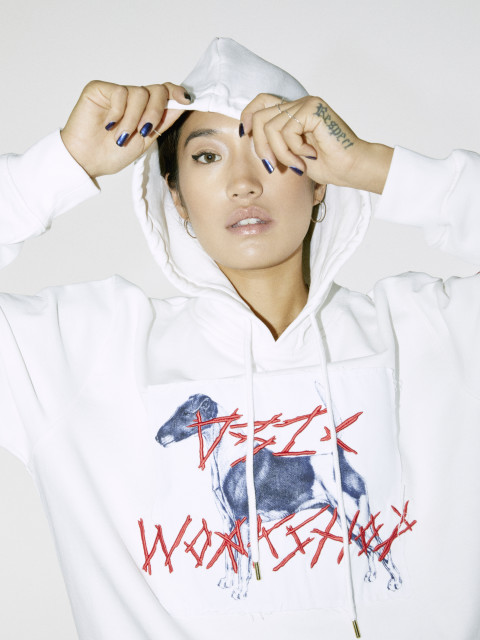 It's rare that two people come together and effortlessly fall into a bubbly whirl of anecdotes, dreams, and favorites. When Peggy Gou and Maria Koch first met, they proved that friendship at first sight really does exist. After harboring a long-time girl crush on the South-Korean DJ—whose live sets at Berghain in Berlin and latest EP have made her a fixture in the club and festival scene—032c Apparel designer Koch decided to stop admiring Gou from afar. A phone call was all it took for Gou to be seduced by Koch's creative direction: once she was wrapped in the 032c Resist Collection—exclusive to SSENSE—a summer romance was born.
Gou and Koch are active in industries that intersect more now than ever before, and when it comes to their interests in music and fashion—and their cult followings in their respective fields—they have just about everything in common. (Gou dubs herself a "Nike girl" while Koch prefers Adidas, but that's hardly a deal-breaker.) As the founder and creative director of 032c Apparel, Koch has overseen the brand's rise to one of the most covetable clothing lines of the last few years. Meanwhile Gou has rapidly built an international fan base, ever since the increasingly in-demand producer embraced her calling and started playing clubs, releasing her first records in 2016.
When Gou and Koch finally got together, 032c's Eva Kelley was there to catch them in conversation as they talked pets, airplane shenanigans, and work ethic before sparkling on set for photographer Thomas Lohr wearing Resist—032c's most romantic collection yet.
You have a dog, right?I don't think I could handle the sadness when you leave a dog.That's why they say DJs shouldn't have dogs.I'm a workaholic. Even if I don't have anything to do, I'll find something. I'm very busy this summer, but I'm taking a few months off after because I don't want to burn out. I realize I should have the right energy for everything. How do you feel about the rate at which you release the 032c collections? It's much more accelerated than the already fast-paced fashion schedule.
Toastie. In Tom Ford's there are these flat-coated fox terriers. Colin Firth's character smells behind the ears of the dog and says, "This breed always smells like toasted bread." That's why she has the name. She's really happy hardcore.They are heartbroken.You are DJing in a different country basically every single night, right? Do you enjoy this lifestyle, or do you wish you could move at a slower pace?It's more about what feels right in the moment for me. I'd say we release a new capsule collection about every six weeks, with single item drops in between. With the Resist Collection for example, we were able to produce it when we felt it was right. We don't have to wait for the appropriate timing, which is quite freeing. And this collection is really about freedom—rejecting ideas of what you are supposed to do, and surrendering to natural progress, because there is power and romance in that. I'm wondering, since you are constantly touring, when do you find time to work in the studio?
The studio is in my room. When I'm in Berlin, I'm literally always home. For me, taking time off means no traveling.In Korea, they have these special compression socks that are really tight for blood circulation. I don't wear make-up. I bring my face mist and drink as much water as I can. It's difficult to not drink alcohol on long flights, but it makes you feel so much worse when you do.You have to blow out the smoke while you flush the toilet.When I moved to Berlin, I wanted to be taken seriously in music, so I tried to stop dressing up. I would wear a white or black t-shirt when I DJ'd, but then I was like: "No. I want to look good." I am putting out a brand soon and I do collaborations. I am a full-time DJ, but I don't see myself as a DJ.
I'm really impressed that you travel so much. Do you have any travel hacks?When I drink on a plane, I want to smoke. I once even watched tutorials on how to smoke on a plane.[Laughs] That's hard work! So, before you moved to Berlin, you worked at a fashion magazine in London, right? Do you ever think you will gravitate back toward fashion?So how would you describe your job? Artist?
I don't know a specific word to describe my work, but as long as I'm alive I want to be able to do as much as I can.In Korea, we believe you shouldn't only speak one language. It's the same when it comes to work. In this generation, you can't just be good at one thing.Do you have a dream collaboration that you would like to be a part of?That just gave me goosebumps. I'm a big fan as well. My dream collaboration as a musician would be with Elton John. I would make music, and he would sing on top. I'm trying to make this happen.
I feel the same with what we do at 032c—a magazine, clothes, exhibitions, and parties. I couldn't describe it in one word.Maybe people aren't experts in one specific thing, but they become experts in expressing different streams. To express what you believe is important, relevant, and beautiful. This can be a song, a remix, a sweater, or a strong article in a magazine.It was always Aaliyah for me.If I made music, I would dream of working with Aretha Franklin. And when I think about art, I would really love to work with Sterling Ruby or Anne Imhoff.
Would 032c ever move into something like interior design?That's something we have in common. I'm coming to your hotel then.
I would be very interested in creating hotels. I always have something to complain about in hotels. Why do you replace the fucking soap every morning? I'm too organic for that.But before the hotel, we are going to do dog gear.