Jing's Blazer Collection | Closet Essential 4
Hello everyone, I'm Jing Leng, ModeSens's fashion director. Today's closet essential topic is blazers. I am going to share with you my five blazer buying tips, plus seven of my favorite designer blazers.
5 Blazer Tips
Tip #1 - Always Check The Fabric
No matter how much you love the style, it's still crucial for you to pay attention to the fabric. My advice? Pick a blazer that is made with natural fibers. My first fabric recommendation is cotton. Cotton gives the blazer structure and shape. Or, try a wool fabric. Oftentimes wool is in a thicker material which can be warmer and more form fitting. My third fabric suggestion is silk, the most delicate one out of the three. Other than these three natural fibers, some luxury designer brands also use semi-synthetic fibers such as viscose. Oftentimes viscose is used to portray the feel and drape of silk. Some independent designer brands also use synthetic fibers such as polyester. Polyester is known for its versatility and better price.
Tip #2 - Focus On The Shoulder Fit
The fit of the blazer is very important. Pay special attention to the fit around the shoulders and waist because these areas are more challenging to tailor. If the sleeves are too long, don't you worry. Your local tailor can easily adjust that for you.
Tip #3 - Overall Fit
When it comes to picking a blazer size, it is very important to pick the right size for you. It is very noticable when a blazer is too small or too big on a person. We all know a poor fit of anything is never flattering.
Tip #4 - Jing's Personal Favorite Style
Personally, I prefer a form fitting style blazer that hits right on my hips. I find this style most slimming and it also helps elongate my legs.
Tip #5 - Oversized Blazer Trend
The oversized blazer is one of the most trending styles right now! This style is definitely not for everyone. From my observation, an oversized blazer looks better on taller people with a smaller frame. If you have broad shoulders, an oversized blazer can lean a little masculine. Try purchasing an oversized blazer from more affordable brands or just borrow a blazer from your guy friend, boyfriend or dad.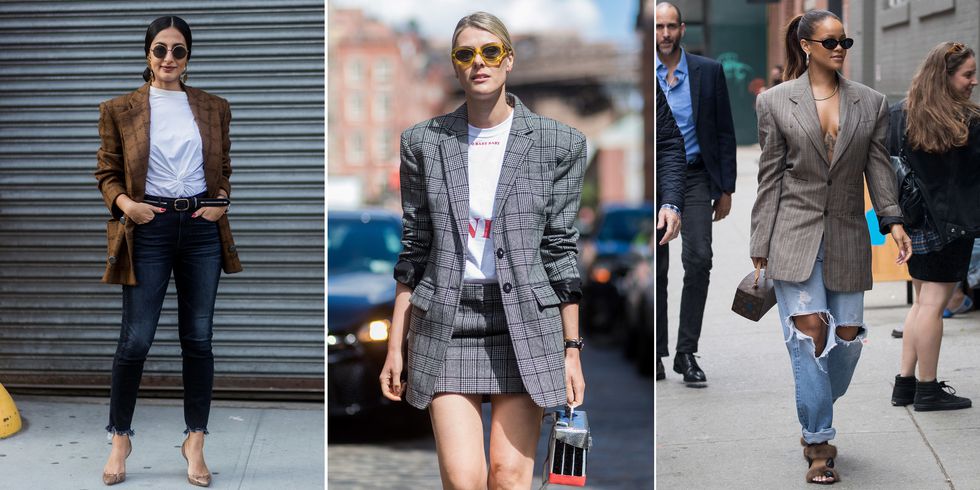 Oversized Blazers
MAJE https://modesens.com/s/71V/
TIBI https://modesens.com/s/71W/
STELLA MCCARTNEY https://modesens.com/s/71X/
ALLSAINTS https://modesens.com/s/71Y/
7 Favorite Blazer Brands
BALMAIN
My top favorite blazer brand is Balmain. Balmain is known for timeless classic blazers. I definitely believe it is worth the investment. Visit ModeSens to see which merchant has the best price. Balmain blazers are known for their form fitting silhouette and shoulder pad design. This blazer will elevate your girl boss look. Keep in mind that Balmain blazers are typically pretty thick, so they might not be a good option for all seasons. If you buy a white or black Balmain blazer I guarantee it will last a long time and it will not go out of style.
Same Item
BALMAIN https://modesens.com/s/6zw/
BALMAIN https://modesens.com/s/6zx/
Similar Item
BALMAIN https://modesens.com/s/71Z/
TAGLIATORE https://modesens.com/s/71a/
PIERRE BALMAIN
If you are lucky enough to find Balmain's second line, Pierre Balmain, then without hesitation you should buy it! Pierre Balmain's blazer design is slightly different than Balmain because it uses four buttons instead of six. From the cut, fit and feel, a Pierre Balmain blazer is definitely very similar to Balmain yet with better price. The only thing I noticed about the quality difference is the fabric. The fabric is thinner, which I love, because the lighter fabric is more comfortable to wear all day.
Same Item
PIERRE BALMAIN https://modesens.com/s/71b/
PIERRE BALMAIN https://modesens.com/s/71c/
Similar Item
DEREK LAM 10 CROSBY https://modesens.com/s/71d/
TIBI https://modesens.com/s/71e/
THE ROW
My second favorite brand is The Row. The Jaymin single-breasted stretch-crepe blazer in off white has been my favorite since last summer. This blazer looks so great in a variety of styles. I can wear the blazer by itself, with pants, jeans, a dress, or a jumpsuit. Like I mentioned, I prefer natural fiber over synthetic, but this favorite blazer of mine is actually made from 48% viscose. When I put this blazer on I notice the softness and the drape of it is just beautiful.
Same Item
THE ROW https://modesens.com/s/6zy/
Similar Item
THE ROW https://modesens.com/s/71f/
ALEXANDER MCQUEEN https://modesens.com/s/71g/
ISABEL MARANT https://modesens.com/s/71h/
MAX MARA
My warm weather favorite blazer brand is Max Mara. For a few seasons now Max Mara has continued producing the same prince of wales checked wool blazer in different colors. I really recommend this blazer because even though it is wool, it's very lightweight and breathable. In the summer, a lot of offices crank up the AC, which makes having a blazer super useful. Also the plaid design has been very popular for the past couple years. Looking for a lightweight blazer? I definitely recommend this Max Mara one.
Same Item
MAX MARA https://modesens.com/s/6zz/
Similar Item
MAX MARA https://modesens.com/s/71i/
CHANEL
My next recommendation is Chanel's blazer. Earlier I told you it is very important to buy a blazer that is the right size for you, but with Chanel, that's not the case. All Chanel jackets accommodate for any alterations for two sizes up or down. If you bring your Chanel jacket to a Chanel boutique it is a very easy for them to alter the jacket/blazer for you. If you find a great discount, just buy it.
Similar Item
ZUHAIR MURAD https://modesens.com/s/71j/
HAIDER ACKERMANN https://modesens.com/s/71k/
MAJE
The last two brands I want to share with you have friendlier price points. The first brand is Maje. The Valila plaid blazer and pants set really surprised me! The fit is great at the shoulders, waist and sleeves. Even the pants fit great. When I buy a blazer I often prefer to buy a whole set. Not only does it look great together but it also looks amazing separately. This blazer and pants set is at a much lower price compared to luxury brands because they use synthetic polyester fiber. Plaid is a trending print right now, so I suggest buying from non luxury brands to get a better price.
Same Item
MAJE https://modesens.com/s/700/
MAJE https://modesens.com/s/701/
Similar Item
CALVIN KLEIN https://modesens.com/s/71l/
CALVIN KLEIN https://modesens.com/s/71m/
STAUD
Lastly, I want to share with you this blazer dress from Staud. This blazer dress is from their Spring 2019 collection. I love that you can wear this as a dress or as a coat if you are petite. I picked a black blazer because I've found that polyester garments look much more high quality in black compared to lighter colors. I recommend Staud for shoppers on a budget.
Same Item
STAUD https://modesens.com/s/702/ (Same Blazer Different Color)
Similar Item
STAUD https://modesens.com/s/71n/
IRO https://modesens.com/s/71q/
MILLY https://modesens.com/s/71r/
Hope you enjoy my insight on blazers!
Love you guys so much,
Share this post if you like it~ For more outfit inspiration check out my ModeSens Closet.
See you next time!!