Lady Krishna, the definition of fashion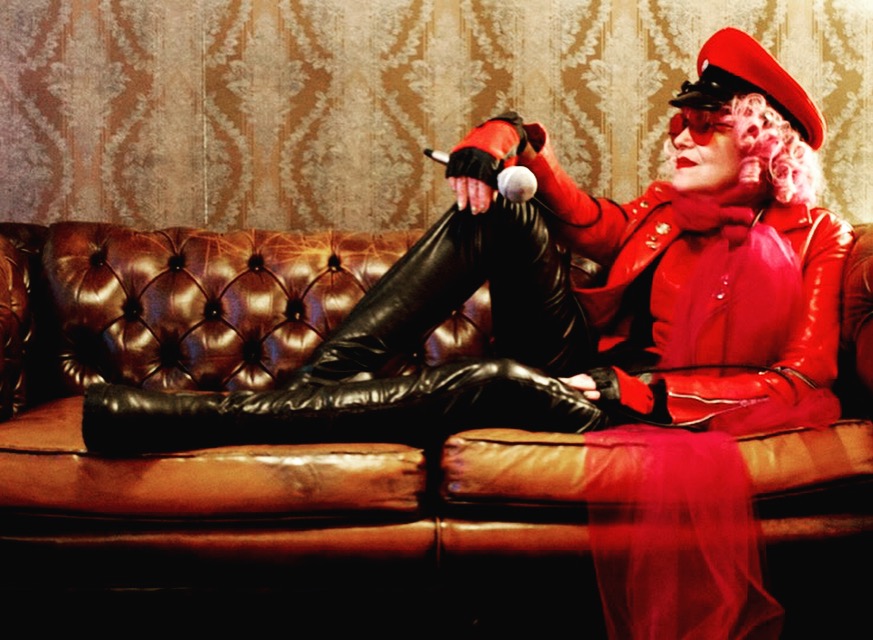 Click picture to enter ModeStar @theladykrishna's closet
We are inspired by many people in life. Some lived in the past, some live around us as parents or mentors, and some just accidentally brush against us the on street. I might be the last person in Capitol Hills, Seattle to know ModeStar @theladykrishna, but I'd like to be the first to introduce her to you. I was invited to her "gallery" home for a special afternoon tea on my last day living in Seattle. Read on for some snippets from our chat.
---- ModeSens Fashion Director JING LENG, @jinglengstyle
ModeSens: When did you get into fashion? What has fashion brought to your life?
@theladykrishna: Since I was old enough to dress myself around age 3. I started looking at Vogue and Harper's Bazaar at age 6 or 7. Fashion has given me lots of pleasure in my life.
ModeSens: What's your ideal way of living?
@theladykrishna: The ideal way of living is to have the windows open in the summer. To have the cool breeze. To have my painting studio set up and organized for the next painting. To have my closet in order and the dishes done. To have everything spic and span – clean, organized, simple. To have my things put away in their proper place. I love being surrounded by beautiful things and friends.
ModeSens: Being a fashionista, what is your must-have piece?
@theladykrishna: For starters I do love boots, anything over the knee. Coats. Handbags. See GIVENCHY boots attached. My must-have pieces are my coats. I have a sunroom devoted to my coats. And I love vintage.
GIVENCHY
Storm Rubber And Ribbed-Knit Thigh Sock Boots, Black Red
Click Product Picture to Get Details
SAKS POTTS
Foxy Fur-Trimmed Leather Coat, Beige
Click Product Picture to Get Details
PRADA
Wool, Angora And Cashgora Fur-Trimmed Coat, Beige Multi
Click Product Picture to Get Details
SIES MARJAN
Bessie Crinkled-Vinyl Trench Coat, Blberry Mlkshk
Click Product Picture to Get Details
SIES MARJAN
Bessie Fitted Trench Coat
Click Product Picture to Get Details
CALVIN KLEIN 205W39NYC
Matte Plastic Belted Mackintosh Coat, Aqua
Click Product Picture to Get Details
ModeSens: What's your idea of fashion?
@theladykrishna: A little bit anarchist, that each individual finds what suits them, what looks good on them. If there are "trends", modify them to make them your own.
ModeSens: Any favorite fashion brands? Who's your favorite designer and why?
@theladykrishna: With designers it changes all the time. When I was a child living in Paris it was SAINTLAURENT. His first boutique on the Rive Gauche was walking distance from our apartment and I used to go there by myself. I could touch the clothes and it was very formative and personal. My mother took me to a DIOR show and there were rows of silver grey chairs and it was very formal and quiet, classic, very exciting. I knew I was in the presence of something extraordinary - nothing was wasted on me even as a young girl. That year in Paris cemented my absolute love of fashion and style. Other designers I love are BALENCIAGA, CHANEL, GUCCI, PRADA, FLUEVOG, DR. MARTENS, and my friends STELLA ROSE and LISA MARIE COUTURE.
GUCCI
Leather Gloves W/ Bow & Cat Detail, Red
Click Product Picture to Get Details
GUCCI
Bow Driving Gloves
Click Product Picture to Get Details
JIMMY CHOO
Hanah Flat Black Smooth Leather Booties With Pearl Detailing, Black/White
Click Product Picture to Get Details
ModeSens: How would you describle your personal style?
@theladykrishna: Elegant punk rock.
ModeSens: If you were a hastag, what would you be and why?
@theladykrishna: #belove, that's what I believe in.
ModeSens: Tell us about your band and your latest album.
@theladykrishna: My new project, Lady Krishna's Cosmic Panties, like my style, is like a 1-2-3-punch. Elegant punk rock sonnet. Haiku. Puzzle. You have to listen to it. Go hear it. We're an all girl punk rock band. I also have a boy band, Lady Krishna's Peppermint Lounge. I have been absolutely blessed to work with so many wonderful musicians in my life.
ModeSens: Tell us about one of your paintings. Is there a story or inspiration behind it?
@theladykrishna: When I am doing my portraits, it's the person I am painting. I am a transmitter, I transmit the feeling of that person. There is a painting in my bedroom called Queen of the Butterflies and the painting is inspired by butterflies and their ephemeral beauty. Sometimes my paintings are inspired by clothing I would love to have - I love to dress people, even in my paintings. And my work is inspired by my dreams.
ModeSen: What's your first impression of ModeSens? What function or feature do you like most?
@theladykrishna: For someone who doesn't shop online a lot, your site is very easy to use. It's very clean, simple and direct.
GIVENCHY
Antigona Small Black Leather Tote
Click Product Picture to Get Details
BALENCIAGA
Extra Small Triangle Leather Satchel - Black, Noir
Click Product Picture to Get Details
FENDI
Genuine Alpaca Fur Guitar Strap - Black
Click Product Picture to Get Details
There are no age limits for a fashionista, creative artist or bold musician. It might be easy for us to start exploring our style when we're young, but it is truly impressive to keep expressing our uniqueness throughout our entire life. I feel so lucky to have spent my last afternoon in Seattle with ModeStar @theladykrishna, the definition of fashion.
---- ModeSens Fashion Director JING LENG, @jinglengstyle
If you are passionate, positive, and have an opinion on fashion, you can be our next ModeStar!
ModeStar is an exciting fashion influencer program only on ModeSens, dedicated to discovering and enabling a new wave of fashion tastemakers and rallying them together to mutual expand each individual's influence in the fashion world.
Join the ModeStars program — become an official influencer partner with ModeSens
- Get original content opportunities with ModeStar. Earn a verified ModeStar Badge and become official influencer partners with ModeSens.
- Have opportunities to work with and gain exposure through all ModeSens platforms — homepage, original interviews, content & product exclusives, and more ongoing benefits.
- Connect with other ModeStars, cross-promote to grow audiences together. Enjoy feature opportunities on ModeSens' Instagram, Weibo and other social and digital platforms.
- Receive exclusive invitations to official events and parties by ModeSens or by partners, such new product announcement/try-on's, fashion weeks, and more.
-Gain access to exclusive tools such as publishing Blogs, Collections, affiliate programs and other advanced web and app features.
With so many exciting benefits, begin sharing your everyday style Moments on ModeSens to receive a select invitation to become the next ModeStar.
If apply for ModeStar, please contact bella@modesens.com. Final interpretation is owned by ModeSens.