Market Research: Fleur du Mal's Black Rose Lace Cami Bralette
Jazmine Hughes Feels Great About Her Breasts: And Other Thoughts On Being A Woman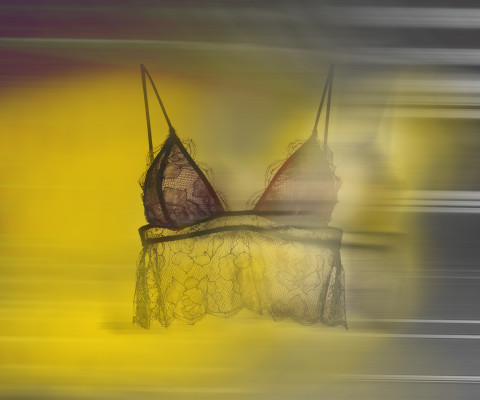 Before I could do any of this, I had to get refitted. Last month, I wandered into a building on 17th Street, unaware that I had made my appointment during a promotional party, and was greeted with champagne and little cookies, and dozens of women milling around the claustrophobic store, with frilly, lacy things tucked beneath their armpits. I received a dressing room and stripped down. A fitter – briskly, brusquely – took a tape measure from around her neck and wrapped it around my body. I thought of the care that I received the first time I got fitted, in a basement shop on Atlantic Avenue, five years ago. After I demurred needing a fitting, the owner, a black woman, cocked her head and told me, . She cupped my breasts in her hand and told me they were "full but low-hanging." I wondered, then, and still do, if her characterization could apply to my life. Both women told me the same answer: 32D.
Days later, Fleur du Mal's Black Rose Lace Cami Bralette was delivered to my office in an unassuming plastic bag. It is thin in the way of confident luxury: thin wrists, thin wallets, thin books of poetry. The bra is primarily black spider lace, save for the cups, triangles of pink silk that don't really cup anything. Its straps are the width of the body of a Q-Tip; its clasp is a single, long silver hook, which fits into the eye of a soft lace enclosure. It is a bra that requires intention, and effort. It is the hardest bra I have ever undone. The matching underwear features the same gossamery fabric, trimmed with thicker black lace at the front and overrun with pink tulle. In the months leading up to receiving the bralette, I had grown obsessed with Womanhood. What a Woman might own, or wear, or bring to a party. The lingerie set was soft and slippery, and covered in roses. It was femininity incarnate.Earlier this year, I couldn't stop buying Woman things. Delicate jewelry with curves slimmer than the white of my fingernail; luminous foundation that costs more than dinner; white wide-legged jeans that emphasized the width of my hips. I wanted to feel ladylike and graceful. Grown-up, deliberate. I wanted to experience the sensation, the sound—or what the sound brought to mind growing up—of my mother's gold bracelets as they jangled or her keys as they clinked together right before entering our home. For months, I wanted everything to smell like roses. I washed my face and balmed my lips, and dotted my neck, and sprayed my hair with the same scent, trying to smell freshly plucked.My obsession with womanhood was, in fact, a return to girlhood, of playing dress up in high heels and long necklaces. But it didn't last long. I smudge my makeup too easily, and I lose all my jewelry, and I don't do laundry often enough to warrant owning a pair of white pants. In writing about Helen Gurley Brown, Nora Ephron wrote about unintentional unkemptness. "She wears Rudi Gernreich dresses, David Webb jewelry, a Piaget watch, expensive hairpieces, custom-cut false eyelashes, but it never quite seems to come together properly. An earring keeps falling off. A wig is askew. A perfectly matched stocking has a run." Brown was all I could think about: that vested effort, coming just short, the purposeful creation of an "image."
By time I wore the bralette, I felt like a girl again. The set was unobtrusive and occasionally ticklish, like walking boobs-first into a cobweb. I mostly forgot about it in the morning – while putting my makeup on, while boarding the train, while getting my coffee – until there was someone to tell. I go back and forth on keeping my own secrets; it feels as if they're always laid plain on my face. (If I tell people what's going on, they know I know they know.) I initially wore the lingerie underneath a bulky sweater and jeans, items thick enough to prevent bunched up fabric – items thick enough to prevent anyone to pay any additional attention to me that day, to notice that anything was different at all.But alone, the lingerie felt dramatic, like a big reveal of the familiar, or, as Haley Mlotek wrote of the slip dress, that it "reveals without exposing." I looked at myself in the mirror and appreciated how 25% of me was obscured. I sat around in it all day, feeling comfortable if not luxurious, the way it feels to live alone. Even the most pedestrian actions – washing dishes, watering plants – felt unfamiliar, imbued with freshness and novelty that were more than anything: In the end, I only really wore it for one person, who liked it. I resisted sharing how I looked in it more widely, like in a group text, bragging about how the strap rested on my collarbone, or the way my chest looked dappled with lace, or how the tulle curved into the top of my ass. I kept thinking about secrets, and the way it feels to put up an exaggerated hand to cover a whisper and speak into someone's ear, arbitrating who knows what and how they know it. The flush of excitement of being alone together. The power you feel when you pull a person into your world.
New York Times.