Mel Ottenberg Wants To Know: Are We Having Fun?
The Creative Director Of Interview Magazine On Taking Risks And Styling Rihanna For The Stage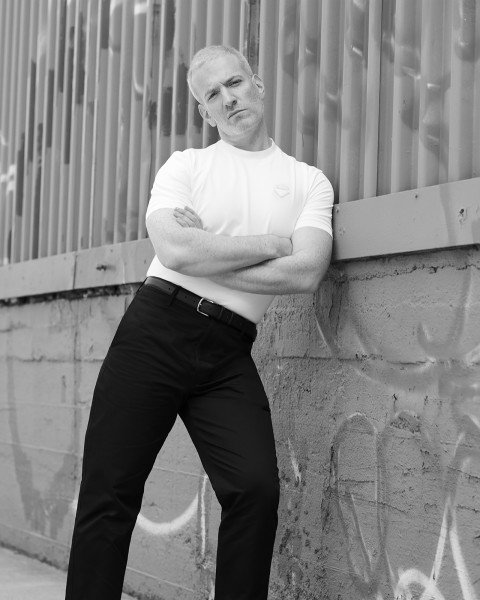 "Large American male." That's how Mel Ottenberg, the cheeky-clever, vanguard fashion stylist identifies. Ottenberg is one of those born originators who seems never to keep an idea for himself and whose personal style choices are as simple and unchanging as his public output is wild and creative; today, he is wearing tailored Levi's and a vintage Champion sweatshirt he bought in Japan. "I'm a beefy thick guy," he says. "And I think a beefy thick guy looks good in really classic clothes."
We are in a classic situation. Midmorning in early April, a block north of Washington Square, settling into a round booth upholstered in mustard yellow. The cafe is walking distance from Ottenberg's home, which he shares with his boyfriend, the clothing designer Adam Selman. Describing their place as mostly minimal, Ottenberg says their den is the room that best marries his taste with Selman's, brimming with artwork (including a set of postcards given to Ottenberg last year by the late, beloved filmmaker Agnès Varda.)Since becoming creative director at magazine, founded by Andy Warhol in 1969, Ottenberg, who is 43, has been asking himself: "Would the 14-year-old me be into that? Would you want to rip the picture out and put it on your wall? Is it worth it? Or is it boring?"Ottenberg has worked on campaigns for Dior and Tom Ford, his advertising clients range from gyms to jewelers, and he has readied a score of stars for the covers of magazines including , , and . He has served as fashion director and editor-at-large at and has collaborated with photographers including Inez and Vinoodh, Steven Klein, and Collier Schorr. He often teams up with musicians, styling for videos (Troye Sivan's "My My My!"), album covers (Björk's ), and award show appearances (Alicia Keys' 2019 Grammy hosting gig.) There is also his propinquity to Rihanna. Since 2011, he has styled the woman critically posited as the most stylish pop star of her generation. The association feels so obvious, I feel conscious of waiting for him to say her name first.Ottenberg has been traveling for work, he's a little bit everywhere: the role of the stylist in 2019 is diffuse. He's answering my every question with a vectored optimism. If there's a most-used word in his idiolect it's "fun," and I believe that he's having it.
What did your parents do for work when you were growing up?What about your parents' style was remarkable to you?Who did you find glamorous then?Period?Do you collect fashion?Do you have an archiving process for looks you've worked on?
My father is a fourth-generation baker. He just retired, but he ran a family bakery in Washington D.C., where I'm from. My mom and my stepfather were in custom publishing. They designed magazines.My mom wore a lot of big layered clothes, and she would buy punk accessories when punk was really the rage. She would be wearing neon stockings and spiked belts. She had a clear plastic pocketbook with a fake dead fish in it, which I wish I still had.Madonna.[] Madonna was just so glamorous, it's almost a one-word answer. She's at the top. Grace Jones, of course. Pat Benatar. I found the Oscars really glamorous. I love the Oscars so much.I love that people do, but I don't. I don't really like owning anything.I don't have a personal archive. They're not my clothes. If it was a client thing, I certainly would help them archive it—make sure it's done right. So when we're all dead and gone, there's a good archive of a look.
Can you pinpoint a moment in pop culture where the stylist's impact has galvanized an entire movement?Has a hero ever let you down?How often do you get styling cues from books, films?I'm not trying to be mercenary here, but when I was at Versailles, I did think of Rihanna. I was listening to ANTI while walking around the palace, and thinking about that album as an antechamber, one of the series of rooms before you get to the princess's room. A room in waiting. Her inner circle gets closer and closer.
I'm sure that would be Carlyne Cerf de Dudzeele in American , early 90's. Her doing Chanel in outrageous ways, either for Karl Lagerfeld or for . Her doing such incredible things with Alaïa. In my head right now, I'm seeing this picture of Naomi with two plastic camellias on her nipples, some pearls, and a bikini bottom.I must've known Carlyne's name at the time, because I read every single thing that was in . Cover to cover. Every word that Sally Singer would write about the shows.I'm going to say yes. I can be wary of meeting my heroes or working with them, because the overall experience could be a letdown. I have been proven wrong.Books and films are the pinnacle of where you get ideas from. They also might just be a feeling. A feeling of how people dressed in , this book by Hubert Selby Jr. that I think of often. Or how people dressed in the movie . How people dressed in Marie Antoinette's Versailles, when I'm reading a book about Versailles.I did a job in Versailles once with Rihanna, this big Dior campaign with Steven Klein. We were shooting at night. We were alone there after hours until sunrise. It was amazing and glamourous.
How would you describe your learning curve with styling for movement? Finding suitable garments for dancing on stage, for example.2012 was the first year you styled Rihanna for The Met Gala and you said: "I really wasn't concerned with the theme of the Ball at all." In the years that followed, though, the looks you styled for Rihanna would practically become each year's theme. How has your approach to theme developed as you've worked together?When you were brought on as Creative Director at Interview for their relaunch, the first cover of your tenure featured Agnès Varda as a nod to Warhol's inaugural cover. What was working with Varda like?How is the role of Creative Director defined at Interview?
An amazing, scary type of education. Things can look great in a picture and fall apart on stage. When I first started doing stage stuff with Rihanna, I had never done it before. Learning about the stage and dancing and fabrics, all the tiny details that can make something amazing on stage, on television, or not so amazing on stage or television, has been a real nail-biting process.Doing world tours is what's up. They last for a long time, there's different legs. I don't want to be looking at what's in fashion , because I still want it to look great six months from now. You can't let designers tell you what to do. You have to say, this is the world I want my artist to be in. Let's do something together in this world. You're not dictating to the designer, you're collaborating. The first time I did it, I felt like it was cooler to ignore whatever the theme was. But why be too cool for it? Rihanna is the perfect person to celebrate fashion and take risks with.We had done the really great minimal looks on her, the Tom Ford dress in 2012 and the Stella McCartney two-piece sculptural look in 2014. When the China theme came around, it was a perfect situation that became fashion history. I didn't totally see it coming, because I didn't believe she could wear that coat on the carpet. I thought it was too big and too heavy, but she knew she could. I think she could even visualize the idea of the aerial view. That's what's so brilliant about her.Hearing from Guo Pei who designed the cape about how much it meant for Rihanna to be wearing something by a Chinese designer meant a lot to me. So, when you get to a Comme des Garçons event, of course you're going to wear Comme des Garçons. When it's about Catholicism, of course you're going to do something inspired by that. They're interesting subjects, and Rihanna can pull those things off.She was so great. I knew we weren't going to have very much time with her and I knew that she wasn't going to want to be styled. I brought a rack of clothes to her house. She was like, "No way." Her daughter, Rosalie Varda, who is so great, said, "Oh, but, Mel has this coat." It was the Dries Van Noten coat that she ended up wearing on the cover and she responded, "Pretty cool." There was this red Miu Miu vinyl coat that she wore as well and she said, "I like that, it's very new-wave."It's very involved. For me, it's about who we're shooting, how we're shooting them, which photographer, what stylist, what are the clothes like, is it right for , how are we twisting it, how are we not twisting it, are we having fun? Let's have fun.
In your experience, do stylists tend to support one another?How do you like to relax?What are some ways you locate the best places to shop in a new city?Which discoveries in fashion have excited you lately?What do you find interesting about nightlife?
When I was coming up and young, a lot of stylists were really nice to me. I definitely think it's important to pay that forward. It's such a bitchy industry. You've got your people that you like. Supporting other talent is important and it's also fun to be friends with other people that do what you do. One of the funnest things for me at Interview is working with other stylists, hearing what they want to do.I really like going out to dinner. I love watching movies on the plane. Reading books. I'm a television junkie. Right now I'm rewatching . I'm really into and . Can't wait to start watching again. Just rewatched while traveling around the world.Shopping in a new city is about getting out on the street and walking around. I was just really shopping hard in Tokyo. All the good vintage is in Japan right now. Googling didn't really get me anywhere. I texted Petra Collins and she told me the best place ever, which I'm not going to tell you, because I want it to retain its extreme perfection. Filled with vintage dolls and comic books. I keep thinking about things in that fucking mall that I didn't buy.I loved going to meet all the kids at the LVMH Prize. I always like talking to the kids. My favorite model from Paris Fashion Week was Leon Dame, who walked in the Margiela show. He has the best walk and I find him so entertaining. My favorite show was CELINE, because I liked Slimane's first show at CELINE. I knew everyone was going to hate it, but I really liked it. This one, I just thought was great, and how people are going to want to dress. I loved being in a room filled with people who were recalibrating their idea of something.It's a way of having chance encounters and finding like-minded people. Going out for a million years in New York City is how you meet a wide variety of interesting creative people. I know so many people throughout the world from going out at night. I really don't go out very much anymore, but I love going out. When I have a late night, I'm so glad I had that late night. I've still got it.