Michael the III's Guide to Bedroom Fashion
Known for His Nude Selfies, the Instagram Personality Appears Clothed for the First Time to Select This Season's Best Boudoir Outfits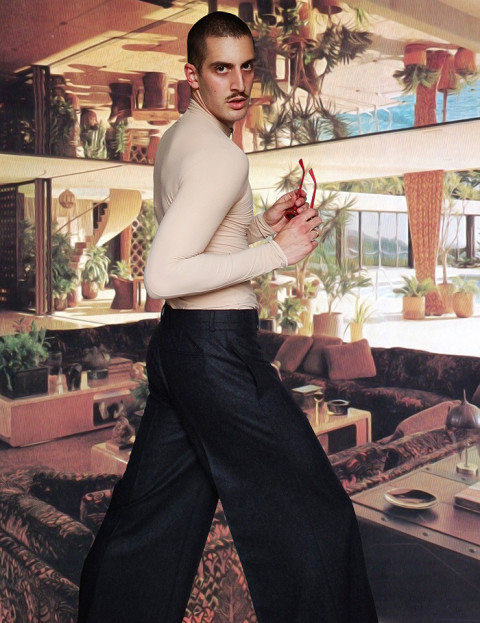 What you are about to read is all completely true. How do I know this? Well, I wrote it myself. And who am I? What credits can I claim in the way of boudoir fashion? Well, I am Michael the III: gifted artist, multicultural icon, noted fashion photographer, charismatic politician, Instagram personality, renowned conversationalist, dog masseuse, humanitarian, best-selling author, winner of three Kid's Choice Awards, and gentle lover. You know me naked, but I know more about dressing in the bedroom than you could ever imagine. Let's begin.
You've overspent on making your bedroom perfect, but you needed it all: the couture bed, the glorious sheets under the softest duvet, the area rug, the vintage disco lights, the in-house DJ, the scented candles, fog machine, hot tub, Ming dynasty statuettes, tiki bar, signed copy of sTORI Telling by Tori Spelling, the mirrors! Shall I go on? All this is to say, your bedroom is a sanctuary whose centerpiece (you!) deserves the most tireless attention to detail. Note how I project regal confidence in my bedroom. It's easier than it looks. I only had to take 759 photos to get it right. This should be your goal. Begin by taking everything off. The palette must be blank.
Now that we're nude, find your personal style. Listen carefully. Do exactly as I tell you, because personal style comes from within. Step one: Adopt a moustache. You're going for a 1930s swashbuckling look. Step two: Shave your head. You do not want anything to distract from your inner beauty. Step three: Curl your hands together coquettishly to offset your brutish face, or with contouring create a brutish face to offset your coquettish hands. Now you have a completely unique look that is exactly like mine! It's all about personal style.
To the casual observer, what I am wearing is called Funky-Bedroom-Chic. The casual observer is wrong. What I am wearing is a kilt paired with a grey polo: the ideal ensemble for a sensual evening at home. This is the type of outfit you can roll out of bed wearing and go straight to a high fashion rugby game without turning a head in astonishment like you did the last time, when you showed up on horseback. It's the perfect night-to-day ensemble. Pair it with a smoky eye and a kitten heel and you're good to go.
Bedroom health and safety: a top (and bottom) priority. In the carousel ride of lovers that is to become your bedroom once you've completed my course, you're going to require the proper accessories to keep you safe. I've heard it said many times, "Always wear protection," and I am not one to argue with Hilary Duff. Although that statement is a bit vague, even the least intelligent could decipher its meaning. And that's why I've protected myself from harmful UVA and UVB rays with this red hat.
Let's be honest: Exposing yourself online is so Spring/Summer 2013, but it's also timeless, elegant, and classy.
Do not forget you put out an open invitation to visitors on your Tinder, Grindr, and LinkedIn profiles. It may be tonight that any of them drop in, and if that is the case, you'd better look your best. In a pinch, here is a fun and flirty tip for bedroom fashion that has never failed: Think of your favorite food. Mine is a pancake. Now dress like it. See the lusty result above.
A common fear with bedroom fashion is the issue of audience: Who will see the dazzling looks you've prepared if everyone is at Michael the III's house for bawdy boudoir banter? For the answer, look no further than social media. Yes, that's right. You too can incite the envy of others with just one carefully planned, two-hour selfie session. It's important, however, to beware of narcissism. It is recommended to get off your phone once in a while, if only to pose with a book for the picture you're about to post. Pictured above, I am fake-reading .
Footwear in bed is growing to be a popular trend among millennials and has sparked much media controversy. Credited largely to their multidisciplinary tastes, this trend suggests that the youth of today are not satisfied with the limiting binary of socks or bare feet. Some critics of the trend are saying that instead of wearing shoes in bed, millennials should go out and do something with their lives, while others are fighting back with the argument that the older generation ruined the housing market.
I am now legally bound to say that anything you try here should be done at your own risk. Common side effects include insomnia, low WiFi signals, and high Uber surge prices. Dry clean only, but if you must, tumble dry low. Batteries not included.