Rae Sremmurd: "Forever in the Flex Zone"
Swae Lee and Slim Jxmmi Speak Out on Their Creative Process and Being Married to the Luxury Game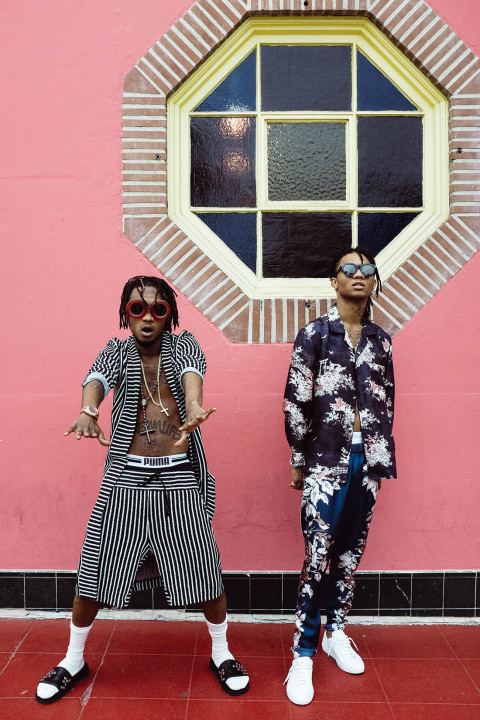 Over a century since the dawn of recorded entertainment, each generation has given its own portrayal of what it means to be young, sexy, and reckless: hippies of the 60s, disco-goers of the 70s, punks of the 80s, and ravers of the 90s. Now, 40 years after its invention, hip-hop has become this generation's lifestyle apparatus. Mississippi-raised rap duo Rae Sremmurd epitomize this new standard of celebrity that embraces rappers as the rock stars of our time. They embody a new mainstream where Internet motley has rendered genre boundaries obsolete. Integrating this kaleidoscopic perspective into their sound, brothers Aaquil "Slim Jxmmi" and Khalif "Swae Lee" Brown produce songs that listeners can either dab, mosh, or sing along to depending upon personal preference. They encapsulate the endless array of alternatives defining Generation Z. Standing in the bed of the L.A. River, wrapping up a shoot in looks from Saint Laurent, Comme Des Garçons Homme Plus, and 3.1 Phillip Lim, Slim Jxmmi and Swae Lee radiate an energy exhibited by those on top of the world. Despite its winter release, Rae Sremmurd's debut album felt more like a soundtrack to the best summer ever. A "Tokyo drifting through the Hollywood Hills in a midnight blue Maserati" kind of summer. With a spot on Beyoncé's Formation tour and the drop of quickly approaching, the duo is on a high so great that another Tupelo native, Elvis Presley, might have been struck with a tinge of jealously. Living no-limits, Rae Sremmurd are as comfortable talking about Italian menswear labels as they are about girls and their favorite strains of weed (a hybrid called Girl Scout). Reva Ochuba spoke with Slim Jxmmi and Swae Lee about fashion, luxury, and the lifestyle associated with contemporary rock stardom.
So what does personal style mean to the both of you?So, what in fashion makes an impact on you?Like this Comme des Garçons hat? Did it make you feel that way?What about you—what at the shoot today made you be like, "Woah, I gotta have it"?Yeah, you are really into those—you keep looking at yourself in the mirror. They do look really good.You like Chelsea boots?What does "luxury" mean to you?What are the earrings you have on right now?So you say you took it easy today, what does that mean?
Slim Jxmmi: Do what makes you happy. Swae Lee: Personal style just means making an impact, you know what I'm saying? Doing it naturally, for you. It's who you are.SL: Good-fitting clothes. They don't need to be baggy or cut in the wrong places. SJ: Things of the eccentric nature. Those are the things driving fashion to me. When you see it, it's like, "Oh shit, what the fuck?SJ: Yeah, I got the big red shades and the big hat. It just makes me feel happy.SL: I have to say the silk Dolce & Gabbana outfit, and these Saint Laurent shades.SL: So these, and then I had these tan Chelsea boots.Yeah. All colors, I gotta get all the colors, that's my goal. Love them.SL: Luxury means you bought something you spent your hard-earned money on, and it makes you feel happy. It's lavish. Everybody's going to see it and be like, "Man, that ain't just no playpen, that's like the real deal." It might be a diamond Rolex watch to some people, or it might be like a little earring to another.SL: I got a hoop earring like Jordan. I got my Rolex pinky ring on. I took it easy today. I got my little diamond, my wedding band, because I'm married to the game. I took it light today—I usually wear my ruby, but I took it light.SL: It's light work. It's light work today.
Okay, if this is light work, then what's an average day like?So it's rare.What brands embody this to you??Are you wearing Gucci socks today?What is this that you're wearing right now?Do you mind if I check?It's Phillip Lim!Rainbow diamonds are a big thing right now.Alright.What is something you aspire to? A place or person so exclusive that comes to mind and you think, "I want to have that."Did you ever "Paint the Maserati midnight blue"?
SL: Big diamonds! Roly! SJ: Luxury to me is something you don't see every day. Everybody ain't got the old school cars, and that's luxury because they're not around anymore. It's luxury if I don't see everybody with it.SJ: Yeah, rarity is luxury. It doesn't have to cost a lot of money. It doesn't have to be super expensive. It doesn't have to be big. But if you got it, and you can't see that everywhere, it's a luxury item.SJ: I like Jeremy Scott, Louis Vuitton, Gucci, Dolce & Gabbana. I like Maison Margiela. I got this invisible coat by Moncler. I like Moncler a lot. I like—what's that shit?—Balmain.SL: Young Swae Lee, I just like D&G, Naked and Famous, Moschino—I like Moschino a lot. And I like H&M. I make stuff designer, you know? It might be a regular shirt sitting on the counter and if it looks fresh to me, I'm going to pick it up. I'm wearing it, and everyone's like, "What kind of shirt is that?" And I'm just like, "It's a regular shirt." Next thing you know it's going to be in style.SJ: I recently came up on all the Gucci socks. So every time I wear the shorts, I wear Gucci socks, just because I want them to know that I like Gucci. It's like, "I'm Gucci with the socks, all the way to the feet." I might even put on the shoes with it.SJ: Nah, I got on Polo socks because I was wearing pants when I came. But if I got on some shorts, Gucci down!SJ: I don't know what type of pajamas these are, but they're super fresh.SJ: Yeah, go ahead and hit him with the swag.SJ: OK, so I got the Phillip Lim and the Jeremy Scott glasses with the big diamond crosses. I like black diamonds. Slim Jxmmi love black diamonds. They're fresh. I really want to get some canary diamonds. That's next on my list.SL: I got a necklace, Swae's necklace, that has rainbow diamonds. But can't nobody know about this.SL: They'd be going crazy.SL: I want to have the same house as Iron Man one day. The same, like, so futuristic, has so much that can happen, he can do so much just in his house. He never has to leave, he just has everything he needs in his house.SL: I actually went and got a Porsche, but I'm about to get a GT Benz. I'm thinking about painting that joint midnight blue instead.
Being that I, personally, am a Rae Sremmurd fan and have listened to in its entirety multiple times, I couldn't help but notice that this album, from the singles I've heard thus far, is more lax. The songs aren't as turnt up—What does that mean? Have you become more chill?What's your creative process? When you're making music, or starting a song, what's the routine like?Really?One of my favorite Rae Sremmurd tracks is "Lit Like Bic," because it has this punk edge to it. How much do you think you identify with that counterculture?How has the meaning of SremmLife evolved aesthetically, between two years ago and now?Are you going on tour soon?Are we out of the Flex Zone?
SL: Ain't as turnt, yeah.SL: The next album, you just gotta listen to it—we didn't put out the best songs to the album right now. SJ: It's levels. It's levels to the album. We didn't want to put ourselves in a box. We didn't want to make the same type of songs as the first album, but we wanted to give you all the same feeling, like, "Oh, I love this." You know what I'm saying? So we're going to put out music that sounds good to you and makes you feel good, but it doesn't have to be all the way turnt up all the time.SJ: We call a beat, and I get in my zone to start freestyling. When I'm in my zone, I don't care what I say, I just be saying it— SL: Swae Lee's creative process, you tell him the beat—first you gotta listen to at least five beats. You got to go in there, first you gotta make some heat, lay down just anything. You go in there, and you tell them just five. But you might listen to a hundred, you might listen to two hundred.SL: But you pick one and just catch a vibe up, you think like, "How can I come on this track in a crazy way?" You don't want to come on it like somebody else. You hear it, and it comes to you—you might need to come to it the next day, but then when it comes to you, you feel it. Then you got to lay it down, and you think about what you're saying and you're like, "Dang, this is hard. No one has ever said anything like this." Then you choose like a melodic way to come on there, and you got a hit. And you gotta ad lib your shit!SL: Swae Lee in the funk. SJ: I rip my shirt, you know what I'm saying? We like the blending of a whole bunch of different kinds of cultures, because we don't do things you would only see in rap or pop. We just do what we want to do. And it's like, just good-natured. SL: Swae Lee in the funk. We fuck with the punk rock, you know? Like, I can definitely go in mosh pit mode, you know what I'm saying? SJ: And crowd surfing. That's my thing. I got my shirt unbuttoned. Tattoos on my stomach. SremmLife. Crowd surfing is the shit.SJ: It started from a word, and now it's a thing. Tatted on, and it's like, we did it. Now when we go online, people are tagging me in pictures like, "I got this SremmLife tattoo." It's like they're just associating SremmLife with having fun and not giving a fuck. Or like, cursing out your teachers, living to the fullest. Living life to the fullest, that's what SremmLife represents.SJ: Yeah, we have a show with Beyoncé on Friday in Chicago. So we're starting with Beyoncé on her Formation tour. SremmLife. SL: Queen, what's up! SJ: All the plugs, SremmLife, SremmLife crew. SL: Then we're about to do the SremmLife tour for our second album. SremmLife 2 about to drop. But we're going to push it back a little bit because we want to drop some more singles. Because it's a really hot album, and we don't just want to throw it out there.SL: No, we're forever in the flex zone. Swae Lee forever in the flex zone. Aaquil, same thing.