ModeSens x NET-A-PORTER
ModeSens x NET-A-PORTER
This Spring I had the opportunity to visit with one of our partners, NET-A-PORTER, at their London headquarters. Before I set off to London, I purchased this blue suit at NET-A-PORTER. Designed by Off-White designer, Virgil Abloh, in memory of the 20th anniversary of Princess Diana's passing. When selecting outfits, I really enjoy going beyond just normal styling of clothes by incorporating pieces that have their own story to them.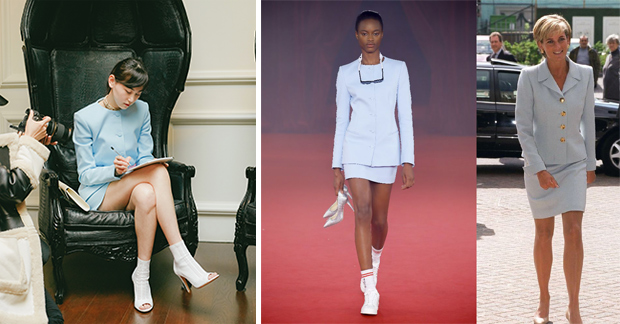 Since the suit jacket length is on the longer side, I incorporated a nice pink belt into this outfit to show highlight the waistline. With this style of short high-waisted skirt, the best match is a nice pair of socks booties. With that, you have an outfit that elongates the legs and accentuates in all the right places.
After the work day, I took off the jacket and switched to a pair of transparent pumps with purple socks to return to the more streetwear vibe Off-White does so well.
Items
Blazer OFF-WHITE Off White C/O Virgil Abloh Women'S Light Blue Round Neck Blazer
Skirt OFF-WHITE Crepe Mini Skirt
Camisole ZIMMERMANN Stranded Tuck Polka Dot Cami Top
Shoes GIANVITO ROSSI Vires Knit Open-Toe Bootie
Similar Styles
Tibi Double-breasted satin-twill blazer
Look2
Luckily I caught a whole week of sunshine in London. The air was full of spring and summer. To make the most of the weather, I paired a semi-sheer midi skirt with a lilac lightweight sweater to bring in a feminine and romantic vibe.
A trench coat is an ideal option for mild spring days. This trench is a cotton and linen blend all made with naturally and responsibly sourced fibers. It is perfect for the pretty drastic temperature changes between day and night.
Accessories help to detail the outfit. A vivid, yellow circular bag, metallic sunglasses and silver stiletto pumps bring together the whole look with fun and chic vibe.
Items
sweater VICTORIA BECKHAM Cashmere-blend sweater
Skirt PRADA Plissé-organza skirt
Bag NICO GIANI Tunilla mini leather-trimmed cotton-canvas shoulder bag
Coat MAX MARA Azeglio Double-Breasted Linen Trench Coat
Similar styles
Skirt from left to right
Left CEDRIC CHARLIER Rib-Knit Midi-Skirt
Right ALICE AND OLIVIA 'Essie' Pleated Crépon Midi Skirt
Left NICO GIANI Yellow & Orange
Middle ARANAZ Rosario Round Tote
Right Clare V. PETIT ALISTAIR TOTE
Look 3 The Same Pick With My Idol
This outfit has a little story to it. I picked up this pair of brown trousers a few weeks ago and on my first visit to NET-A-PORTER's HQ to meet with the Global Head of Buying for a brief interview, she had the same pair on! With both of us initially starting out as fashion buyers, I was so nervous to finally meet her. She's one of the women I look up to most in this industry!
My starting point for this outfit was the pair of straight leg velvet Chloe trousers with a high waist and small white horses embroidered all throughout. The very slim silhouette really helps to elongate the legs and give a nice pop. It's these kind of small details that I pay most attention to when choosing pieces. The trousers are definitely the focal point of this outfit, so on top I chose a dark blue camisole by The Row and a pair of white ankle boots by Rag & Bone.
The simpler the design, the more a piece can exhibit the finesse and artistry of a designer in the details of that piece. As a fashion buyer, I've always been fairly picky about details and a feeling of design. Having worn camisoles from tons of brands across all price points, this piece by The Row is perfect in every way. I love the bust line and the flow of the neckline. All these details hold a sexy exquisiteness.
Rag & Bone's ankle boots have a nice matte finished leather and suede mix. With a pointy toe and only a 3 inch heel they are super comfortable to wear for the whole day.
Items
Pants CHLOÉ Embroidered cotton-blend velvet straight-leg pants
Bag HUNTING SEASON Oval Trunk striped leather shoulder bag
Camisole THE ROW Biggins Silk-Blend Georgette Cami Top
Shoes RAG & BONE Beha Mixed Leather & Suede Zip Boot
Similar Styles
左 SONIA RYKIEL Floral-Print Flared-Leg Corduroy Trousers
中 MSGM High-Rise Floral-Print Crepe Trousers
Left ALEXANDRE BIRMAN Kitti Point-Toe Leather Bootie
Middle BALENCIAGA Slash Leather Bootie
Right TABITHA SIMMONS Emmet Lace-Up Leather Ankle Boots
Look 4
During my business trips, I try to set aside a day or two to take some time and check out the city. I like to see the sites, visit museums and galleries, attend shows, and take in all the delicious cuisine from local restaurants.
For any trip, I want to make as many memories as possible. So comfort is definitely key with my style on these days.
These trousers have beautiful stripe accents along the outer seam, with a relaxed fit through the legs, making them flow really nicely. In April and May, a nice light cashmere top is perfect for London weather. With rainbow lettering spelling out Bonjour and Bonsoir on front and back, this sweater has just a little spark of fun to it. Both the top and trousers have lighter yellows and darker blues in them. I chose this stylish yellow circle bag from an earlier look to bring a more eye-catching pop to the ensemble.
Items
Sweater CHINTI AND PARKER Bonjour Bonsoir intarsia cashmere sweater
Pants PETER PILOTTO Striped satin-trimmed cady culottes
Bag NICO GIANI Tunilla mini leather-trimmed cotton-canvas shoulder bag
Similar Styles
from left to right
Left ADAPTATION Cropped Side Stripe Trousers
Middle GANNI Side-Stripe Trousers
Right ASTRAET Side Stripe Wide Trousers
Looking forward to my next visit already.