New Icons: Yohji Yamamoto's Anti-Origami
Along with His Spring/Summer 2016 Menswear Collection, Yohji Yamamoto's Brown Paper Bag Disrupts the Corporate Dress Code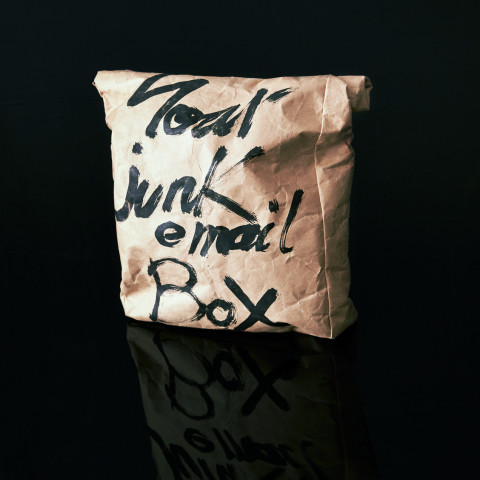 New Icons celebrates the stories behind particularly notable pieces from this season.
It is hard to believe that, after 40 years of exploring the boundaries of tailoring, Yohji Yamamoto is still trying things for the first time. And yet, it is this type of experimental naiveté that has made the Japanese designer such a wonderful antidote against the obvious for all these decades. "This is the first time I tried a very tight suit on the body," Yamamoto confessed to after his Spring/Summer 2016 menswear collection debuted in Paris, "Very interesting and challenging. Because if you do not do it seriously, it can only look businessman." On his first try with the fitted suit, Yamamoto has already perfumed a stagnating market with his wisdom: if you don't take things seriously enough, you can end up looking… Well, serious.Continuing his "black collar" take on the office uniform—adding green jacquard to a two-piece suit, Abstract Expressionist shoulder panels to blazers, and a paint marker drawing of a skeleton walking its dog where needed—Yamamoto has also delivered his answer to the briefcase: a brown paper bag. Emblazoned with splashy calligraphy that reads "Your Junk Email Box," the gesture is unapologetically brash, yet useful. A locked attaché is a good way to store valuables, but a bag that looks like it could be wrapped around a beer bottle is even more low-profile. Such a Trojan horse shows the signature attitude of a designer who plays so much, while still paying homage to the subtlety of construction and silhouette. As Yamamoto has demonstrated time and again, perfectly tailored black clothing is the best way to say, "You can take a look, but I'm really busy." Discretion and cool have always had a kind of on-again-off-again relationship. And do not even bother with the orthodox notion that leather is more "refined" than paper. If the haters are going to hate, let them send this and all those other ideas to the spam folder. It's. Chill.
Of course, this all isn't . Let's stop right there. Even the most crumpled departures from luxury do not come without their predecessors. For Fall/Winter 2012 Jil Sander released the Vasari Bag, a brown paper bag for men with the company logo on one side. However, it would be a mistake to conflate the two. While Sander's Vasari was a crisp ode to conceptualism, Yamamoto's is messy and fraught with emotion. It really gives a shit, and wants to be heard. It is like anti-origami, and any touch of the machine—such as the perforated edges—has been outweighed by the hand of man and his desire. The bag foretells the sentiment of Yamamoto looks to come, pairing well with a baseball cap that reads "Corporate Motherfucker" from the Fall/Winter 2016 runway show.