Perfect Outfits for Summer Wedding Guests
Recently many of my friends have received invitations to weddings and have been asking me what to wear. In May, millions of people watched Prince Harry & Meghan Markle's Royal Wedding. Besides the bride's wedding dress, people were talking about the best dressed guests too. After some thought, I selected four outfits for wedding guests from ModeSens's partner, MatchesFashion.com to inspire both my friends and you.
Firstly, show your happiness for the couple by following the dress code on the invitation. If there is no dress code simply avoid white or off-white colors, which most brides today choose for the color of their wedding gown. In the summer, gentle and soft colors are a nice choice versus overly bright or shining pieces. Further, it's best to avoid designs with overly exposed skin. Dressing up for weddings shows respect for the newlyweds, but you should definitely avoid trying to steal the show.
Look 1 Modern Chic Suit
The first outfit I chose is from New York designer Gabriela Hearst. For those who like to wear suits at work, by choosing different colors, materials and styles a proper suit can fit in a wedding atmosphere too.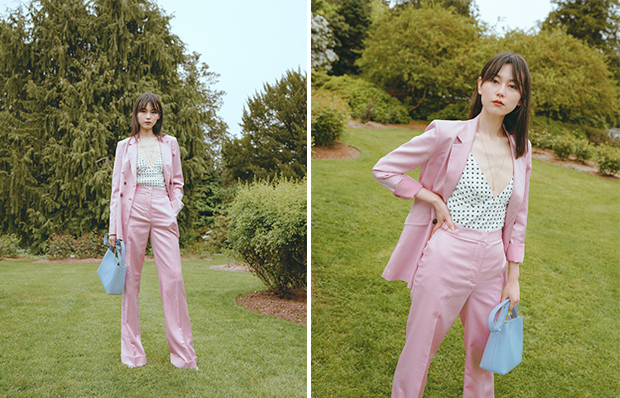 This pretty shade of pink softens the lady boss vibe. Compared to a precision-tailored jacket, this medium-length blazer gives a more casual, chic feeling paired with the matching pants. The luxurious combination of wool and silk is ideal for spring-summer time.
To accessorize, I picked a sky blue bag with a minimalist profile. This bag has an easy everyday look that can go from work to wedding.
Items
Blazer
GABRIELA HEARST Miles wool and silk-blend herringbone blazer
Pants
GABRIELA HEARST Gainsbourg herringbone wool and silk trousers
Necklace
RYAN STORER Lily gold-plated choker
Bag
AESTHER EKME Box Crossbody Bag
Similar Styles (left to right)
Pink Suit
Left THEORY Admiral Crepe Power Jacket
Right THEORY Pink & Purple
Blue Suit
Left THE ROW Pesner Oversized Grain De Poudre Wool Blazer
Right THE ROW Lada grain de poudre wool straight-leg pants
Orange Suit
Left GANNI Checked Cady Blazer
Right GANNI Garvey Checked Cady Wide-Leg Pants
Look 2 Vintage Sweetness
In spring and summer, many couples love to hold garden-style or outdoor weddings. A vintage and charming dress like this would be a perfect fit. Headquartered in London, MATCHESFASHION.com has lots of outstanding pieces from local designers.
This eye catching piece comes from British designer Alessandra Rich's spring/summer collection. The cuffs, collar and delicate rose print are full of retro vibes. The double-breasted front lifts up waistline, elongating the legs. The dress is slightly fitted throughout the bodice before falling into a flattering pleated skirt. Girls who like to wear pleated skirts but are worried about the style accentuating their hips will be pleasantly surprised by the slimming fit.
To go with vintage style apparel, I like to choose accessories with pearls drops, a choker or a tweed bag.
Item
Dress
ALESSANDRA RICH Rose-print silk crepe de Chine dress
Bag
ALEXANDER MCQUEEN Nano Box Bag
Earings
MIU MIU Faux-pearl and crystal clip-on earrings
Necklace
MIU MIU Swallow-pendant gingham necklace
Abigail Spencer attended the royal wedding of Prince Harry to Meghan Markle held
Dress ALESSANDRA RICH Pleated polka-dot silk crepe de chine midi dress
Similar Styles (left to right)
Dress
Left SEA Rosalie Printed Crochet Pom Maxi Dress
Middle RED VALENTINO Floral Midi Dress
Right ALESSANDRA RICH Pleated floral-print silk crepe de chine midi dress
Accessories
Left ROSANTICA BY MICHELA PANERO Suono Drop Earrings
Middle ETRO Embellished Lace And Grosgrain Choker
Right KENNETH JAY LANE Gold Tone Faux Pearl Drop Earrings
Look 3 Solid Color One Piece
A classic one piece dress in a soft solid color is quite suitable for wedding guests. This EMILIA WICKSTEAD light-blue Amelia midi dress is an exclusive style for MATCHESFASHION.COM. It's made in the UK from heavyweight wool-crepe with a round neck, gathered elbow-length sleeves and a demure flared hem.
The back shoulder details and crepe sleeves are tailored for a chic balance. With loose pockets, the handsome design gives off a cool girl spirit.
Off white accessories are a great way to balance the solid blue dress. I wore a corset belt to define my waist and chose matching pearl earrings and clutch.
Item
Dress
EMILIA WICKSTEAD Amelia wool-crepe midi dress
Bag
SOPHIA WEBSTER Clara faux-pearl embellished box clutch
Amal Clooney in yellow for the royal wedding
Similar Styles (left to right)
Left ROKSANDA Satin-trimmed crepe midi dress
Middle MICHAEL KORS Sleeveless Crewneck Stretch-Boucle Sheath Dress
Right MICHAEL KORS COLLECTION Ruffled stretch-wool crepe dress
Look 4 Romantic Florals
Having a wedding at the beach is another amazing type of wedding. This iconic wrap dress, from Diane von Furstenberg's collection, gives great protection from the sun and is shown layered over a printed silk slip. The double front and back slits draw the eye to the side-hem slits and give a sexy, chic style.
The bold white, green and blue Boswell floral print with ruching through the bodice and sleeves define a curvy shape. The maxi style also provides safety from unexpected sun and wind gusts.
Straw hats, woven bags and sunglasses are the three must have accessories on beach. To match with the floral print, I picked accessories in white and cream colors. This lovely off-white straw hat by Maison Michel adds a romantic vibe to the whole outfit. Swing a basket bag alongside bohemian edits for a free-spirited beach look.
Item
Dress
DIANE VON FURSTENBERG Boswell floral-print ruched gown
Sunglasses
CHLOÉ Carlina round-frame sunglasses
Hat
MAISON MICHEL Henrietta straw hat
Bag
DRAGON DIFFUSION Myra Cannage woven-leather basket bag
Similar Styles (left to right)
Dress
Left ALICE + OLIVIA Alves cold-shoulder devoré-chiffon maxi dress
Middle DODO BAR OR Ruffled crystal-embellished floral-print chiffon midi dress
Right PROENZA SCHOULER Floral-Print V-Neck Silk-Crepe Midi Dress
Bag
Left HEREU Cabas Leather-Trimmed Straw Tote
Middle EUGENIA KIM Carlotta Embroidered Straw Tote
Right NANNACAY Maria Pompom-Embellished Woven Raffia Tote
From modern to vintage to classic to romantic, these four wedding guests outfits from MATCHESFASHION.com provide inspiration for every style of wedding. Follow me now for everyday inspiration. Until next time!
Jing