Plaid and stripe, the best match for a summer street fashion show!
Like it or not summer has already come with the high temperature and the bright sunshine. I don't know about you guys, but I personally like summer a lot. Summer is just so versatile. And men get so many choices just as women when it comes to street style fashion.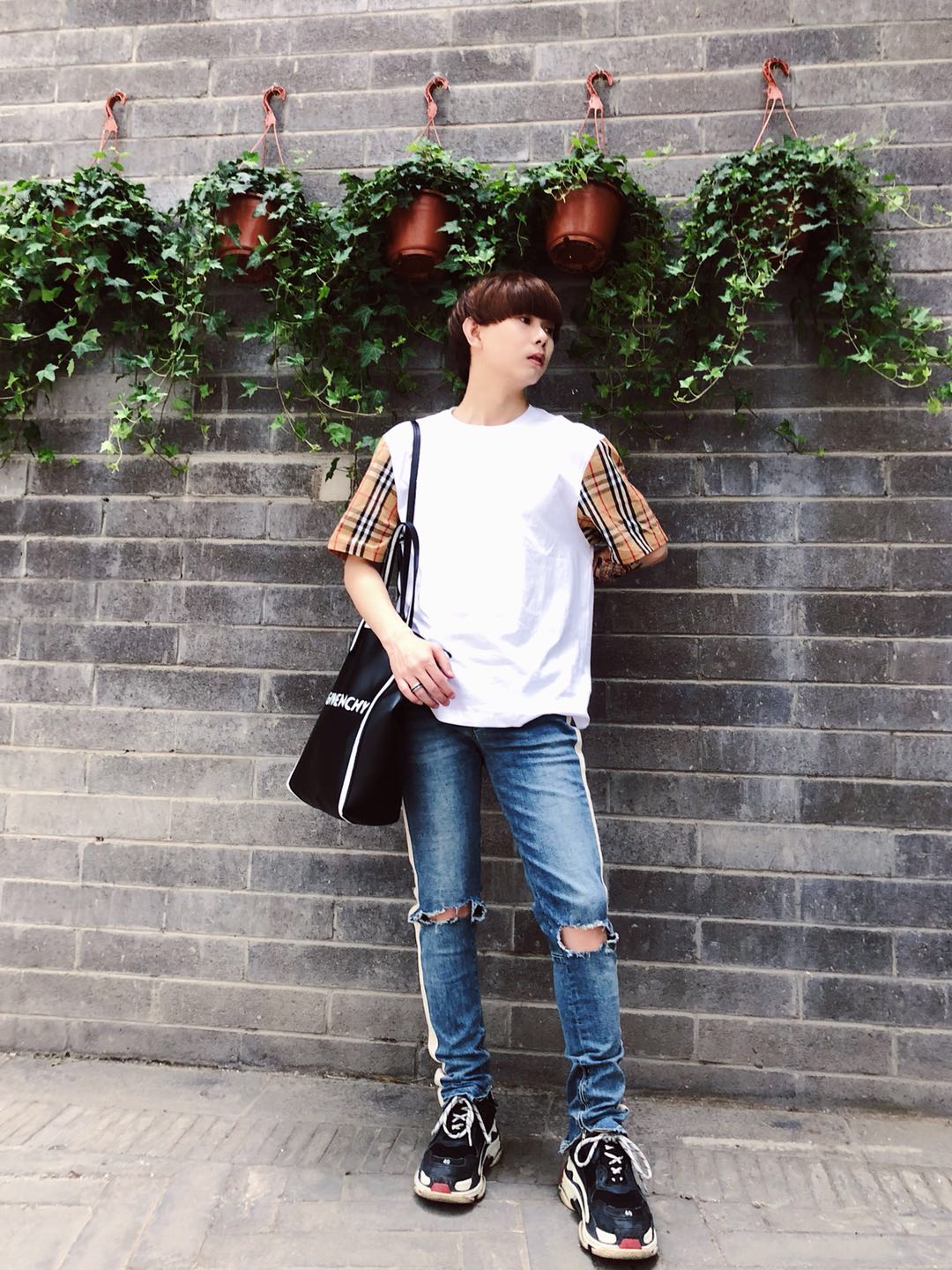 Last Sunday, I and my friend went shopping and also got some great shootings. For such leisure time with friend, put on something comfortable and make a special street style of your own. Just take care to not get burned by the sun, lol.
To look taller, it would never be wrong to choose stripe pants. Bonus: it made you look thinner. I liked this pair of stripe jeans a lot, they were fashionable, cool and went with almost everything you like. And the two holes on my knee gave a more touch of fashion. You know what, I designed them all by myself, hope you'd like it. I'm planning to sell it on my website later on. I'd really appreciate it if you'd like it and support my design.
As for shoes, you must have seen them on my feet several times. Yes, the BALENCIAGA TripleS Sneakers, that you can wear for almost all your outfit. Comfortable and stylish, they are definitely one of the best choices for men's street style.
The essence of the street style, I guess, would be cozy and casual. So I went for the plaid t-shirt from the BURBERRY Capsule Collection, which is definitely worth a try. Unlike the plain white t-shirt the plaid sleeves made a good contrast, bringing a new touch of uniqueness and fashion for the street style.
And as we went to shopping, I choose the graffiti leather handbag from GIVENCHY, trendy and practical, holding all the things that I bought. Just a tiny tip: if went out with a female friend, be prepared for an exhausting day. My friend, she was just so "amazing" when it came to shopping. First she hesitated, then she asked for your advice, you gave, but you know what, she simply didn't care and bought the one I didn't recommend. Next time she ask for my opinion, I'll try both are good :)
T-shirt | Shop here
Jeans | Similar Here
Bag | Shop here
Sneakers | Shop here