Raf Simons' Young Americans
The Designer's Intriguing Arrival at Calvin Klein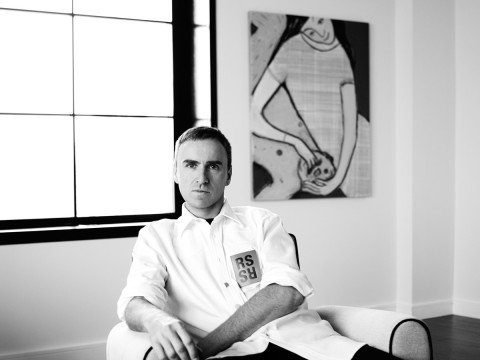 Tools, objects, and torn star-spangled banners hang from the ceiling. Installed by artist and long-time collaborator of Raf Simons, Sterling Ruby, the historic venue on 29th Street and 7th Avenue was imbued with a tasteful yet decidedly unglamourous vibe. Like everything else connected to the anticipated rebirth of this iconic label, the chosen location was a statement in itself. It is here, at the ground floor of the Calvin Klein headquarters, where Raf Simons presented his debut collection for the American brand.This made perfect sense. When Hedi Slimane, Simons' peer and rival, (the rivalry arising from the question of who really invented the skinny silhouette) started as creative director at the legendary house of Yves Saint Laurent, his first moves seemed like an apathetic take-over. Slimane changed the name, logo, and look of the brand. He moved the creative center of the most Parisian of labels to Los Angeles. Simons on the other hand, is more subtle in his operations—but don't mistake it for indifference. There is no doubt that he will leave no stone unturned.
Raf Simons' first collection for Calvin Klein represents nothing less than the miracle of resurrection: striped pants in strange colors, different shades of cowboy boots, quilted parkas, and faux fur shrouded in transparent plastic. The clothing evokes images of marching bands, the classic Western, Georgia O'Keeffe, dormroom sex, Wall Street suits, and vaguely suburban floral dresses. They are reminiscent of the conceptual rigor of Helmut Lang at his strongest—they demonstrate Simons' insatiable fascination with the idea of youth. These designs are not meant to stimulate the sales of fragrances and underwear. They are meant to be bought—or stolen—and worn to death.The show in January was scored by two versions of David Bowie and Pat Metheny's "This Is Not America." An obvious choice in these days, and yet still completely in tune with Simons' artistic decisions. When Bowie started to conquer the American market in the 70s, he called his work "plastic soul"— a genius tag that described both his fascination with the American music tradition as well as his distance from it. Simons' approach seems similar—helping himself generously from the all-you-can-eat buffet of American style, while using a knife and fork and perfect table manners.
But it is not the 70s anymore. Even if any generalization is only a part of the whole picture, America seems less inclined to question its own cultural heritage. Fashion seems to have polarized between the niche—Eckhaus Latta, Rodarte, Telfar—and the super-mainstream—Ralph Lauren, Tory Burch or Coach. Simons is a designer whose emotion is always veiled by an intellectual and seemingly cool modus operandi. The risk will be that his vision for Calvin Klein is not American enough for the home market—and not Raf Simons enough for the rest of the world. This risk, as it often happens, is exactly what stirred the critics. It is also why his appointment—apart from coming as a surprise after his passionate rants about the accelerating speed and stress of the industry—was a silver lining in the increasingly generic world of American fashion.
The tricky thing with Calvin Klein is that the brand was much more important in terms of marketing than as a fashion house. What comes to mind when thinking of Calvin Klein is Brooke Shields; Tom Hintnaus in his underwear as a Hellenistic god by Bruce Weber; Kate Moss and "Marky" Mark Wahlberg—teenagers in hotpants. The formula of tabooed campaigns, plus underwear, plus a vanity-collection that has no commercial impact, does not match Simons' ambitions. After all, his previous gig was at Christian Dior. The challenge will obviously be how to convince people inside and outside of the company that the fashion itself should have the creative and commercial relevance that it has arguably lacked for years. Simons' predecessors after all—Francisco Costa for womenswear and Italo Zuchelli for menswear—though both talented and in tune with the typical mainstream minimal futurism of the brand, never managed to create a crucial level of excitement or impact.
Some days before the show, the first campaign was revealed. It was remarkable in its ability to perfectly combine the locker-room heat of "classic" Calvin, with a nerdy twist and an appetite for grandness. For the campaign, Simons' favorite photographer, Willy Vanderperre, shot teens in archive garments in front of colossal paintings of Andy Warhol, Dan Flavin, Richard Prince, and—surprise—Sterling Ruby. The juxtaposition of the younger figures and the overheated, blue-chip-esque art market was as sarcastic as it was affirmative—a technique that Warhol established and perfected. It was the logical continuation of Simons' last collection in collaboration with the Robert Mapplethorpe Foundation—a disappointment for his more rigid fans who had hoped for a fresher take.
Raf Simons understands this, just as he recognizes perfectly the need for iconic imagery. Whichever way he chooses to navigate course ahead, he's equipped to take the wheel.