Rolling Through Stockholm with Eytys
The Brand's Co-Founders Max Schiller and Jonathan Hirschfeld Give a Guided Tour of the Swedish Capital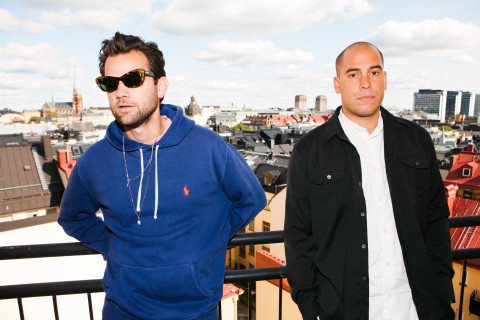 In the global imagination, Stockholm is a city celebrated for its furniture design, quaint architecture, and overall high-bougie sheen. But a deeply erratic strain lies within the city. In the summer, its sunlight is unblinking. In the winter, its tourism evaporates and the city descends into darkness. This sense of bipolarity courses through the DNA of Eytys, the Stockholm brand that has become known for freely colliding the subcultural lexicon of footwear (platform alpine hiking boot, anyone?). Its founders Max Schiller and Jonathan Hirschfeld met as teenagers in a McDonald's built around an expressionist fresco by Isaac Grunewald, a testament to this spirit of the remix. Just after the Autumn Equinox, Schiller and Hirschfeld treat us to a non-ritzy tour of Stockholm's gems with their doppelgängers Nora and Olivia.
FOR AN INSTITUTION This is the best brasserie in town! We love it and so do our parents and their parents before them. The kitchen is open until 1am, which is really rare for Stockholm, and the bar is open til 2am. Get the knäckebröd (Swedish crisp-bread), which they serve a mix of smoked cod-roe and whipped cream. Also, we suggest the "Five Assiettes," a serving of the five best dishes in Swedish cuisine (minus the kebab pizza). The one to go for is the gravlax, then you have the Skagenröra, which is butter toasted bread with shrimp and mayonnaise, then two kinds of herring, and then a very Swedish paté with mustard. Have it with beer and a shot of ice cold Aquavit.
FOR A STORY This McDonald's has a huge mural painting by Isaac Grünewald. It's in a fancy part of town. The mural was there long before the McDonald's—he painted it in 1938. Across the street is the Jewish Community House. They would have parties for teenagers when we were kids, you had to be 13 to get in. That was the first time we met. We were standing outside arguing with the guards trying to get them to let us in. We've been friends since then, and we ended up in the same high school later.
FOR A VIEW Here is Stockholm's coolest building. It's a brutalist 60s TV tower with a really crappy restaurant at the top. It's worth going for the view—and to make fun of the fact that you're at the worst restaurant. It's a very beautiful building and you can see it everywhere in the city. Most people think it's ugly, but we think it's fantastic in terms of architecture.
FOR A SHIPWRECK In the 17th century, Swedish King Gustavus Adolphus with hubris built the biggest, meanest war ship in the world. He imported all the oak trees he could find from Holland, built this massive ship, and loaded it with so many cannons and embellishments that it became completely unbalanced and too heavy for voyage. It sank half an hour into its maiden voyage and hundreds of people on-board died. In the 50s, this man found it in Stockholm and they spent the next 15 years planning how to take it up. It was under the mud, 36 metres down, and intact. It's really cool. The museum is built so you can walk around it. You used to be able to board the actual ship, but now it's rotting. They're really worried about how to preserve it for future generations.
FOR MUSHROOMS AND RAVES The Lill Jans Forest used to be the king's hunting ground, but now it's in the center of town. You can take the subway to pick mushrooms. It's the best meditation. There's a cool water tower hidden inside where most kids from our part of town had their first blaze. They have these open air parties too, all summer the raves move outside. It's quite nice because you have these three months out of the year where the sun doesn't really set—it isn't up, but it's not dark. You go in there and it's far away enough so the people living around it won't hear the bass, and the police usually don't show up.
FOR A SWEDISH SLICE Gröne Riddaren. The Green Knight. We have our own pizza tradition in Sweden, and you always get white cabbage salad (white cabbage, vinegar and black pepper), kebab meat, and bearnaise sauce on your pizza. It's the most common thing. You can ask anyone anywhere from North to South—everyone would know what it is and everyone would eat it. This place is great and located in the most posh area of town, which makes it very random.
FOR #32 Sawadee is a Thai restaurant in a shitty food court, but the food is so good there's no way not to go. They have a secret menu for Thai people that they don't show you. Number 32 is the best Thai dish you can get in town. It's very sour and spicy soup with rice noodles, fish balls, ground pork and peanuts.
FOR THE PERFECT EVENING First, go for a beer at the cheapest bar in town where kids with fake IDs go, followed by dinner at our favorite restaurant right next door. Treat has slot machines where you can just press the buttons to win some money. You have kids from all across town going there for alcohol, which makes it a mix of people. Babette is a neighborhood gem. They have the best wines in town, really good food, it's a good price, good scene, and we always end up going there. Our friend Carsten Höller has his own table there. It's like a private party because you know everyone. It's Scandinavian with a little Mediterranean as well. The menu changes everyday, and it's a really high level. They wouldn't want Michelin stars (the music's too loud, it's too busy) but the food is at the level of a Michelin star restaurant.
FOR SELF-PROMOTION What's interesting is when we were kids growing up, this was the street where you could find skate shops and streetwear shops. It had all these traditions, it was the only place we could find skate shoes and Dickies when we were 10 years old. Our store is right on the edge of the shopping area where you have all the fancy stores—the Burberrys, the Pradas—but that's not for us, we would never fit in that environment. We still wanted to be a part of a natural walk around this area.