Salomon and the Rise of Hyper-Functional Fashion
Writer Gary Warnett Delivers a Closer Look at the Brand Creating Today's Most Trend-Setting Sneakers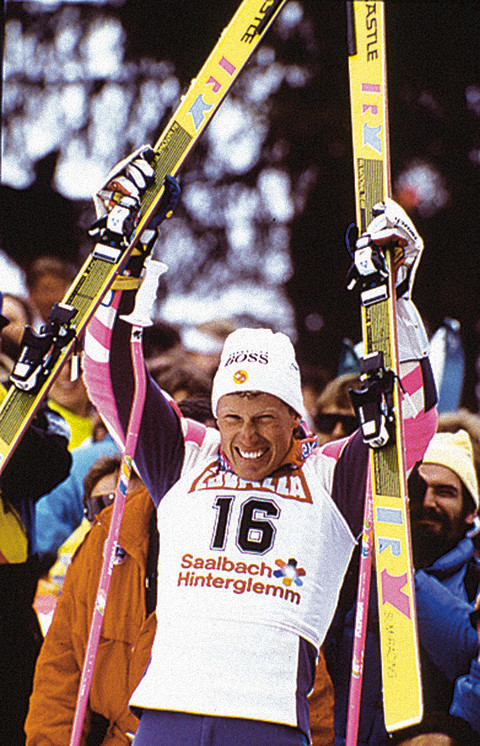 Where do we go when every single interesting archive oddity has been reissued, referenced ad nauseum, or spliced clumsily with modern technology? We head upwards.
Hyper-functional footwear brings a clarity that contradicts watered-down notions of "athleisure" by offering absolute focus and with it, its own powerful aesthetic. Some might want to stick to the basics, but the forward-thinkers are traversing a different, more risky path. Fortunately, Salomon are well equipped for it.The French outdoor brand has chosen to cater to its high-altitude clientele instead of wasting time chasing trends. It is a focus that makes it an antidote to bigger companies in a similar space who might be exploring the crossover. With its popular line of Kevlar speed laced, waterproofed, and stealthy trail footwear, Salomon operates in a world that it helped form. The company's focus on absolute function is the polar opposite of an increasingly tiresome industry obsession with retrospective triumphs. But that doesn't mean that Salomon's past does not guide its current releases.
Founded in 1947 by François Salomon, his wife, and his son Georges, the Annecy, France-based company started life making saw blades, based on Salomon's metalworking expertise. That focus would shift to ski edges and bindings, which the company would hone during the subsequent decade. In an era where skiers were snapping ankles in minor falls, the 1955 introduction of a releasable toe binding was something of a savior. A pressure-sensitive cable heel binding followed around 1957, offering an even more effective level of safety on the slopes. By 1965, Salomon perfected the full-release binding concept that is recognizable in contemporary ski boots, promoted to skiers as "votre ange gardien" ("your guardian angel").Having expanded far beyond their diminutive workshop, a million bindings a year were being sold by Salomon by the early 1970s, making them the industry leader. Shifting into boot development as well as bindings, Salomon became a full-blown brand, and their output would solve another issue: the time spent putting on a pair of ski boots. Top-entry boots at the time were problematic for anyone wanting to hit the piste in a hurry. Building on some concepts pioneered and patented earlier in the decade, Salomon refined the rear-entry concept in the early 1980s, resulting in some of the most aesthetically appealing designs of all time.
Footwear collaborations with designers might seem like a modern development, but drafting in creative assistance and co-signs from some progressive thinkers is a time-honored tradition. Designer Roger Pitiot joined Salomon in 1976—and is a well-regarded innovator in his own right—but it was his work with veteran French industrial designer Roger Tallon that really defined a brave new look for the company's output. In his lifetime, Tallon created trains (including the route maps within them), motorcycles, watches, lamps, cameras, furniture, and much more, but for skiers Rogers's key co-creation was the SX91, a 1984 follow-up to the rear-entry SX90 ski boot.The SX line was the result of five years of research, and the SX91 Equipe's slide forward flex control was a programmable approach to adjustment that could be altered depending on the snow conditions or terrain. Partnered with Salomon's patented fit system, the boot was acclaimed to the point where, like a coveted basketball or running shoe, it fetches significant money on eBay and can be seen on the feet of connoisseurs who think that things peaked on its introduction. Skiwear of the 1980s was not known for its subtlety, and the choice of bold red color and angled lettering made no secret of who manufactured them. But for all the era-of-excess elements, the SX90's poise and sense of motion ("For the competitor in us all") make it a masterpiece.
By 1991, the brand had expanded into selling skis to work with unique boots like the new neon and patterned Integral silhouette. While amendments to top-down fits ultimately made rear-entries a rarity, the work by Pitiot, Tallon, and the team had created a design language and standard for the Salomon brand that continues to the present day. Realizing that there was scope for expansion into the hiking market, Salomon began work on hiking boots with similarly statement-making looks. The original release, 1992's Adventure boot—heavily inspired by the SR911 cross county ski boot—incorporated a similar internal fit to those ski designs, with an unorthodox asymmetric zip fastening. These non-traditional creations were the start of a series that would ultimately incorporate hinged plastic ankles for support. A 1993 Salomon ski boot called the Profil Country even fused a hiker upper with a ski sole.In the early 1990s, the lightweight hiker hybrid sneaker had become a fashion statement. It was the evolution of a genre that began in the early 1980s, as new ways to fit Gore-Tex helped make protective footwear without bulk. It had become a category in every big sportswear brand, with aggressive outsole grip and internal shanks for support, but the lightweight comfort of a running shoe. Curiously, the Adventure 7 became a big shoe in Spanish clubland for a while, while a more conventional low-cut brown hiking hybrid, the Exit, also become a huge hit a few years later. By 1997, models like the Exentric, a low-cut shoe that was part of the X-Hiking range, would be featured in Vogue.
1997 would also be the year that adidas bought Salomon from Georges—alongside the golf brand TaylorMade, that he had shrewdly acquired in 1984—and that focus on trail would also expand into action sports, with inline skates and apparel in the collection. Trail running had become a category of its own by the late 1990s, and Salomon's 1998 releases like the Raid Runner and Vapor Trail were acclaimed for their performance. Between 2001 and 2005, the Salomon Group owned the acclaimed Canadian outdoors brand Arc'teryx, a deal that would end around the time that Salomon was sold to the Finnish Amer Sports company.
After Amer Sports took ownership, Salomon emphasized trail running and fast hiking. Georges Salomon passed away in October 2010, around the time of running's second boom. Trail running would flourish too, with the grueling masochism of the Tough Mudder and Spartan Race events amassing willing participants, and the appeal of an escape beyond the digital clutter and constant connection of the modern age. Coinciding with the new focus on fitness, New York trend forecasters K-HOLE's misunderstood Youth Mode report unleashed the notion of normcore onto the world in all its situational, post-aspirational, adaptable glory in 2013. In that spirit of the times, a resulting slew of shoots, columns, and thinkpieces placed functional, often unlikely, attire in place of flashy, statement shoes and clothing with a contrarian attitude at its core. As a result, it wasn't a surprise to see New York boutique VFILES stocking Salomon SpeedCross shoes in 2014.Today, alongside the ski, mountaineering, hiking and snowboarding footwear, apparel and equipment, Salomon's trail runners are a major brand focus. The S-LAB collection is for ultra-distance performance, with Spanish ski mountaineer, ultramarathoner, and trail running legend Kílian Jornet Burgada named as a consultant and endorsee. The XA series is extra rugged, while the SpeedCross series—which debuted in 2007 with the SpeedCross 2—continues to be a well-reviewed series. Fancy-sounding Contagrip traction, LT Muscle foams, and Climashield weatherproofing have been tried and tested by the kind of people who don't just wear their shoes for Instagram likes.While many still put shoes on for nothing more extreme than a workday commute, it's nice to know that if you suddenly feel the urge to run 50 kilometers, or think that changing your scenery by sprinting across a mountain is a great idea, your footwear might be the right tool for a daunting task. The hunger for hyper-functionality is a phenomenon that rejects past triumphs and one that merrily contradicts fashion's ephemeral nature by partnering with pieces that are built to be near-indestructible. Whereas the crossover of The North Face and Nike ACG was rooted in the external influences of hip-hop videos and skate culture, Salomon focuses on the product itself. It's not some diluted "urban mobility" takedown, and, as more and more people choose to reject heritage in favor of the now, a brand like Salomon makes more sense as everyday wear. After all, it's 2016, and our sneakers should look like we always expected them to look at this moment.