SEVEN WAYS TO WEAR YOUR SCARF IN STYLE
Shared from MR PORTER . Click here to read more
The dos and do-knots, if you will, of keeping your neck warm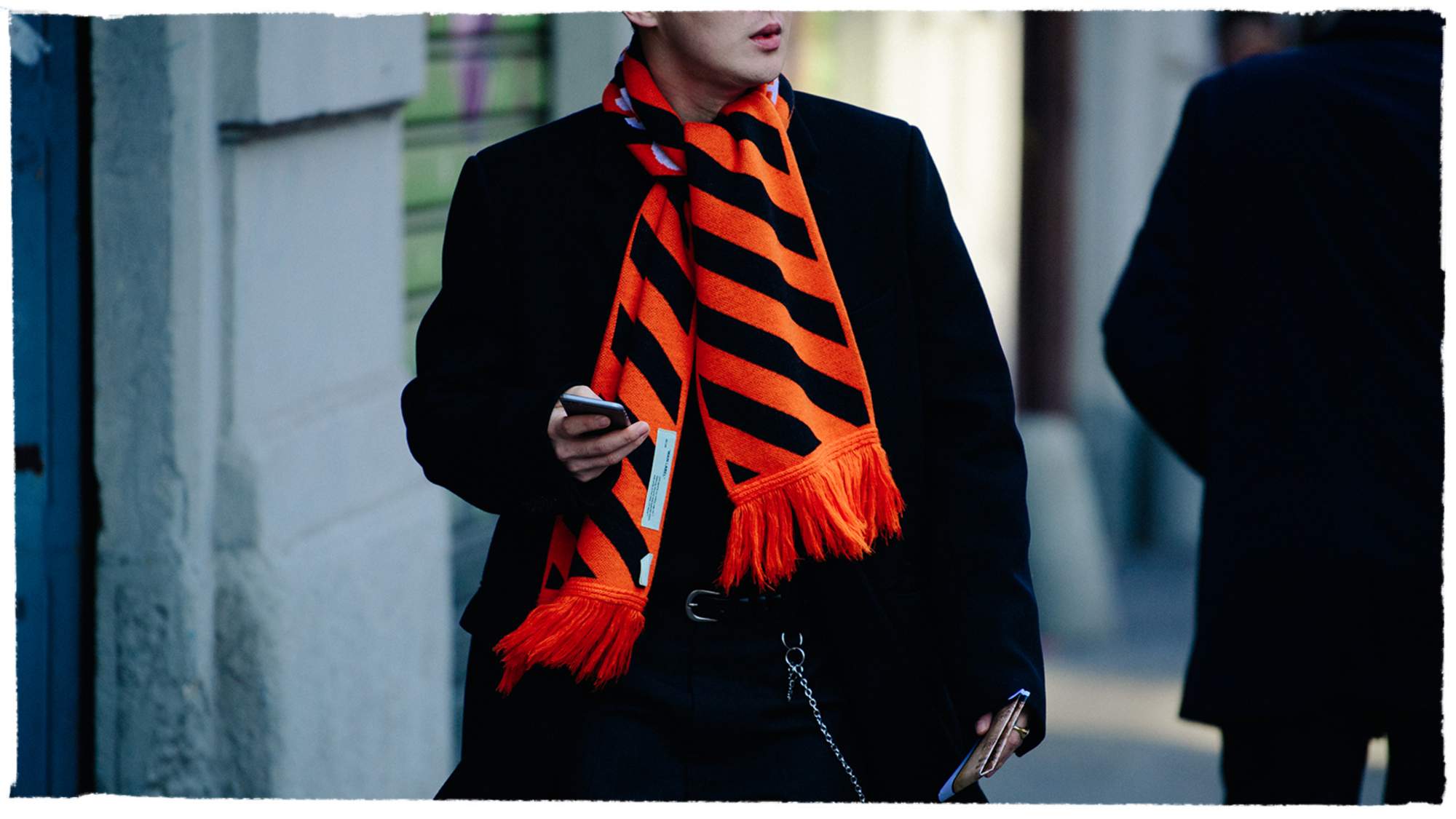 Sometimes, it's the little things that make all the difference. Take the scarf. It's hardly more than a rectangular piece of fabric, but in the right hands, it can define an outfit, adding pep, vim, pizzazz, flair and all of those other nebulous concepts that collectively amount to style. While scarf season is technically year-round, it doesn't kick off properly until the temperature begins to drop. So, to prepare you for the coming months, we've collected seven examples of the men who wear it well.
With the fashion month of January fast approaching, the question on every aspiring street-style star and social-media influencer's lips is: how am I going to achieve that stately editor-in-chief-between-shows look in 2019? The rules of engagement have changed, with the once standard signifiers – a cigarette, a coat draped nonchalantly over the shoulders, a Blackberry – now looking as passé as a flash mob doing the "Harlem Shake". As illustrated in the photograph above, though, the scarf remains as effective a tool as ever. A light, silk-blend scarf in a simple overhand knot brings this gentleman's look to life. Follow his lead and you can expect to be ushered straight to the front row.
The first rule of scarf club is: if your neck isn't warm, you're doing it wrong. Of course, there are aesthetic concerns, as there are with any garment, but if the thing you're wearing isn't doing the thing it was designed to do, then frankly, it doesn't matter how good it looks. (You wouldn't wear your trousers around your ankles for the sake of style, now, would you?) Witness how this gentleman has positively swaddled himself in wool, tucking the ample folds of his scarf into his bomber jacket to better insulate his neck from the cold. There is finesse here, for sure, in the way he has slightly loosened the scarf around the neck, pulling the excess material inwards to create a cravat-like flourish. This is, ultimately, a look rooted in practicality: the desire to stay warm.
What you're looking at here is a textbook application of the Parisian knot, in which the scarf is folded in two and draped around the neck before the loose ends are passed through the loop and pulled tight. But, wait, that's not all. This picture also provides us with a wonderful example of what can be achieved through subtle variations of tone, texture and proportion. In what could broadly be described as a black-and-blue sort of outfit, there is nonetheless a great deal of contrast on show, not least between the smooth cotton-jersey of the sweatshirt and the shaggy wool of the scarf.
These two gentlemen look like they're opposing fans on their way to the football match on a Saturday afternoon, such is the way they're using their scarves to advertise their tribal affiliations. "It's Burberry vs Balenciaga in the three o'clock kick-off. Which way do you see it going?" On the left, Team Burberry gives us a masterclass in how to work the brand's iconic house check into a smart winter-appropriate ensemble. Note how the red of his hoodie and beanie hat chimes subtly with the red accents in the scarf, which matches the lining of his trench coat. On the right, Team Balenciaga shows good sartorial instinct by recognising that when you're going all-in on your scarf, it pays to keep the rest of your outfit pared back.
Does this look make you want to grab one of those ribbed cashmere scarf and beanie sets from Johnstons of Elgin? Yes, us too. By matching the colour and texture of his scarf with that of his beanie hat, this intrepid gentleman has girded himself for the cold while ensuring his look retains its underlying simplicity. It's an example to keep in mind during winter, when the plummeting temperature requires that we adopt a "throw it all on" approach to getting dressed that can make it harder to properly coordinate an outfit. Keep things simple by treating your hat and scarf as one element, rather than two. A "scat", perhaps? Or a "harf"?
This scarf is from Off-White's AW17 collection, which dropped just before the hype surrounding the brand went from red-hot to off-the-scale with the announcement in March 2018 that its founder, Mr Virgil Abloh, had been named creative director of Louis Vuitton. Looking back at this image, it's easy to see why the powers-that-be decided to snap up Mr Abloh for the role. He is an utterly fearless designer. Accordingly, you have to be fearless in order to wear some of his designs, this scarf – in a shade of orange usually reserved for traffic cones – being a case in point. This gentleman pulls it off admirably, realising, correctly, that head-to-toe black is just about the only thing with which it doesn't clash. (We're choosing to ignore the sunglasses.)
The chap on the right of this picture has something of the rambling country gent about him. In all honesty, he looks a bit out of place against the brick wall and next to his streetwear-loving friend. What is he doing here? Shouldn't he be taking the beagles for a walk around his parents' estate? Regardless, it's a great look from the Fifth Marquess of Peckham, who has opted for a moss-green coat and paired it with a coordinating tartan scarf wrapped once, twice and thrice around the neck (OK, maybe just twice), making full use of the longer length.
Shared from MR PORTER . Click here to read more