Sneaker State of the Union
Sounding Off on Sneaker Culture in 2015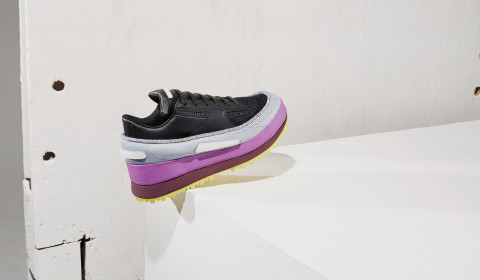 Sneakers have always been a staple, but it seems like lately they've truly taken off. How do we know? Just ask the fans. Formerly confined to niche menswear forums and eBay auctions, the sneaker community has exploded into a full-fledged movement. New products fuel a cycle of collaborations, limited releases, and celebrity endorsements – all discussed by a fanatically informed audience parsing each new colorway and Yeezy Boost leak. But as ever more luxurious and high-performing athletic footwear takes over mainstream fashion, how is the culture responding? We went to the source and asked industry insiders: what's next? Touching on everything from trends and tech to hype and high fashion, their observations make one thing clear–sneaker culture is bigger and more complex than ever.
Jeff Staple [Founder and Creative Director, Staple Design]: I like the culture a lot. You have good quality friendly (and not so friendly) competition between the giants Nike and adidas. You have a great crop of small indies bringing fresh perspectives to the table – all the way from Greats to Visvim.Oscar Castillo [Founder & Editor, Modern Notoriety]: Ten years ago, everything was much less accessible. Now everyone can enjoy and be part of it. I don't like old school guys complaining how it's not the same: it's like how no one is listening to backpacker hip-hop because trap is the new shit. Move on, stop complaining on my timeline. Alex James [Creative Brand Manager, Publish]: The current state of sneaker culture is a world of culture vultures dying to be fed trends.Masta Lee [Media Director & Designer, Patta]: Sneaker culture moves in cycles. I think currently it's on the upside. Brands seem willing to experiment again, blending various influences to create something fresh, and also being more involved with the culture. The only thing that bothers me is the lack of balance. When a silhouette becomes successful, 50 mediocre colorways of those shoes soon follow.
AJ: There are very high end designers pushing the envelope and creating some really unique sneakers. This, in turn, makes the big box brands have to think and work harder. Santino LoConte [Business Director, PONY]: Sneakers are part of a modern aesthetic. When a fashion-conscious consumer is looking for footwear to suit their needs, sneakers need to fit into their world of luxury. ML: It makes sense to cater to the audience with refined taste and more disposable income, offering something different and more sophisticated. OC: I think people adapt to simplicity more than something that's complex. When you have something that you can wear for every occasion, that's your go-to shoe. Matthew Henson [Fashion Editor, Complex Magazine]: You have Raf Simons for adidas and his Stan Smiths, which is a minimal silhouette but in vibrant colors. Raf also did an update of the Ozweego which is nothing close to minimal – albeit phenomenal. Even when a minimalist brand like Common Projects collaborates with Tim Coppens or Robert Geller, the product is clean, and not overthought or overworked, but not as minimal as their core offerings. Chris Danforth [Contributing Editor, Highsnobiety]: Brands like ETQ Amsterdam have definitely capitalized, and even Jordan brand is producing minimalist luxury executions. There are some great motifs being touched on, but many brands are simply following the trend. Eventually, the industry will move on. ML: Going all out generates minimalism sooner or later – and vice versa.
AJ: When two creatives get together and the collaboration process is fluid, the final result can be magical.OC: Collaborations are making a lot of smaller sneaker companies get noticed, but a collaboration nearly every week is too much. It's a rush for relevance.CD: The collaborative "x" is definitely overdone.MH: The ones that make sense are immediately eaten up by consumers and the ones that make the least sense are left on the shelves. It's wonderful how that dynamic works itself out.CD: In 2014, Ronnie Fieg stayed up. Nigo, Pharrell, Kanye West. People seem to like "person x brand" more than "brand x brand."OC: Hip-hop artists are way more influential than athletes. It's not the 90s anymore – people relate to music more than they do sports.JS: RUN DMC, Public Enemy, and Henry Rollins were too raw and scary for LVMH and the like to fuck with. But when Kanye name-drops French painters and Japanese architects, the conversation is safer for all.
CD: Sneaker culture and technology are two fields that will continue to collide. There has been a ton of recent innovation in terms of materials, like Nike's Hyperfuse or adidas' Boost. I'm predicting true integration of textiles and electronics: fabrics with circuits, smart fabrics. With products like the iWatch and Google Glass, wearable technology is a market sector that will only keep growing.AJ: I like the hybrid styles that are coming. Creeper sneakers, fully waterproof kicks, innovative slides and clogs, and super technical versions of everyday classics. OC: Brands are making stuff so comfortable, you don't want to take them off.ML: Just when you think things become dull, there's always something fresh and innovative on the horizon that nobody knows or has even thought of.
AJ: All those things are the gears that work the machine. Without them, there is no culture.JS: It allows for makers to share their works quickly and inexpensively. It also allows everyone to be an expert and a critic. Double-edged sword.CD: News blogs and social media have democratized the fashion landscape. We all have a window into Paris Fashion Week, Pitti Uomo, etc. Everyone has a voice, and the criteria for being involved in this world is less narrow than ten or 20 years ago.AJ: Sneaker culture is growing in strange new age groups. Ten year olds are trading kicks on all types of apps and even on Facebook.ML: It can make you lazy. Information overload can make people susceptible to consuming and dressing the same as the next person they saw on a blog, lookbook, or video, instead of creating their own style. On the other hand, it can make you feel anti-everything that is considered "hype."
OC: Healthy because it gives opportunities, create jobs, keeps everyone busy. Harmful because you have a lot of people robbing and killing for shoes.CD: Imagine sneaker culture without hype. It would probably suck. Fashion and sneakers are not the only fields susceptible to hype. Quinoa is hype. Apple is hype. Tesla is hype.SL: The hype cycle is harmful when abused. But the hype circle is the new salesman for brands.JS: It's dangerous when retailers and brands get caught up and demand the machine to churn out "hype shit" versus "quality product." Quality takes time… testing… blood, sweat, and tears. But if brands start chasing the blog roll and Instagram feeds, they will end up losing.AJ: I've seen the adverse effects, and it's brand suicide.CD: We should try to stay mindful of the reasons we may partake in certain trends, instead of blindly pulling out our wallets. The more questions we ask ourselves, the better.