SOME LIKE IT HOT WOK: THE ASAI TOP
Shared from SSENSE . Click here to read more
In November, models Aaliyah, Imari, Blésnya, and Elibeidy graced three different covers of M le Monde magazine wearing the Asai "Hot Wok" top. On one cover they are all locked in embrace, wearing the Hot Wok in a patchwork of different colors. Burnt orange, pink, ultramarine. Panelled sheer fabric dyed with horizontal lines of electric color and connected by streams of curly cabbage hems. It reminds me of a snake shedding its skin. Or a sea anemone's tentacles, swaying hypnotically in a tide pool. Its elastic fabric hugs the body. The sleeves dangle and flare. The turtleneck collar folds or scrunches. It's chameleonic. Think abscission. Organisms that molt.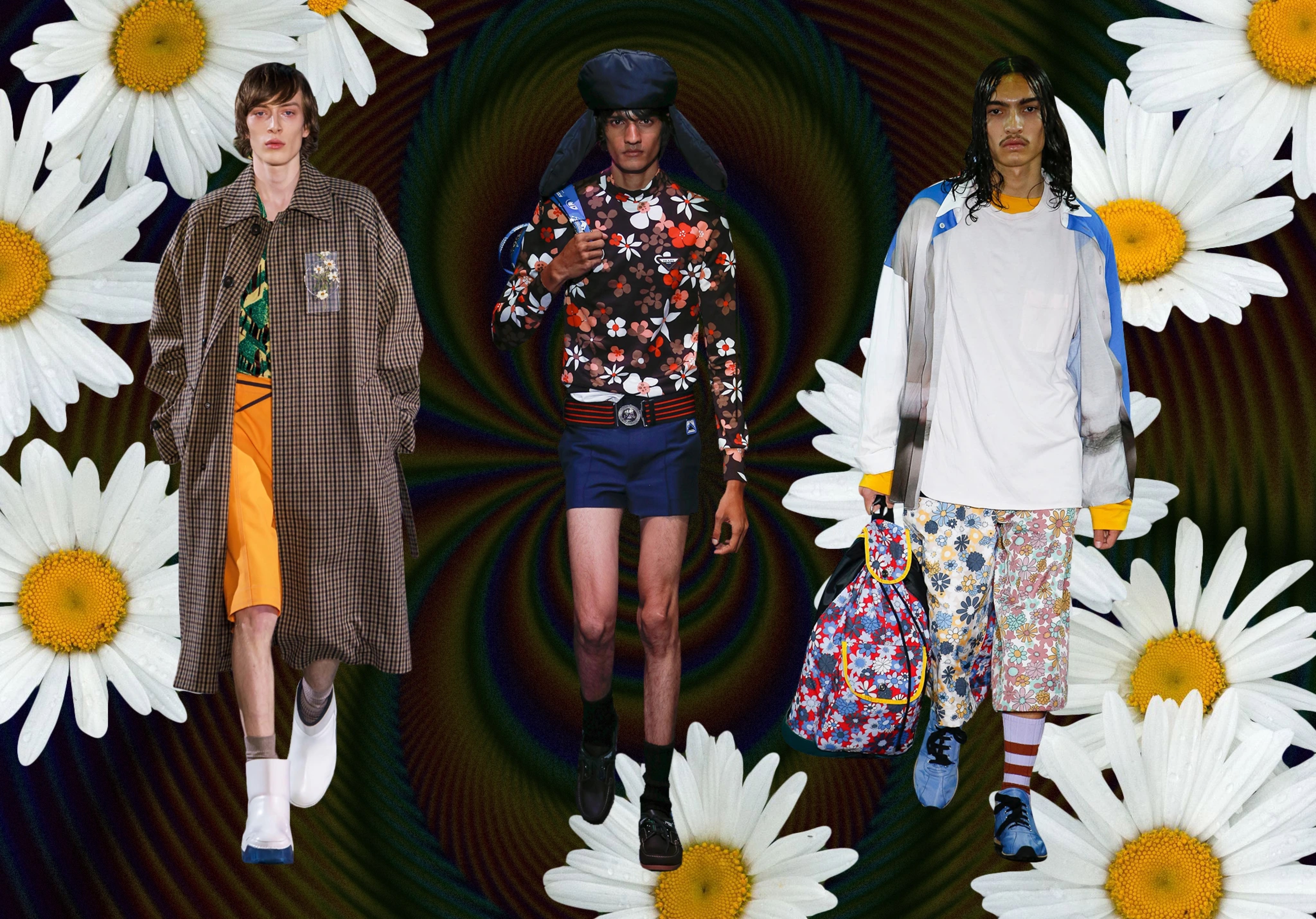 The M cover felt like a fashion moment, the kind where one garment alone is able to convey a message. Or more appropriately, a mood. Months before, when summer 18 was in full swing, the rainbow waves of the Hot Wok top had already flooded my Instagram feed. The people I saw online wearing it worked in creative industries almost exclusively, like influencer and stylist Aleali May, WAH Nails founder Sharmadean Reid, fashion editor Julia Sarr-Jamois, Fashion East founder Lulu Kennedy, model Kiko Mizuhara. It wasn't just an editorial piece, it was also a street style trend. Thirsty comments under photos of the top read, "Where do I get this!?" and "How can I buy it??" To need something, now (!), sometimes feels like requiring it, fast and full-blown, like an IV drip to your closet. Liking this shirt once on Instagram meant somehow seeing it multiple times on my Explore Page. It's growing harder to discern if we're coveting something or if it's simply been presented to us as a pattern. Either way, the shirt was spreading—in my new fantasy I already know what I'd wear with it. Baggy black corduroys, all-terrain sneakers, a cardigan tied around my waist. This sense of urgency is a dream scenario for an emerging designer.
The Hot Wok was designed by A Sai Ta, a British-Chinese-Vietnamese Central Saint Martins graduate and Fashion East alum—the foremost incubator for up and coming London designers. He's part of the next generation of designers that are utilizing scarcity, a pillar of old-school luxury, in a new way. Transferring the power from those who traditionally own "covetable" items—Birkins, you name it—to the groups left out in the past. Other contemporaries, too, like Brooklyn based designer Recho Omondi and London designer and fellow CSM grad Mowalola Ogunlesi, take great care when considering who gets to wear their designs. In an industry that's become increasingly demanding on designers, it's one of the few ways to maintain control of your work, to build a new fashion tribe that's not just governed by aesthetics, but ethics, too.
"It's such a signature piece, it reminds of the Jean Paul Gaultier mesh tops," says Marion Kelly, a fashion editor at Allure Magazine. "A classic that you can layer, mix and match with anything to make it your own." Kelly was in London last year when one of his good friends was wearing the top, so he reached out to A Sai through Instagram, paying the designer directly to get one of his own. "There is a sense of freedom and provocativeness that comes with wearing one of A Sai's tops. It literally feels as if it's your second skin."
This piece is the opposite of the Batsheva Dresses that ruled last summer. Less colonial, less costume, less ignorance-is-bliss, more—in that contradictory way that designer fashion can almost never actually be—for the people. The art of tie-dye, or often, the simulated effects of it, have been having a moment. Proenza, Prada, Kwaidan. The Hot Wok was perfectly timed with this collective movement towards color and pattern. Perhaps we're self-medicating with hippie "peace & love" aesthetics because we feel starved of both? "It's fun and escapist," says SSENSE women's buyer Isla Lynch of the Hot Wok. The ultimate "it" items of today must have something to say.
A cult following in fashion is really just code for building community. The brands you wear point to the groups you wish to affiliate yourself with. Most of us are more "brand sensitive" than we'd like to admit. A Sai cut his teeth working at The Row, a brand that epitomizes exclusivity in dress. Their price tags unattainable to the majority of us, perhaps, by design. Their shows have a guestlist as carefully curated and impenetrable as the MET Gala, perhaps even more. A Sai's work represents a new type of cult following, a new type of brand allegiance that has the power to influence, inclusively. Sewn and repped by the self-made.
Growing up, like many other magazine obsessed kids, I taped the latest fashion ads to my bedroom walls. Gisele in a ushanka and a monogrammed red, green, and gold bikini, holding a snowboard in the Fall 2004 Dior "Rasta" campaign. Jessica Stam in black and white, clutching a Miu Miu bag in the perfect floral print for Spring 2003. High fashion, for me, was always a practice of loving something and not feeling loved back. I knew it excited me, but I also knew it wasn't for me. These weren't just brands, but houses, their logo carrying a history beyond what I was able to fully understand at that age. I wanted in, but the barrier to entry was, among other things, the right race, the right class, the right body, the right money.
"The end goal is to show the similarities between cultures, not highlight our differences," said A Sai in an interview with the New York Times Stylemagazine. This feeling of unity has the potential to be far more covetable than the notion of heritage (ethical baggage, archaic brand standards) that continues to prop up some reigning luxury brands. It's perhaps more exciting to think about the idea of establishing a new heritage, one that reflects more of us.
Shared from SSENSE . Click here to read more