STAYING POWER
Shared from HARVEY NICHOLS , click here to read more
Slow fashion is the sustainable style hack that's all about extending the life of your wardrobe. As the movement gathers momentum, we asked four design-centric men to pick a "forever piece" that sparks joy.
WORDS: Dale Marshall | PHOTOGRAPHER: Jack Margerison | STYLIST: Luke Ross
Special thanks to The Mulwray, London.
THE CREATIVE GENIUS
Yinka Ilori
"I got these trousers about four or five years ago, and since then they've travelled everywhere with me. I can wear them with everything, and I love the colour and cut – they just make me happy whenever I wear them.
Buying clothes is an extension of your personality, and I find that what you wear will often kickstart conversations. When I wear colour, I feel like I'm more approachable and people want to come talk to me. So it's a conscious thing that I'm dressing to engage with people.
My parents do it so organically, and always wear these amazing African fabrics, head ties and swish shoes. They have a huge sense of pride in where they've come from and want to share that joy with others. As I got more into upcycling furniture and design, it was all about celebrating that mix of cultures and drawing on my Nigerian and British heritage.
When I was a kid, art and design weren't really accessible, so I always want to push anything that engages people. It promotes wellbeing, it's good for your mental health, and I believe it can change the world."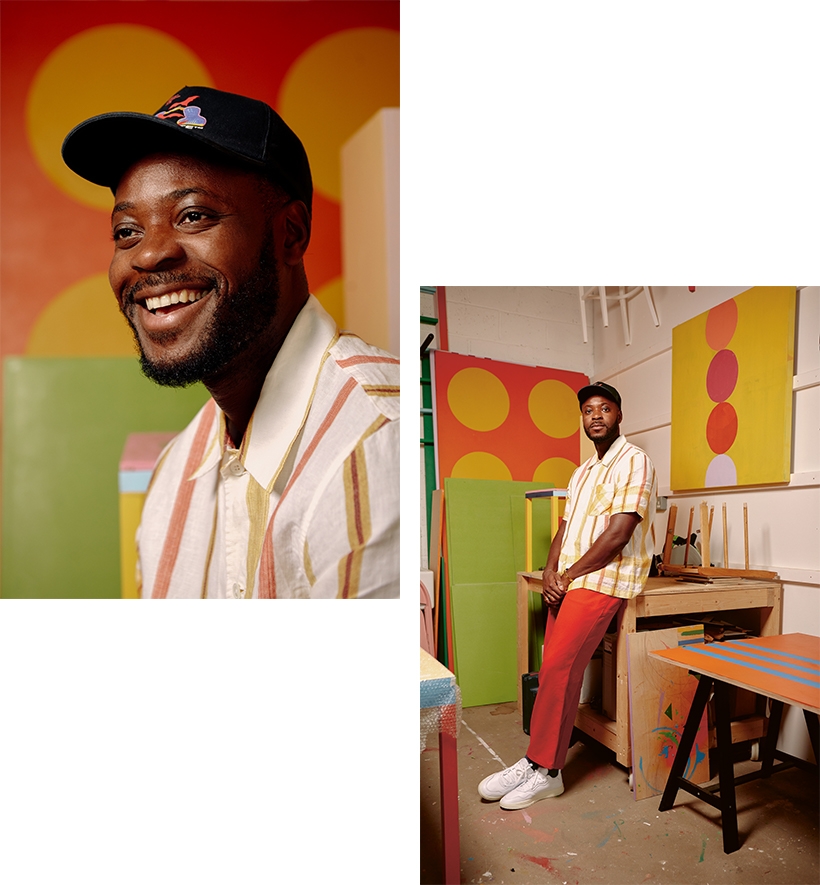 THE STYLE DIRECTOR
Charlie Teasdale, Esquire
"I'm going into my third winter wearing this coat – so it's not the oldest thing, but it's cut so perfectly that I'll wear it at least three times a week. It's the first thing I reach for when I'm travelling to the fashion shows in January.
As I've grown up, I've become less concerned with trends, and I tend to go for more classic styles. I've also learned that good-quality pieces cost money. That doesn't mean you have to spend loads all the time. But when I'm shopping for those key pieces, I try to buy better.
I think the most sustainable thing you can do is buy really good clothing that you'll have for years rather than loads of cheap things you'll never wear. For example, a T-shirt shouldn't cost eight quid – it should cost what it takes to make a good quality jersey tee.
It's about shopping responsibly, not just in terms of the brand's ethical credentials but how you plan to wear it. Ask yourself: Am I going to wear this once to a wedding, or can I style it in different ways throughout the year? Putting more thought into what we wear can only be a good thing."
THE INFLUENCER
Richard Biedul
"My watch is a 1978 Rolex Datejust that was passed down to me from my grandfather. I was a student at the time, so for the first couple of years, it essentially lived in a box. After I graduated from law school and got a job, I felt I was finally ready to wear it. I worked as a lawyer for several years before I was scouted outside a pub and became a model, so now it's living a second life – moving out of the formal office setting and into a more creative environment.
Despite its age, not one part has been replaced. I've got the maintenance log, and it's been serviced every year at the place where my grandfather had it done. A watch is probably one of the most sustainable pieces you can own: you know the provenance, it's made using high-quality components, and the labour force are well-paid artisans.
Whatever piece you invest in, it's important to think about price per wear. If you're shopping at a fast-fashion retailer and know deep down that you'll only get 10 wears out of something before the fabric degrades and the stitching comes loose, that's not good for your wardrobe or the world."
THE DESIGN AFICIONADO
Matt Gibberd, The Modern House
"I love this jacket because it was designed by my wife, Faye Toogood. It's black, so it goes with everything, and I like the fact that it buttons all the way to the top, meaning I can style it in different ways through the seasons. I wear it everywhere from work to weddings. I also love the big pockets, as they're perfect for storing a wallet, keys or a camera lens when I'm on the go.
I'm naturally drawn to sculptural pieces without consciously thinking about it. I'm not interested in gimmicky clothes or passing trends, so I'd define my style as more classic. As you grow up, you get to know and try different things, and which shapes and colours suit you. So it's a learning process about identifying your personal look. I suppose mine is quite architectural, which reflects my background.
I genuinely believe that good design leads to a better life experience. That's why Albert Hill and I set up The Modern House – to further the cause by preserving the best architectural examples from every era. It's still common that a good-quality modernist house will get bulldozed, so it's our responsibility to look after them for future generations."
Shared from HARVEY NICHOLS , click here to read more