The Adventures of Tala Samman, Beauty Boss of Dubai
The Beauty Blogger On Her Roots in The U.A.E.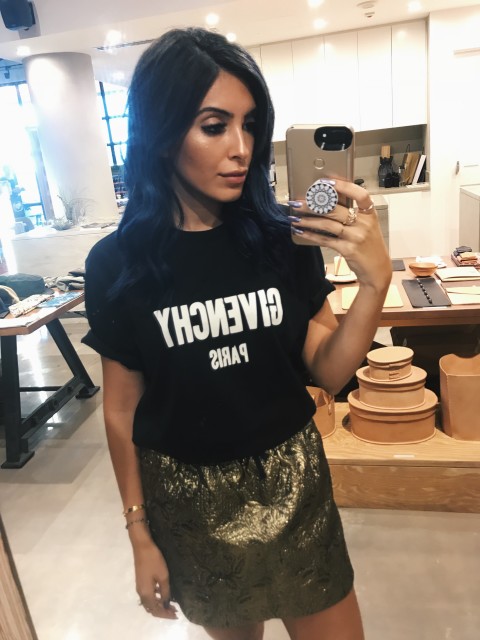 When everything is public, and your tweets and texts are metadata for the NSA anyway, the delusion of privacy has worn thin. Why not look inside someone's bathroom as they offer a beauty tutorial online? The digital realm of makeup guides and immaculate shelfies is the marriage of the mundane and the beautiful, and it can serve as some much-needed reprieve from the hellscape of contemporary politics. A fleeting antidote, seven to ten minutes in length.2017 was the first year that Forbes ranked influencer earning capacity in their quarterly lists, with a section devoted specifically to beauty. Unabashedly catering to our love of shopping and the perfect cat eye, beauty influencers are making careers out of an industry that until recently was snidely looked down upon as a silly little pastime. In a marketplace that gets hard for metrics, bored teen girls who launched YouTube channels to broadcast their beauty hauls are now out-earning their parents and peers. With ballooning "total reach" and measurable impressions, the money is in the makeup.This beauty influencer economy is young, but it's even younger outside of the U.S.— though that's swiftly changing too. Take Dubai. Even though you can't get Whats App or consistent WiFi in the emirate, it's home to a bumper crop of digital wunderkinds who divide their time in the world's fashion capitals, while trying to make their home one, too."When I was younger there was nothing. It was just desert," says Tala Samman. Tala—who came up at the same time as makeup oracle Huda Kattan—was blogging before it came with sponsorships and limited edition lip kits. Her site myfashdiary.com was the first of its kind out of the United Arab Emirates, two years before Huda and eight years before Forbes thought "beauty influencing" worthy of ranking. A former writer for Style.com Arabia and intern at Tom Ford and Halston, Tala now curates a lifestyle site that reflects a changing Dubai. She calls the suburb of Jumeirah home—a sandy stretch along the coast of the Persian Gulf, or "the Beverly Hills of the Middle East"—and has watched as her city has morphed into an influencer haven in the last five years. A thing of beauty, really.
ON BEING FIRSTGETTING PAIDORIGINS
As a city, Dubai is always really ahead when it comes to construction and cool concepts, but one thing we're always really behind is the internet. Everything the U.K. and the U.S. are doing, we're always years behind. We only recently started getting such an oversaturated market within the blogging world. When I started, there weren't any here—but also there weren't that many blogs in the U.K. either. I think we were like five or six bloggers in London. I know that because we would go to the same exact events all the time! When I moved back, I was the only one in Dubai.Actually one of my first meetings was with Procter & Gamble when I was 18 to 19, and that meeting was pretty much just them trying to understand what a blog was. For my first press trip it was myself and Huda, who now is huge globally. For the first five years, I think we were a handful of bloggers in the region.My parents are both originally Syrian, my mom grew up there but my dad didn't. He grew up in Kuwait, but then lived in the States and studied and worked in D.C. He was back and forth between Kuwait because of the invasion and the Gulf War. He ended up being relocated to Dubai, and though I was born in Chicago I pretty much grew up in Dubai. I did all my school years here and then moved to London when I was 18 for university, went to The London College of Fashion for four years and then moved back.
BACK TO THE DESERTHER MOM, THE ORIGINAL INFLUENCERPRINT IS DEAD, LONG LIVE PRINT
I didn't initially want to move back, I wanted to move to the States for a bit, but then I came back to work with the first Condé Nast title that launched in the region. The publishers basically poached me while I was still at university—I ended up resigning six months into the job and decided to work on other things and focus on my blog.So, Peter Copping—who was a designer at Nina Ricci at the time and who eventually moved to Oscar de la Renta—designed a bag for my mom. She would travel with the brand, and she would get involved with the buying here in the region. I used to be this little fashion girl, like my mom, but now my site is a lot more lifestyle than it used to be.To this day I still buy every single U.S. print magazine, every single month. I sometimes pick up the U.K. ones, but I don't buy any local magazines at all.
"...BUT MAKE IT FASHION"DESERT GROWTHDECENCY OR WHATEVER
I studied Fashion Media and Communications, and I didn't have a life for four years. Honestly, I'd be at university from 6AM and I'd get home really late and while I was studying I also interned. So, I worked at the Tom Ford headquarters in London, and I also worked at Halston in New York at the time when Sarah Jessica was designing for Halston Heritage and Marios Schwab was designing for the main line.Now we have a lot more people, a lot more designers and brands wanting to come down to Dubai. Years ago, when a brand would have a launch, no one from the global brand would actually come to the city—it just wasn't a priority for them. I remember that when I worked for Condé Nast in 2012, the publishing group wanted to bring to Dubai and that was out of the question. The CEO, he said he would never open in the Middle East. Things have shifted a lot. Things that brands didn't think would happen happened in a couple of years.Sometimes I'll get a snarky comment like, "I don't know how you're wearing that in Dubai," but the thing with Dubai is that it's not actually that conservative of a city. It's not as strict compared to all the other Emirates in the U.A.E., it's the least strict one. I don't think you could get away with the same amount of clothes in Abu Dhabi. I guess each country is very different. Kuwait and Bahrain are a little more conservative. In Dubai if you go to the mall you'll see a sign that says you can't wear sleeveless and tiny shorts or whatever. Okay, maybe I'm a little more free when I travel, but it's not because I'm going to get told off here, it's more the fact that I just don't feel as comfortable. To be honest, everyone wears whatever they want.