THE BEST SWEATERS AND CARDIGANS FOR AUTUMN
Shared from MR PORTER , click here to read more
Words by Ms Molly Isabella Smith, Copywriter, MR PORTER
Photography by Mr Jack Johnstone
Styling by Ms Otter Hatchett, Junior Fashion Editor, MR PORTER
There are lots of things to dislike about the arrival of sweater weather – miserable commutes, extortionate heating bills and, here in Britain at least, the constant threat of drizzle – but sweaters themselves are not among them. Knitwear is the consolation prize of the cooler seasons, a trade-off for being unable to bask in glorious sunshine in a pub garden (or, indeed, any garden) for another eight months. Think of your sweater and cardigan collection as a supportive woollen hug, a comforting presence to remind you that times may be tough, but at least there's a cosy Aran knit at your disposal. It also helps that designers have been more than obliging in this department lately, churning out myriad options in which you can seek solace this season. Here are the best of the bunch.
01. MONOGRAMMED MARVELS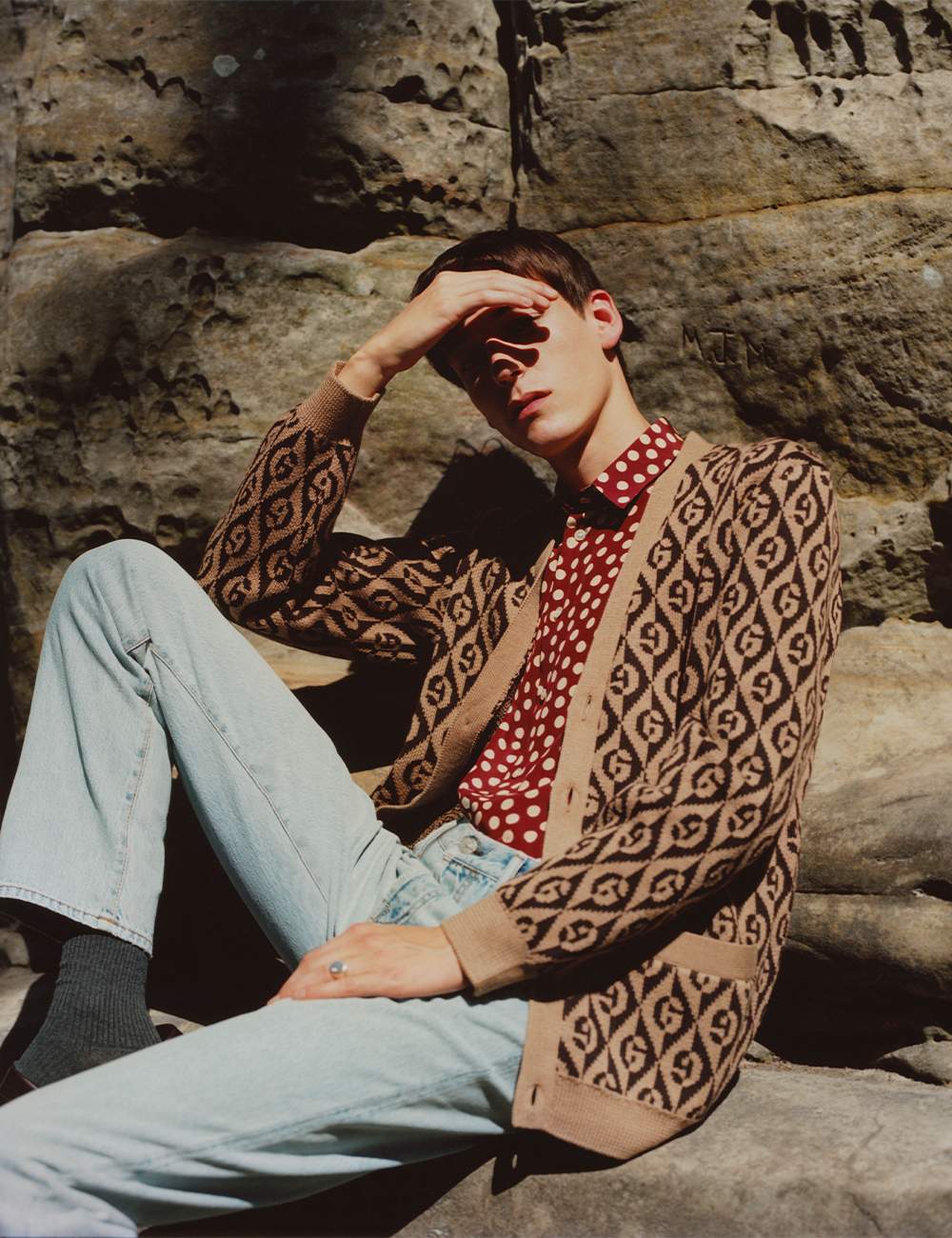 No longer reserved for towels, jewellery or your shirt cuffs, monogramming has been having a moment in the (now long gone) sun. By and large, we have Gucciand its creative director Mr Alessandro Michele to thank for this development. As part of his efforts to usher in the Italian house's renaissance, the designer has spent the past few seasons revisiting the brand's typographic legacy and has put vintage variations of the label's initials to excellent use on a full spectrum of wares. The knitwear, in particular, has caught our attention. Take your pick from sweater vests or an oversized wool cardigan, such as the one above, to put a bit of prep in your step this winter.
02. FAIR-WEATHER FAIR ISLE
While we're on the subject of sweater vests, they're back in everyone's good books. Not least because the most traditional iterations usually feature jaunty-looking Fair Isle patterns. The design itself, which originates from Fair Isle in Shetland, was first popularised by the Duke of Windsor in the 1920s and 1930s when he was Prince of Wales, before finding favour with Scandi brands and fans of the region's crime noir output several years ago. Who better than Swedish label Acne Studios, which supplied the cheerful version above, to make a compelling case for its next comeback?
03. CABLE CLASSICS
To our minds, it is practically impossible to go wrong with a cable-knit sweater. And it's not just its timeless good looks that have brought us round to this way of thinking. The knit's inherent cosiness (the technique has superior insulating properties) makes it one of the most practical options out there come the arrival of sweater weather. If our word alone isn't enough, let these heavyweight specimens from knitwear specialists Howlin' and Inis Meáin persuade you. The former is spun from thick virgin wool (wool that has yet to be processed), while the latter rollneck uses temperature-regulating merino yarn.


04. LET IT ROLL
The humble rollneck and its cousin, the mock neck, still pack as much punch as they did when the look became the preferred choice of Greenwich Village dwellers in the 1960s. With good reason. A simple sweater with a bit of extra fabric at the neck, especially one as stylish as this cashmere number from The Row, signals that you're an erudite fellow, a sage type who regularly reels off entire passages by Mr Marcel Proust. That, or it's just a tad chilly out.
05. PICTURE PERFECT
Prada has always had a knack for knitwear, although it's hard to imagine finding something Mrs Miuccia Prada isn't good at. A few years ago, the designer proved her prowess by turning the sweater into art, using fluffy pullovers as a canvas for a series of Cubist-inspired, still-life paintings. This season, armed with a bolder colour palette and a new-found appreciation for abstraction and, um, lightning, she's finishing what she started. We'll be adding this handmade Shetland wool V-neck daubed with an impressionistic forest to our collection.
06. FLOWER POWER
Once in a while, a trend comes along that's so wrong it's right. The most pertinent example of this phenomenon is the rise of so-called granny style, which we recently documented and dissected over on The Daily. It seems AMI's Mr Alexandre Mattiusi is on the same page as A$AP Rocky, one of the trend's earliest adopters and an ardent admirer of the babushka scarf. The designer's autumn collection was inspired by the sort of clobber one might wear to meet one's grandmother for afternoon tea at Ladurée and then, naturally, on to a cocktail party. That explains this rose-adorned sweater, which, thank goodness, comes in a thoroughly oversized fit. Otherwise, we imagine the old dear might try to pinch it.

Shared from MR PORTER , click here to read more