The Fall '19 Men's Accessories Hot List
Shared from BARNEYS , click here to read more
This season's trending accessories inject just the right amount of effortless cool and eye-catching boldness into your 'fits.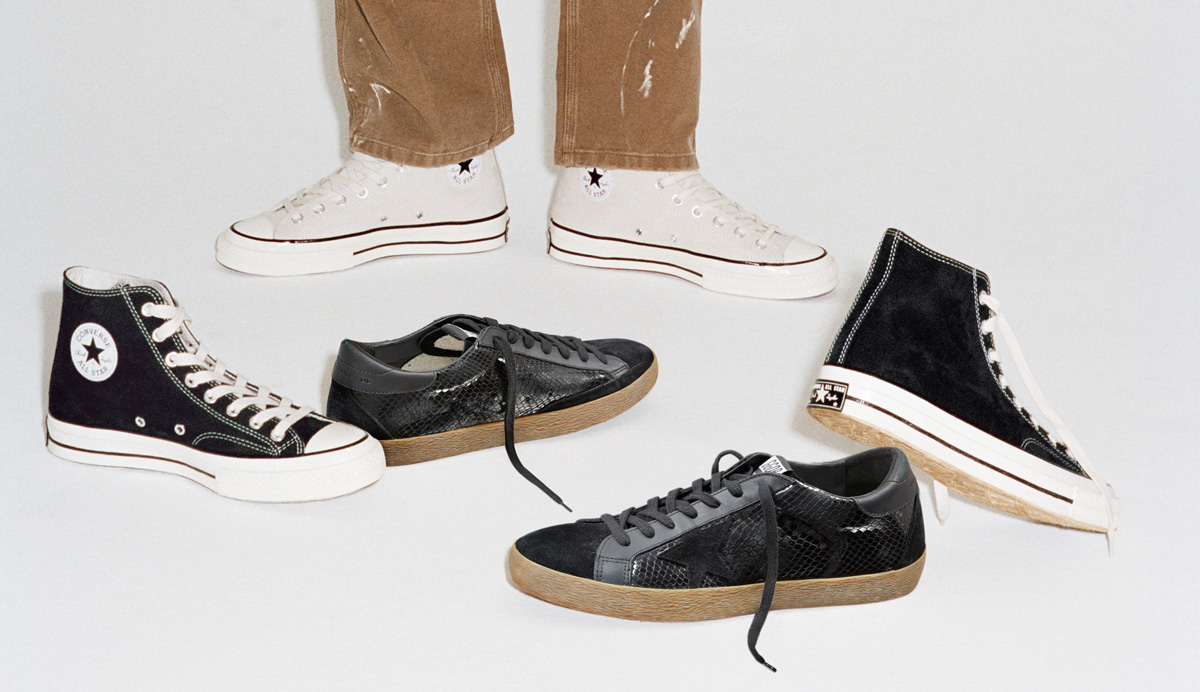 LUG SOLES
MONCLER Tristian Scarpa Mixed-Material Hiking Boots / BRANDBLACK Sneakers / CLEARWEATHER Boots
The chunky, indented soles inspired by worker and hiking boots are everywhere, but with styles a plenty, one doesn't have to feel like everyone is wearing the same thing as the next guy. Reworked boots and sneakers with extra durability, like Brandblack's Vibram rubber soles, make these shoes perfect for a long walk on the trails checking out foliage or going for a hike.
NOVELTY LOAFERS
TOD'S Crocodile-Stamped Leather Drivers / Bit-Detail Suede Drivers / Camouflage Suede Penny Drivers
Loafers and drivers get an upgrade in rich textures, unexpected patterns, and sparkly embellishments. With minimalist, uniform-reminiscent style on the horizon, let your shoes speak the loudest.
STACKED BRACELETS
BARNEYS NEW YORK Bracelets / CAPUTO & CO Tiger's Eye Double-Wrap Bracelet / MIRACLE ICONS Vintage-Icon Beaded Wrap Bracelet / EMANUELE BICOCCHI Hammered Sterling Sterling Wheat-Link Bracelet
Load up on flexible, beaded bracelets and luxe chains for a confident vibe that ranges from boho to grungy depending on the styling. For an edgier effect, opt for a few thick sterling silver chain-link bracelets, and your look is instantly elevated.
HIGH TOP SNEAKERS
ALES GREY Men's Battalion Snakeskin-Embossed Leather Sneakers / RHUDE Tech-Knit Sneakers
Sure, high tops are perennial, but this season fun new styles breathe life into the classic silhouette. Case and point: Ales Grey's new color-way in its Battalion sneaker featuring the brand's signature crystal-embellished logo tab. Additionally, a classic high top from the likes of Converse tones down a refined look for a more relaxed vibe.
RETRO RUNNERS
SALOMON Men's S/Lab XT-6 Adv Sneakers / PUMA Sneakers
Runner styles are no longer reserved for just running. Still in a cool moment, the active shoe continues to get revamped in new color-ways and forward technology that makes them both comfortable and functional, such as Salomon's breathable mesh and tough Contagrip® soles.
SPORTY FRAMES
OAKLEY Radar EV Advancer Sunglasses
The '80s are making a comeback, including sporty Back to the Future-evoking shades. For a modern take, style with a monochromatic 'fit, or go all in and style with loud color and exaggerated tech fabrics.
CHELSEA BOOTS 2.0
BURBERRY Boot
Thanks to designers like Prada and Burberry, the classic Chelsea Boot silhouette gets a bold makeover this season with chunky soles. The effect is a posh boot with a more downtown edge, and the best part is that you can skip the trials of lacing.
TOTE AROUND
AMIACALVA Washed Cotton Canvas Tote Bag / GREY NEW YORK GREY NEW ENGLAND New England Leather-Trimmed Calf Hair Tote Bag / RUE DE VERNEUIL Corduroy Tote Bag
Admit it, you could use some help when it comes to lugging around your life. This fall, opt for a tote to carry your books, laptop, lunch, or any other crucial items that can't possibly fit in your wallet. It's a step up from school-era backpacks and more laidback than an all in murse (that's man-purse).
Shared from BARNEYS , click here to read more