The Fall 2019 Strategy For Getting Dressed
Shared from BARNEYS , click here to read more
On the heels of NYFW, Team Barneys shares the current trends they're embracing, plus how they plan their looks during fashion's marathon month.
THE TREND: WIDE LEG PANTS
Ela Cagar, Assistant Buyer
Open up your dimensions this season. It's all about slouchy and relaxed—a silhouette that catches the breeze but is anchored with sleek, bold accessories.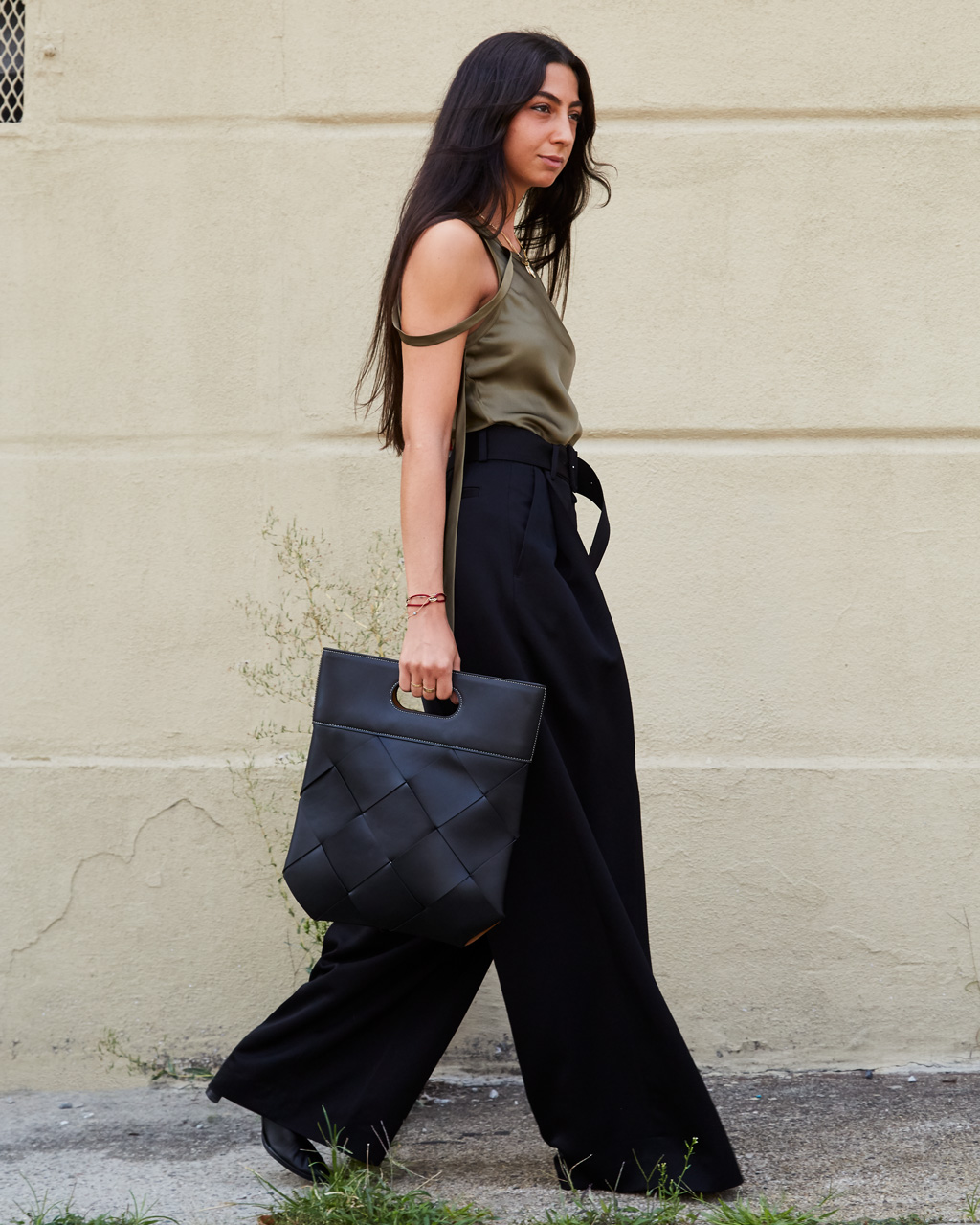 HELMUT LANG "Harness" Satin Tank / DRIES VAN NOTEN Crepe Wide-Leg Trousers / THE ROW Tea Time Leather Zip Boots / BOTTEGA VENETA Leather Foldover Clutch
Fashion Week Strategy: "I never plan my outfits ahead and weather is never a factor. It's all about my mood in the morning. Also, Fashion Week is a marathon and comfort is key to making it through the long days."
This Look: "I'm taking full advantage of the paradigm shift in women's pants this fashion week by wearing wide legs that verge on exaggerated. Sleek accessories are a must, and my biggest decision is sneakers or heels."
THE TREND: TEA DRESSES
Nicole Spellman, Associate Editor
Midi-length day dresses are a fashion favorite this season. With cinched waists and puffed sleeves, they often have a '40s tea dress feel, but sharp accessories keep them feeling
ISABEL MARANT Ulia Pleated Corduroy Dress / Tehora Embellished Leather Belt / ULLA JOHNSON Jerry Python-Print Leather Knee Boots / SIMILAR: BURBERRY Bag
Fashion Week Strategy: "At the start of a new season, I eye a few key essentials that I know I'll be able to style into many different outfits. I'll invest in a new bag big enough to carry invites and multiple phone chargers, a layering piece like a blazer, and statement boots that can pop with a monochromatic look."
This Look: "I love the combination of midi length with knee high boots—perfect for the in-between weather New York Fashion Week always delivers."
THE TREND: SATIN
Gabrielle Cadet, Assistant Buyer
Thanks to designers like Sies Marjan and Balenciaga, satin is leaving the bedroom this season. The high-shine fabric works well in a playful palate, like jewel tones or this pastel tie-dye.
SIES MARJAN Sander Tie-Dyed Satin Blouse / Willa Tie-Dyed Satin Crop Trousers / THE ROW Bare Sandals / LOEWE Gate Mini Leather Shoulder Bag
Fashion Week Strategy: "I love going to Barneys Madison Avenue and being inspired by the merchandising of a designer's current collection. I curate my looks based on the vibe of the designer of the show I'm attending, but in a 'me' way."
This Look: "I love the way the pastel tie-dye tones down the high-shine fabric—but most of all, I love how comfortable this matching set is!"
THE TREND: SUITING
Allison Yip, Buyer
Suiting never goes out of style and always feels like a powerful statement, and this season there's more options than ever. We love downplaying its formality by styling with a simple tee, sneakers, and a tote.
THE ROW Ciel Splittable Wool Double-Breasted Blazer / Roosevelt Wool Pants / BARNEYS NEW YORK Crewneck T-Shirt / SAINT LAURENT Women's Bedford Leather Sneakers / MÉTIER LONDON Bag
Fashion Week Strategy: "I always plan my looks ahead. I also buy at least one "wow" item each season that I'm really excited about, and mix that in with my arsenal of season-less pieces, like great trousers or a coat."
This Look: "I'm in love with this The Row suit—not only is the tailoring super sharp, but the way it skims the body is amazing. I love to balance the tailored look with a pair of crisp white sneakers to keep the look fresh and modern."
THE TREND: PLAID
Lauren Ladnier, Fashion Office & Sri Rain Stewart, Digital Content Assistant
'90s grunge plaid gets a sophisticated update in the form of head-to-toe tailoring. While the look is sleek, matching the oversized window pane print keeps the look edgy and playful.
Platform Knee Boots / PRADA Leather Bucket Bag. On Sri: BOON THE SHOP Plaid Silk-Blend Trench Coat / Windowpane-Checked Herringbone-Weave Silk-Blend Trousers / THE ROW Tea Time Leather Zip Boots / MARK CROSS Grace Small Leather Box
Fashion Week Strategy: "For fashion week I like to keep my style true to myself, which is comfortable and simple. When I want to amp it up, I trade in my usual sneakers for heels." –Sri Rain Stewart
"I try on outfits the weekend before and take mirror selfies. When I wake up, I'll look through my pics and pick the one that best fits the weather and shows that day. I think fashion week is a time to dress a little more boldly, but I try not to buy anything too outlandish that I'll never wear again." –Lauren Ladnier
This Look: "A matching set like this plaid coat and pants elevates an outfit in the easiest way possible. I also love pistachio this season, so the color is what drew me to this look." –Sri Rain Stewart
"I could've styled these pants with a different top, but I just love how bold the look is when worn together as a set." –Lauren Ladnier
THE TREND: LEATHER ON LEATHER
Michal Kurtis, Merchandising Initiatives Manager
Leather is a wardrobe mainstay, and this season its sleeker and more versatile than ever. Look for classic pieces like wrap dresses and A line skirts reimagined in rich, buttery leathers (or faux leathers).
HELMUT LANG Leather Trucker Jacket / Leather Miniskirt / LOEWE Missy Small Leather Bag / ALBERTA FERRETTI Studded Leather Ankle Boots / FONTANA MILANO 1915 Abstract-Print Silk Scarf
Fashion Week Strategy: "It all starts with 50 lbs, as I travel to Europe for the shows and need to consider luggage weight. I first consider the heavier hero pieces that are worth both the schlep and the luggage real estate, and then I work in lighter pieces to mix and match."
This Look: "Pairing this skirt and jacket together makes a strong statement. I added a softer edge to this outfit by letting my inner prep shine through via this Fontana scarf in my hair. The best part is that I can break the pieces up into different looks later in the week."
Shared from BARNEYS , click here to read more