The SSENSE Fall/Winter 2019 Trend Report: Part II
A Guide to the Future and Next Season's Products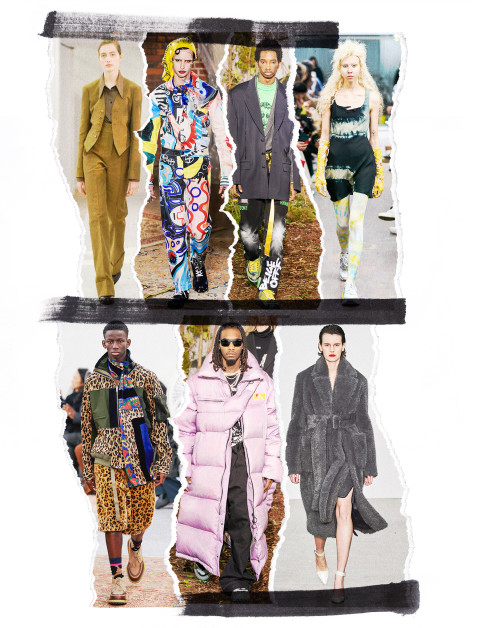 In fashion, Fall/Winter is the heavyweight season. The time of year that's most lauded by industry press and most widely anticipated by designers. Every campaign, editorial, and product is packed into the pages of the heavy, collectable, and , September issue, immortalized forever in fashion history. Autumn sees us ante up in layers as we look forward to sporting more gear and less sweat. Whether you're looking to refine your signature aesthetic or completely reinvent yourself, there's a fashion trend for you, and a backstory, too. So while you contemplate covering up, use our FW19 trend report as your cozy companion. Here's part two.
Handsome Dressing
Everyone has a favorite Philo photo. I.e. the Phoebe look that epitomized her impact at Céline, that captured her signatures and her laissez-faire genius. Philo understood how critical it is to look at ease yet handsome, in charge yet unbothered. Her Céline woman was a cool edit of sport-tailoring, shirt-mischief, coat-drama. There were simple things, too. Like keeping your hair tucked into your turtleneck. Or wearing Nike's with leather trousers. Or throwing a blazer over your shoulders and tucking a pouch under your arm. Well…as it happens, those simple things have returned, only the dial is turned up. The leather is plenty-rich and voluminous, the tailoring is elaborate and experimental—utility meets subculture—and the pieces are Forever: craft, cohesion, long-game items for the long-game closet. Consider Lauren Hutton, Grace Jones, Bianca Jagger (always). Consider Gwyneth Paltrow's entire wardrobe from .Designers like Jil Sander (sleek pajama-pomp), Maison Margiela (military accents and felted sleeves), Helmut Lang (tuxedo pants and overcoats), and The Row (monastic-suiting and curtain vibes), anchor this renewed and very handsome POV, while new staple-steady brands like Ami and Kassl Editions add lacquered austerity, a sense of play, and a whole spectrum of beige. Lemaire—the true-blue member of this trend—designed a FW19 collection that was replete with belted coats, high-waisted trousers, exaggerated point collars, and shades of ecru, charcoal, coppery-green. The Lemaire gentlewoman is western-workwear meets Katharine Hepburn.Lauded as an answer to Philo's departure from Céline, Daniel Lee's inaugural Bottega Veneta runway was entirely his own, reimagining the trademark Intrecciato weave while honoring the brand's storied heritage. Lee's vision is focused, clever, and quiet, too. Clothing that feels somehow soundproofed: quilted leather, scoop-neck sweaters. This is futurewear for the person whose wardrobe is invested in just that: the future.
Party Animal
We're of the opinion that leopard print is one of fashion's evergreen patterns, so it's somewhat redundant to claim, for the 100th time, that "spots are back!" Did they ever go away? For FW19, Sacai showed leopard print three ways in collaged kits that featured military-inspired jackets, plush leopard shorts, and spotted socks to match. This season though, it seems like the whole jungle has joined in on the party. We saw tiger stripes at Kwaidan Editions, on cozy yellow knits and jaw-dropping patent coats. More tiger stripes at Marni in unnatural color variants of fun-fur, from blue to pink. Even more fuzzy tiger stripes at Dior Homme. But the biggest breakout of the pack goes to Zebra print. Neil Barrett painted Zebra stripes on button ups for a touch of wilderness—talk about new suiting. Saint Laurent gave Zebra stripes the rave treatment with mini dresses blown up and black-lit showcasing diagonal Zebra stripes in all their glory. But perhaps Vetements wins in the Zebra-realness category with Zebra statues serving as the backdrop for their FW19 runway show. This season, it's time to animorph
Off-Road
Sneakers dominating the shoe game, but it's safe to say that today, people are more aware of their style—and environmental—footprints than ever before. The upper portion of a sneaker usually gets all the attention, but now, so is the sole. From Salomon's to Hoka's, for FW19 everyone is dressing like they're ready for a hike—not a walk to the coffee shop. Purpose-built all-terrain sneakers equipped with tread for navigating dirt, roots, and boulders, are a new sneaker staple, which says a lot about our increasingly alienated relationship with nature. "It's certainly retro, which fits," wrote Zoë Schlanger on this trend of city-dwellers embracing outdoor gear, "It's retro in the way actual wilderness is retro." Run for the hills in Lanvin, Li-Ning, Off-White, and Asics.
Moncler
For over a century the Michelin Man conquered the French tire industry as an icon designed to resemble a jacked-up pile of the brand's best sellers. This year though, the inflated, puffy persona is entering a new role, taking to the fashion industry with major influencer status. From Off-White's oversized, pastel pink interpretation worn by Offset on the label's FW19 runway, to the endless stream of recent Moncler collaborations—looking more like personified sleeping bags than seasonal outwear—billowing silhouettes built from excess padding have become a wardrobe staple. Designed to protect its wearer from the harshness of the great outdoors while bringing to mind the comfort of hibernating under heaps of covers at home, it's no wonder the puffer jacket is the most covetable piece of the season. As the Michelin Man himself once said, the look (albeit in reference to his rubber composition) "drinks up obstacles!"
Art Studio
FW19 takes fashion back to craft. Not like craft services but exactly like the art department, and the type of people that use a little bit of creative ingenuity to turn something ordinary into something totally convincing. Encapsulated was both the paint-splattered garb of the hard-at-work artist, and the unexpected fruits of that creative labor. New York and Paris runways pumped out looks that felt like luxury painter's smocks—splattered with pigment as at Charles Jeffrey Loverboy, or in the paper-bag purses at Balenciaga, seemingly customized with spray-painted smiley faces. At Collina Strada and ASAI we saw rainbow palettes and dip-dyed patterns. Where Ashish presented full granny-crochet looks and DIY-feeling sequinned jeans, Craig Green found a way to make ruched and smocked plastic feel luxuriously avant-garde. For FW19, fashion is rolling up its sleeves and getting its hands dirty.
Castle
There are forces at play outside of us, that dictate which structures we surround ourselves with. Protection for nobility and royalty, a castle was the fortress that kept important people in and adversaries out. History repeats itself through the way that we dress—this season, often, it's structural and gray. From Off-White to Helmut Lang, Dries Van Noten to Acne Studios, angular silhouettes in the unbiased neutral take cues from history's stalwart castles. Fortified and protected from that stranger sitting next to you on the bus, or obnoxiously bold hues that might garner unwanted attention, fashion's answer to an uncertain future is angular and gray. FW19 is all about being your own fortress.