The SSENSE Spring/Summer 2019 Trend Report: Part II
A Guide to the Future and Next Season's Products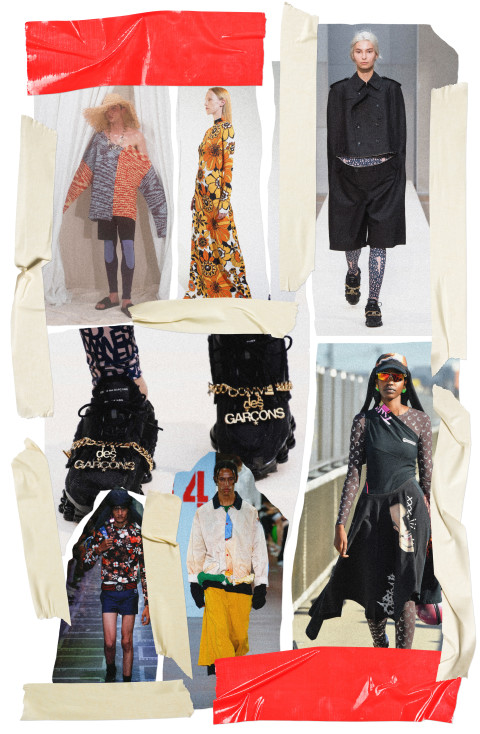 The 3.5 seconds it takes for Bella Hadid to exit the hotel lobby and hop in the car is all that's required to launch a new micro—or macro—trend. Online publications jump on the paparazzi pics, coin the aesthetic, and a new look is thrust into legitimacy. This year, the trend cycle turned into a trend cyclone, and keeping up with the feed became a full-time job. At this rate, one has to ask, how many trends per season do we have the capacity for? And which ones will outlast the pack? Just in time for the new wave of hits, we've filtered through the big and the small to deliver our SS19 trend report. Here's part two.
Lava Lamp
Models were sent down the Landlord SS19 runway adorned with splashes of colorful wax—the ingredient which makes up "lava" in a lava lamp. This lava changes shape and density as temperatures fluctuate (color, too) causing it to bubble up and float down: forever decoratively evolving. Lava lamps are mostly novelty, which is a fitting descriptor for the general repurposing of so many 60s aesthetics this season. Crochet at Loewe, psychedelic florals at Kwaidan and Marni, water-marbled Missoni—Dries Van Noten even paid homage to Verner Panton's vibrant curves of color, wearable interiors: coiling gradients that mimic the curvature of the letter "a" in lava. Just like the cycles of lava in its lamp, psychedelia is back and buoyed up in SS19—at least for a little while.
Nike Shox
Sneakers are prophetic, their designs are not just a sign of the times, but a reflection of the future. Rei Kawakubo turned to Nike Shox for her SS19 Comme des Garçons collection—tuned up with a built-in charm bracelet—and managed to, in her ever-poetic way, create a shoe that perfectly reflects the odd mix of nostalgia we carry for more innocent eras (charm bracelets and BFFs) and the mutant technology that governs us. When Shox came out at the beginning of the millennium, they were the perfect shoe to synthesize the anxieties of Y2K. Heading into the last year of the 20teens, we are once again marred with future-based angst, so why not turn to a contentious yet classic sneaker, built for turbulence? NBA great and early Shox rep Vince Carter has even started wearing them again, and it's no coincidence that his nickname is "Vinsanity." Welcome to 2019.
Death Valley: The Final Frontier
13 pioneers died trying to cross it in the 1850s, which is how Death Valley acquired its American English name. The highest temperature ever on Earth, 134° F, was recorded here in 1913, and it boasts the lowest elevation in North America: 282 feet below sea level. Mere inches—scarcely three—of rain falls here annually. Death Valley is a place of extremes, and since little shocks nowadays, it's only natural that aesthetic nods to its intensity are materializing. An Acne Studios leather workwear jacket in red ochre—a pigment made from Death Valley clay—seems bleached by the sun, dusty. Faded fluorescent in Marni connotes the chalky, tepid taste of an unripe banana, (or your mouth when you need a sip of water) and recalls a windbreaker left too long in the sunny front window of a thrift shop. Go in and you'll find boots akin to the ones leaving their final fashion footprints, some by Margiela, on the last frontier of 2018's Western fixation. And suits—oversized and intentionally ill-fitting, as if made for someone else, acquired second-hand, in muted tones of lemon yellow and sand—are the perfect camouflage outfit for heading back into Death Valley, protected from both the sun and the crisp chill of clear nights. Like Travis, forever wandering, forever in search of Paris, Texas.
Neo-Matrix
In times where increased divorce rates are a direct result of gaming and the lines between the digital sphere and reality continue to blur, we continue dressing accordingly. Becoming one with the battlefield. And for the past few seasons, designers have been gearing us up with all the tools of the trade: utility wear. Technical details. Camouflage and PVC. Just look to fashion's own fictional character, Lil Miquela, who has already taken over the industry by way of her influence, wearing aerodynamic sunglasses to breakfast and showing no mercy in endless virtual face-offs. Post-apocalypse, it's every human—and cyborg—for themselves, so you'll want to be prepared with a performance-ready wardrobe filled with brands like 1017 Alyx 9SM, MISBHV, and A-Cold-Wall*.
Mowalola
Fresh from a love-at-first-sight inducing graduate collection for CSM last May, London-based Nigerian menswear designer Mowalola Ogunlesi is one of our favorite designers-to-watch heading into the SS19 season. Solange, Dev Hynes, and Kelela are all fans of the brand that holds psychedelia, and men's sexuality in particular, at the heart of its work. In a sphere that's often quite straightforward and risk-averse, she's here to offer a welcome new take. "I design and create for the kind of world I desire to live in," said Ogunlesi in an interview with 032c. "Where Black art is celebrated, owned by Black people and not stolen. Where men and women are able to express themselves sexually without being judged or labeled. I feel as humans we are all multidimensional and do not fit into society's set conditions. I'd like for people to be able to believe in themselves, trust their ideas, and use their voices, as we are all powerful." We're here for Mowalola's manifesto for 2019—and beyond.
Scarecrow
Scarecrows were originally conceived for exactly the purpose their name indicates—to scare away birds. The human-shaped dummy was made by farmers out of whatever was lying around, with patchwork outfits assembled from old dish towels, worn-out paisley bandanas, oil-stained jeans, ripped work shirts. And of course, straw. In SS19 collections from Chanel, Jacquemus, and Ambush scraggly woven hats topped models' heads, and many toted overstuffed straw bags down the runway. Extra-long sleeves dangled from boney shoulders, an oversized, ill-fit calling to mind the farmer's scrappily assembled decoy. At Bode, quilted coats and shirts introduced a hand-crafted touch, while Loewe showed a satin gown in a diamond patchwork—strawman chic! The effect the scarecrow has on its environment becomes less potent once its silhouette becomes familiar. You could say the same is true about fashion. For SS19, surprise your surroundings in patchwork, paisley, and straw. We never thought we'd be saying this—the scarecrow is in.