The Story of Bode and Green River Project
True Collaboration With the Future of Fashion and Furniture Design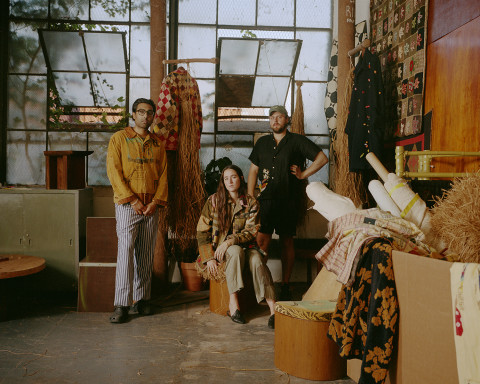 How difficult is it, in the overheated collaboration market, to lob one co-branded sneaker and hit another? Not very. Fashion has a taste for dream teams, or the suggestion of them. True collaboration is harder to come by. A transference of ideas demands an openness not especially privileged by an economy predicated on the single, oracular Creative Director. It's quieter, not elbowing itself into the room but appearing there easily, like a soft shaft of late afternoon sun. It's like this for the designers Aaron Aujla, Ben Bloomstein, and Emily Bode, between whom a fertile, generative exchange has been slowly expanding over the last decade.
It's somewhat ironic, then, that when Aujla and Bloomstein met nine years ago, neither had been looking for a collaborator. Each had their own fine art practices, and after meeting at a gallery opening, agreed to share a Bedford-Stuyvesant studio. It helped that their interests overlapped neatly. Aujla, who had been working as an assistant to the artist Nate Lowman, and Bloomstein, who was doing similar work, first for Maccarone Gallery and then Robert Gober, were each making sculptural work that prodded at conceptions of domestic space, memory, and shared histories.It was Bode, who had met Aujla a year earlier and had become close with both men, who saw the inevitability of the pair's eventual partnership. "Emily had always imagined this business, even before we did," Aujla said. "A lot of the work we were making as artists was basically furniture as sculpture. I remember having a conversation where Emily said, 'you would do really well to just do interiors.'"As Green River Project, Aujla and Bloomstein do just that, designing and producing modernist-informed furniture that is sculptural in its conceptual rigor yet uncomplicated in form—sloping loungers crafted from boards of unvarnished pine, and ascetic, stiff-backed ones painted oil-slick black. Their work has a placid naturalism, the accent chair as objet d'art. Their business is named for the tributary that flows near Bloomstein's family home in Hillsdale in upstate New York.
Bode, who launched her namesake menswear line in 2016—pronounced —creates her clothing with a magpie fascination for antique textiles sourced among the stalls of New England swaps and French vide-greniers. She has become known for presenting her collections in evocative staging: kinetic, slow-churning tableaux vivant experienced more like memory plays than the standard fashion week catwalk. For her earliest showings in New York, Aujla and Bloomstein helped develop the conceptual scaffolding that gave shape to Bode's deeply personal narratives: deconstructed set pieces inspired by the golden hour light streaming through her mother's childhood home in Cape Cod, or the attic in her uncle's house in the South of France where Bode would sleep during visits. In each, models slowly milled about, picking up phone receivers or climbing into single beds and rising from them again, like so many of Ibsen's ghosts."I've always been interested in domestic spaces, which is what's intriguing about our relationship," Bode said. "Ben coming from working for someone like Gober, and that first presentation I referenced Gober and his understanding of public versus private in the actions of the models, thinking about what seems normal inside a home and what seems obscure, when people are watching you."For Fall 2018, Bode's collection flowered from conversations with a friend, a Harvard-educated ethnobotanist-turned-quilt-dealer alive to the wonder most of us jettison on our way out of childhood. Green River Project built the presentation's central set piece, a dioramic, 200-odd-foot long structure that suggested not so much lived spaces but the fading memories of them, flowing from New England-style wainscoting, coat hooks, and closets into a botanical workshop with vitrines and softly running water. Her clothes, 1940s collegiate wool suiting, patchwork bedspread car coats, and shirts stitched from gauzy table lace, appeared to both settle into and lift from their backdrop, relaxed and urgent all at once. "It does feel like producing a play in a way," Bloomstein said. "There's no script but there's a narrative, and the set comes from a narrative structure but also an aesthetic place, and it's where those two things meet. It serves these two purposes."
Bode's following season was rooted in her relationship with Aujla, who is Canadian of Indian extraction. The clothes carried the sheen of post-Raj pluralism: box frame shirts cut from lightweight khadi, supremely elegant silk trousers, waffle-knit short-sleeve shirts in cream, gossamer versions spotted with Bengalese embroidery. To complement the mood, Green River Project created pleasingly squared-off laminate settees reminiscent of the first class rail cars of Satyajit Ray's films of the 60s, along with skeletal lacquered bamboo club chairs that called back to Jacques Adnet and were upholstered in lush saffron linen or velvet the color of loamy moss. They also made three-panel bamboo screens finished with Bode textiles, the khadi that appears elsewhere as pants, and vintage sari fabric. There were echoes from a gallery installation Aujla presented in 2016, an MDF reconstruction of the Pierre Jeanneret desk that sat in the Punjab University Library in Chandigarh, Le Corbusier's midcentury vision of modernity, which Aujla had strewn with Indian-made carpet swatches.Green River Project's furniture is concerned with form, but not at the expense of clarity of feeling. A stocky wood dining table has a shallow gouge running down its center, as though worn in by the path of a stream over time. Photographs of a linear aluminum table, its hard edges softened by Jean-Michel Frank mitered corners, literally return it to nature, where it stands in a gurgling brook. They were made by Andrew Jacobs, the fashion photographer who also shoots Bode's lookbooks. Bloomstein said they're interested in their work being considered in the continuum of things that have been memorialized by film, whether or not anyone recognizes it as such. "You can tuck it into a longer stretch of history."Beyond presenting their work in a fashion vernacular, Green River Project is organized around quarterly collections, more in tune with fashion's calendar than the design world. That collection included Bloomstein and Aujla's first incursion into clothing, a selection of welding jackets made with Bode's input and modeled after the protective ones they wear in their studio, here luxuriously turned out in nappy sheepskin or dappled cowhide the color of coffee milk.
Their latest collection includes low, almost primitive seating carved from ebony and Black Hyedua primed for placement in any of the stylishly bare boutiques of downtown Manhattan. There are also a series of half-moon stools made from coffee-stained Douglas Fir and upholstered in Bode's hand-painted corduroy, an extension of the wheat colored corduroy pants and tab jackets that Bode offers to personalize with hand-drawn glyphs according to its wearer's particular story. It's a practice she resurrected from a midcentury Purdue University tradition, one that results in a sui generis garment that doubles as a walking billboard for your cultural value system. The fabric figures into larger Green River Project pieces, a plush sofa and a daybed that lives in Bode's Chinatown studio.Their mutual influence isn't limited to saleable products, but extends to how each think about their respective craft. All three share a fondness for the handmade, and an emotional investment not only in the way things look, but in the connection they have to what they own and live with. "Just by nature of being around Ben and Aaron and seeing how they wear clothes and what bothers them and what doesn't, I think my clothing is reflective of that," Bode said. "I admire the way that they shop and wear clothes and wear through clothes. Their clothes sometimes don't fit in the way that you would say a masculine shirt fits—it can be quite boyish in that they cut pants into shorts and their shirts are boxy—that's very much Bode silhouettes." The first shirt Bode made for her line came from a 1950s-era shirt from Aujla's closet which, because it was too short on him, he had added a length of string at the hem.
Green River Project will release their next collection in Paris in conjunction with Bode's Spring 2020 show (their work is also included in this year's edition of AD Intérieurs, as part of interior designer Fabrizio Casiraghi's exhibition). The concept for each turns on Bloomstein's childhood, growing up in a Sufi community that occupied the site of a former Shaker compound. It sounds like a once upon a time type story, something that had its day and is preserved only in memory. It is and isn't. The reverberations of history can be felt even now, a slipstream Bode and Green River wade in. "Everyone likes to say their thing is timeless," Bode said. "For me, 'timeless' [means] you could take a photo of it and not understand when it's from. It's not even necessarily about looking older, it's not being of a time."Aujla said he and Bloomstein's approach to their own designs has been indelibly shaped by watching how Bode works. They've taken to thinking about their pieces in a similar way, from a departure point of personal history, even if it's one the end user might perhaps never know. A stout anodized aluminum chair upholstered in worsted wool refers to Bloomstein's grandfather, who was a navel architect, and ran a firm based out of the South Street Seaport. This anecdote isn't a secret, exactly, but it also does not appear among product notes. History isn't reduced to a hang tag. It's steeped in the basest conception of how they choose to live. Their businesses are a way to remember, and remembering is a way to move forward. "Working from a specific place is something I don't think Aaron and I would do on our own," Bloomstein said. "We tend to be somewhat cynical where Emily isn't. Her honesty has given us a kind of courage."
T: The New York Times Style Magazine, GARAGE, The New Yorker,