The Tastemakers of Queens, NY
Meet 11 of the Sought-After Borough's Most Influential Influencers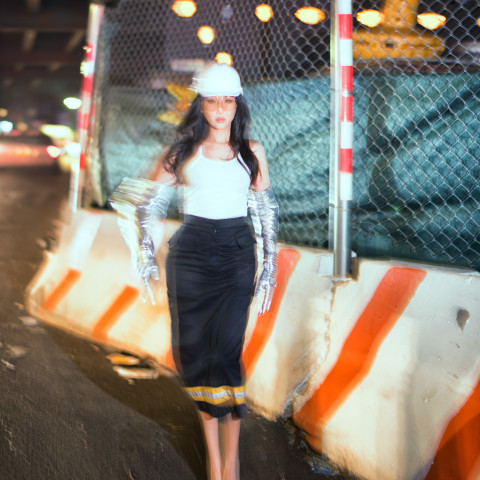 As Amazon plots to invade, we are pleased to introduce you to the intergenerational crowd shaping the social media landscape of Queens, NY. A teen luddite, the world's oldest hypebeast, the most fashion-conscious construction contractor—meet the 11 worship-worthy figures representing 2018's crop of outer-borough influence.
Eddy, 18
A college freshman hailing from the infamous Utopia Parkway, Eddy is a powerful voice on the front lines of a global youth-led environmental movement. An eco-activist, outdoors enthusiast, recording artist, and self-proclaimed survivalist, his outlook is tempered with justifiable pessimism: "I'm preparing for the worst." In anticipation of his latest album , Eddy underwent comprehensive regression therapy: "I was a cowboy in a past life, now I'm a cowboy who never saw a cow."
Mekala, 19
Budding intellectual and novelist, Mekala writes erotic literary science-fiction grounded in deep historical realism. A Middle Village native, she grew up swimming synchro competitively until her interdimensional fantasies gave way to the daring self-care prose that has quickly earned her notoriety in the thriving Ozone Park lit circle and, soon, beyond.
Ima and Isa, 20
Sierra-Leonian-American twins, Ima and Isa honed their talent and flare for stage competing in the Kew Gardens children's pageant scene. Now the twins have gone their own routes, pursuing respective dreams as a budding stage actress (Ima) and touring Butoh dancer (Isa), but continue to find mutual passion in their fashion-forward, style-centric shared Instagram account, @imaisatwinss.
Kayaira, 22
Party host, personal shopper, and special-event party planner, Kayaira is perennially hooked in and on call. We were lucky to get a minute of her time sans-Google Pixel, which has fused to her left hand, augmented by speakerphone. "I've always been a businesswoman," Kayaira quips between Hangout meetings. Last year, Kayaira was sued for failure to influence, an incident that led her to announce she was stepping away from influencing all-together. However, this short hiatus upped her follower count, and now she's back, more influential than ever.
Lew, N/A
Lew is an Astoria-based retiree, leaving ample time to carve out his rising generational influencer status. After Lew's grandchildren downloaded Snapchat on his phone, he experimented clumsily with the medium until a short clip of him hoverboarding head first into Little Neck Bay catapulted him into virality. Now Lew is drowning in streetwear gifting and promotional opportunities, a second career in influencer marketing that has rocked his retirement community to the core.
Lina, 18
Lina was born in Southern Russia, and adopted by a family in Queens. She grew up speaking a mix of Mandarin and Khalkha, and has since mastered English, Cantonese, Spanish, Russian, Italian, French, Greek, and Tagalog. She is a scholar of Rotokas (a language native to the island of Bougainville), as well as the fictional Klingon language and its various dialects. Follow Lina on social media for her hardcore enthusiast content, and watch as she realizes her dream of using her mastery of language for interplanetary travel.
Vibe, 16
Too smart for elementary school, Vibe entered high school at age 11. Despite being an influencer, they're also too smart for social media: "Everything is exposed, there's no mystery anymore. I avoid giving any information or sharing my image. I don't want to be on the reality TV show people call Instagram." Regardless of their reclusive, luddite tendencies, we discovered Vibe through their aptitude for mouth-to-mouth marketing, a rare skill in today's selfie-driven climate.
Amanda, 22
It-Girl juicer Amanda is no stranger in the Corona, Jackson Heights, and Elmhurst communities. Her local celeb status was set in motion after her Roosevelt Ave stand was awarded Best Juice in the borough two years in a row. When not juicing her signature "Psycho Coco-Carrot-Carob" concoction, Amanda is a freelance fashion evangelist and a social divination ambassador for the Corona Brujeria youth center.
Jigme, 17
Aspiring Bhu-Pop (Bhutanese pop) star, Jigme began modeling his way through Asia at age 10, before landing in Queens last year. Now 16 and filled with ruthless ambition, Jigme just dropped his first EP, followed swiftly by his first music video, which sees him reconnecting to his Bhutanese heritage. Jigme is one to watch!
Viv, 31
This Korean-American construction contractor, and heavy equipment operator, is a multi-hyphenate woman of many talents. In her spare time outside the construction zone, she models and runs her paleo food and lifestyle YouTube channel, which currently claims over 600K subscribers. While she's not quite ready to give up her day job, be sure the next generation's Martha Stewart will be wearing a hard hat.