THREE WAYS TO WEAR: THE "UGLY" SNEAKER TREND
THREE WAYS TO WEAR: THE "UGLY" SNEAKER TREND
WORDS BY MR CHRIS ELVIDGE
Shared from MR PORTER. Click to Read More.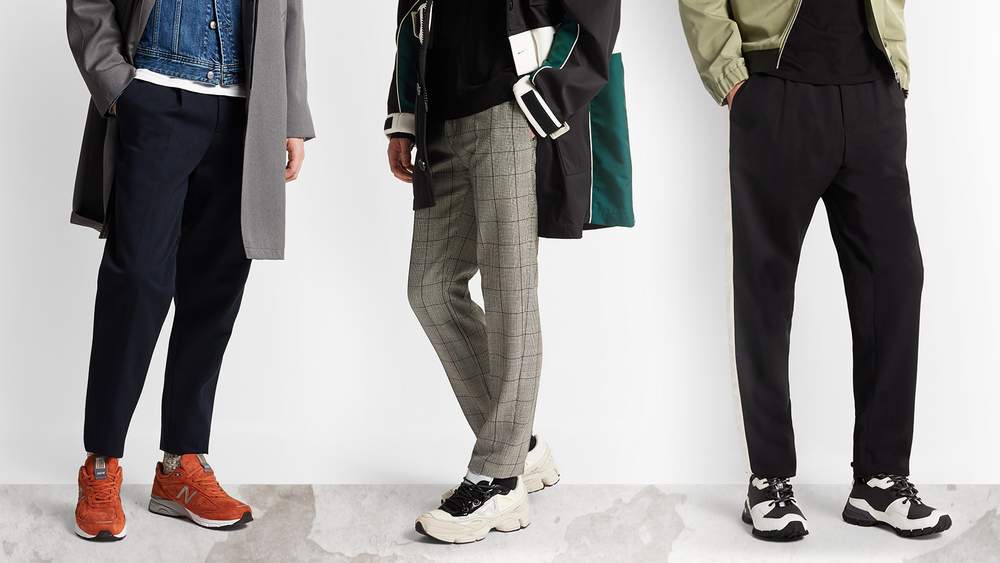 Beauty is boring. It's bourgeois. It's basic. The only way to push things forward and test the limits of taste is to embrace ugliness. That's the theory behind 2018's biggest shoe trend so far, the so-called "ugly" sneaker (you may also know it as the tech sneaker or the Larry David), which would have us all stuffing our feet into clumpy, orthopaedic monstrosities in the name of fashion.
This trend has been around for some time, first rearing its ugly head (or should that be foot?) in 2013 with three designer collaborations from sportswear giant adidas: the hoof-like Runner from Rick Owens; the Y-3 Qasa from Yohji Yamamoto, with its weird "rubber-ring" sole; and the Ozweego from Belgian designer Raf Simons (more on him, and that shoe, later). While popular with street-style bloggers and front-row fashionistas, none of them managed to make it into the mainstream.
It wasn't until late 2017 that this trend really hit its stride (sorry) with Balenciaga's much-hyped Triple S, a triple-soled sneaker of exaggerated proportions that kick-started (sorry, again) the debate on what ugly really means in the context of fashion. High-profile publications such as GQ, The Wall Street Journal and The New York Times all chimed in, while here on MR PORTER, Mr Howie Kahn praised the sneaker as a "work of art". Whatever you think of its looks, there's no denying that the Triple S is a serious statement shoe. You needn't go to such extreme lengths in order to channel this trend, however. We've picked out three of our favourite pairs and shown you how to wear them.
FASHION FORWARD
Mr Raf Simons is arguably too avant-garde a designer for his own good. While Vetements was redesigning the Reebok Instapump Fury and Balenciaga was putting the finishing touches to its Triple S – two sneakers that would go on to take much of the credit for bringing the ugly sneaker into the mainstream – Mr Simons was already on his third version of the Ozweego, an old-school adidas sneaker that he first reinvented in 2013. The Ozweego III comes in a variety of colourways, including purple and black or a bold maroon and blood red, but this white, stone and black version is our pick of the bunch. Stick with the monochrome colour scheme below the waist, pairing them with grey Prince of Wales checked trousers from Alexander McQueen, and add a bit of visual interest above the waist with a colour-block raincoatfrom Valentino.
SOPHISTICATED
No discussion of ugly sneakers – or ugliness generally in fashion – is complete without reference to Prada, the brand that has done more than any other to popularise the concept of jolie laide, or unconventional beauty. "Ugly is attractive, ugly is exciting," said Ms Miuccia Prada In a 2013 interview with The Telegraph. "It touches the bad and the dirty side of people." These sneakers take their inspiration from the world of specialist outdoor clothing – note the eyelet hooks, a detail borrowed from hiking shoes. Only Prada could make something so unglamorous look so good. We recommend sticking with the elevated sportswear theme and adding a pair of luxe sweatpants and a blouson jacket from Berluti.
RELAXED
If you're looking for a more accessible, less overt way of channelling this trend, look no further than New Balance. This Boston, Massachusetts-based brand was designing unapologetically bulky sneakers in a range of bright and bold colourways while the current generation's wave of creative directors was still in their nappies. Genuine dad sneakers, then, and best worn as part of a low-key weekend outfit. Just add a pair of navy pleated trousers and grey marl socks, and layer up on top with a denim jacket from Acne Studiosand a raincoat from Mackintosh.