Triple S To XXX: the Data of Desire
SSENSE and Pornhub Partner To Examine the Relationship Between Fashion and Human Sexuality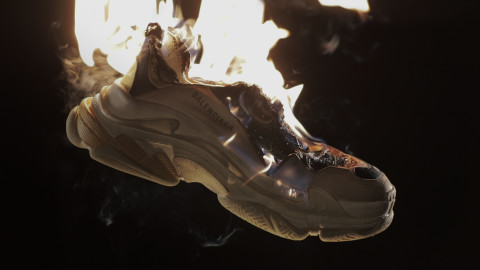 "Sex is worth dying for," once quipped Foucault, as he mused that the most important form of modern political leverage is control over our reproductive functions. Could he have predicted today's digitally-fuelled brave new world, for which there exists a porn video for any given sexual whim, no matter how eccentric? Perhaps porn sites wield far more cultural influence than we give them credit for.
We partner with Pornhub Insights to examine the data of desire, at what reveals itself at the intersection of fashion and pornography. Here, we turn our attention to the sneaker. Equipped with data surrounding sneaker-related porn consumption, writer merritt k considers its broader implications and connection to the fashion industry.
In the late 2000s, a group of Canadian men repeatedly lined up days in advance for the releases of high-end consumer electronics—iPods, gaming consoles, and so on. Purchasing these products using funds they'd raised online, they would then remove the items from their packaging and dash them to the ground in front of the rest of the line of consumers. Wails of despair and anger could often be heard from the crowds, intermixed with pleas that they just give the expensive item to someone in line rather than trash it.Was this a kind of psychic revolt against consumerism? A voyeuristic spectacle? A cheap stunt for attention by bored young men with no underlying political content?The answer seems to be, "yes." Plus, it was probably pretty fun.The image of a desirable gadget reduced to fragments of plastic, circuitry, and metal is a complicated one, embodying waste, excess, amusement, and denial, among other things. Like all wreckage, it captures the eye. But I'd like to ask you to shift your gaze away from the wreck, to pan ever so slightly to the line of young men waiting for their own chance to purchase one for themselves. Check out their feet. What are they wearing? More than likely, sneakers—a form of apparel fraught with a complex history, whether slipped on a foot, sitting in a box, or, echoing the image of the ruined electronics, dripping with cum.
Yes, people jack off in, on, and around sneakers. It's a thing. Data from Pornhub shows sneakers coming in at number 993 in overall searches on the site. That might seem low, but consider that these queries include studios, performer names, specific acts, and so on. This means that people search for sneakers thousands of times a day. Of all apparel-related porn searches, items relating to feet such as boots, socks, and, of course, sneakers occupy 20% of the top twenty list on Pornhub.Why are people into sneaker porn? We could start to answer this question by discussing the role of feet in broader trampling and worship fetishes, how they're an abject part of the body culturally coded as filthy and thus available to use in fantasies of degradation and submission. And, I mean, it's 2018—feet are mainstream now, just search "and she got feet" on Twitter.But we're not just talking about feet here—we're talking about what's on them. And the meanings associated with, say, stiletto boots are very different from those associated with knee socks, which are different still from those associated with the humble sneaker. And to understand the appeal of sneakers specifically, we need to talk about the history of footwear.
While casual wear ascended to popularity amongst men and women in the latter half of the 20th century, the sneaker qua sneaker has become an object tied to male athletic performance, wealth, and prestige. Similar to how the combat or work boot is an erotic symbol of authority, power, and rugged masculinity, the sneaker is associated with masculine personas like the skater, the sports star, and the rapper. And since the explosive rise of the sneaker in the 80s and 90s, the shoe has arguably become the male equivalent of the high heel in terms of status, price, and desirability.Like a pair of Louboutins, high-end sneakers are meant to be collected, seen, and adored. Some of the most expensive, sought-after sneakers are rarely worn and in this sense are no more functional than $700 stilettos. Unless you're wealthy enough to rarely be on your feet and to have backup pairs available when they inevitably get scuffed, they'll likely spend most of their time in a box.Sneakers, then, straddle the line between the practical combat boot and the ornamental pump. In this sense they've shifted away from the image of the physically dynamic wearer they began with, now occupying more ambiguous ground. And they're footwear with a charged history, culminating in the early 1990s panics around "sneaker killings," which often conspicuously targeted prominent black celebrities like Michael Jordan and Spike Lee for their purported role in instigating violence over sought-after brands.So it would seem wrong, to assume that sneaker porn is a straightforwardly masculine fetish and leave it at that—to do so would be to ignore the strata of meanings heaped upon by sneakers over the past several decades. And these meanings are always being excavated and reappropriated by subcultural elements in much the same way as historical accoutrements of torture and slavery have been taken up by queer sadomasochism.Of course, in attending to the symbolic we shouldn't completely eschew the physical. The complex tactile pleasures of leather have been well-documented by theorists of sadomasochism and those pleasures are at play with sneakers as well. It's easy enough to recognize the visual beauty of footwear, which after all is the primary criteria of value in high-end and celebrity-branded sneakers. But to touch the soft leather, the careful stitching, to slide one's foot into a plush enclosure reveals another kind of beauty. So why should it be any surprise that people find pleasure in touching, rubbing, smelling, licking, and even fucking them? As one self-described sneaker fetishist puts it, "It feels pretty good, especially if the sneakers are more narrow like Shox, adidas Racers, or Puma Speedcats."
This kind of physical intimacy with sneakers brings the body back into contact with a piece of apparel that's increasingly divorced from its original function. Huffing, caressing, and fucking sneakers, using them to trample another person, or even simply fucking someone while wearing them is a physical act, albeit one that runs counter to the designed function of the shoes. These practices are the mirror of the unworn sneaker collection: dedicated in their adoration yet expressing that adoration through physical means.But even this may be overstating the division between fetishist and fan. When a sneakerhead pulls his shoes out of their box and delicately fondles them, inhales their scent, or shows them off, the difference between his actions and those appearing in sneaker porn seem more of degree rather than of kind. The line between sneaker culture and sneaker fetishism, then, isn't always clear.And the use of sneakers as an easy reference to a whole set of identities (erotic and otherwise) isn't limited to porn, either. Fashion always wants us to aspire to something better, different, or richer—the whole purpose of mass market advertising is to inspire associations with products. But these associations aren't always handed down from above, and sometimes consumers repurpose them in ways that run counter to the expectations and desires of fashion brands—see for instance the early 2000s "chav" adoption of Burberry's iconic beige check pattern. Could sneaker companies, then, try to get porn featuring their footwear taken offline? It's possible, but it seems unlikely—not to mention a little late.
If any brand did pursue a takedown of sneaker porn featuring their products, it would likely be in an effort to protect their image against "unfriendly" associations. (Remember when the games company Blizzard asked people to stop drawing pornography of their characters?) But to do so would be to expose an anxiety at the heart of this moment in capitalism and especially with regards to luxury products: that we are all in love, we just express it differently. Not many of us masturbate on our shoes or phones, but most of us touch them and keep them close on a daily basis. Yet the -esque analysis that "your things come to own you" falls a little flat for me, because there is indeed something pleasurable about our relations with the designed world.In post-industrial societies, no gesture, no pose, no desire exists outside or before the base framework of capitalist exchange. As Sonic the Hedgehog tells us, there is no ethical consumption under capitalism. At the same time, consumption is a complex process that involves symbolic values, social influences, and often erotic desires, all enmeshed within production networks based on exploitation and enrichment of affluent countries and corporations at the expense of the rest of the world.In a sense, then, sneaker porn but is the logic of object love taken to its extreme. But in another, pushing past "normal", acceptable levels of interest in everyday objects to reach explicit sexual fascination (the classic definition of a fetish) creates the potential for rupture. Taking love to the point that it manifests in destruction—smearing shoes in saliva and cum or scuffing them up on some else's back—isn't simply a form of nihilism, a simplistic consumerist romance, or an expression of violent masculine sexuality. It's a complicated gesture that reveals the erotic constructions of identities under capitalism.
Real Life Mag, MEL Magazine Kotaku