User Experience: Fendi Roma
Going for Baroque in a City Where Empires Fall and Bags Have Friends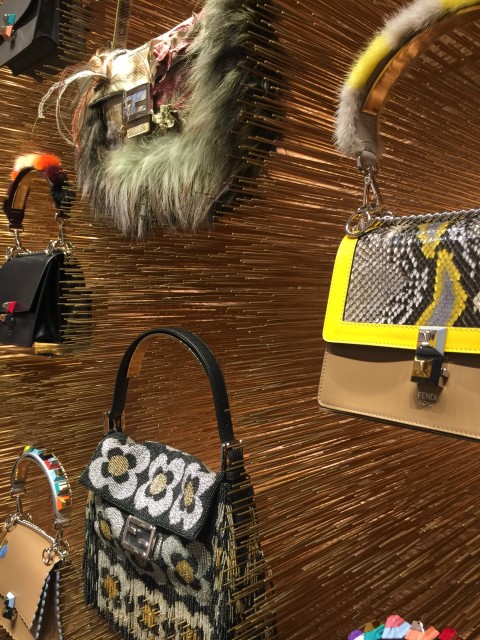 When archaeologists in the distant future excavate our civilization, I wonder what they will make of "Mini Karlito," a furry, mohawked bag charm created in the likeness of Fendi Creative Director Karl Lagerfeld. Will these visitors see the charm's $700+ price tag and decide that the German designer was a widely worshipped pagan deity? Or will they conclude that our time was so supremely and utterly social, that even our bags needed little friends to hang out with wherever we went?
Flights of fancy such as these—ones that span both epochs and tax brackets—lie plentifully in wait at Fendi's flagship location. Viewed from the front, the stately, trapezoidal retail space in the heart of Rome is cut vertically by a surreal Giuseppe Penone sculpture of a tree holding a slab of marble. On the sunny morning when I visited, this sculpture shared Fendi's frontal plaza with a police car from the Italian Ministry of Economy and Finance, parked askew in the sight lines of it gilded bag display in what felt like a passive-aggressive warning to white collar criminals.
The first room one enters in the store is a palatial salon filled with handbags that I call "The Peekaboo Antechamber." For while the gallery features many designs in the Fendi line, it is very clear which bag is boss. Invented in 2008 by Silvia Fendi, the Peekaboo is a purse that lives up to the simplistic playfulness insinuated by its name. Its two main compartments are held together by a central revolving clasp that when undone allows the outer walls of the bag to droop slightly downwards like two lazy lower lips, exposing the central wall of the bag just slightly. The effect this little peek(-aboo) of inner leather has is infinitely charming, much in the way that an errant bra strap or hint of a boxer-brief waistband can be devastatingly stylish. Ms. Fendi, the house's creative director of menswear and accessories, has a Midas touch for bags. She was also the originator of the Baguette, a purse with an equally adorable name that catapulted Fendi to the top of the It Bag food-chain in 1997.
Framed in serialized rectilinear displays and suspended in gold-spiked walls, Fendi's bag output is a fascinating sight to behold. Unlike many brands with iconic designs—such as Apple and its iPhone, or Hermès and its Kelly—Fendi does not seem fussy about preserving the "purity" and "lines" of its classics. Rather, the brand often practices iteration by addition, stacking things endlessly onto the skeleton of a design, as though to ask, "How many things can I place atop this item until it becomes something else?" The result is something strange and exciting. In the past decade, the Peekaboo has come in every two-tone color combo and python texture imaginable. It comes in large, extra-large, regular, mini, as well as a "micro" size so small that it encourages one to simultaneously contemplate accessorizing and quantum physics. Sometimes the Peekaboo has had plasticky studs that look like detached parts from a keyboard. It has even had cartoon monster eyes peeking out from its exposed central panel. One particularly delightful Baguette I sighted during my visit had a mane of fur around its pink python face, giving it the look of a bearded monster from .
Beyond the Peekaboo Antechamber lies the men's leather goods section with its toned-down yet equally delectable peekaboos, as well as a forest of interlocking F's, a menswear collection that feels like a benevolent whisper from up high, "Ah, the people like monograms again. Well, let them feast." Upstairs, past a Campana Brothers chair made of poofball gremlins, one finds Lagerfeld's womenswear collection as well as Fendi's custom fur atelier. This area is the once-on-planet-Earth feature of Fendi's flagship, an austere glass cube in which lab-coated experts explore the boundaries of poofiness, fluffiness, puffiness, and every vector in between. While observing these professionals at work, I lean my elbow against the wall and am grazed by a wisp of bright red floof, causing my lips to utter in horrified amazement: "This wall is made of multi-colored fur."
Yet, despite their fun-loving nature and small stature, the vanguards of Fendi's addition-by-addition design mode are Mini Karlito and his brethren, who can be found everywhere throughout the flagship. While the origins of the bag charm as a concept are murky, it is simple to say that the item was doubtlessly perfected by Fendi. Whether it be a fur pineapple, a gremlin, a witch, or even a family of gremlins, Fendi's charms express the idea that desire is a force that perpetually replicates itself. One will always want a bag. One's bag will always want a charm. And one's charm might even want a micro-bag. The result is a cycle of wanting that grows smaller and smaller, cuter and cuter, and into greater and greater ornamental detail. Unlike the purity-driven ideals of the Apple-Hermès design ethos, through the bag charm and its other delightful goods Fendi takes on the logic of the Baroque, an art historical more-is-more impulse that is deeply intertwined with its hometown.
Fendi's relationship to the Baroque is both spiritual and financial. Earlier this decade, the brand monetarily spear-headed a multi-million dollar restoration of The Trevi Fountain, the Baroque masterpiece by Nicola Salvi known for its cameo in Fellini's . With its turquoise-blue water and sprawling, blindingly white marble statuary, Salvi's fountain is the sculptural equivalent of a Michael Bay summer blockbuster. In contrast to Michelangelo's lonely David a couple hundred kilometers north in Florence, Trevi's extra-ness feels much more at home in our times. Across town from Fendi and Trevi, a once-in-a-lifetime celebration of the Baroque was taking place at Villa Borghese. Already home to the world's most formidable collection of sculptures by Gian Lorenzo Bernini—by far the most high-definition of the Italian masters—Borghese's temporary exhibition "Bernini" brought together more than 60 other sculptures by the artist. Dumped together in the villa's entrance hall, Bernini's busts and lesser known sculptures demonstrate a virtuosity that borders into the uncanny valley. In attendance here was Bernini's bust of the French Cardinal Richelieu, which was miraculously sculpted from a painting without the two men ever meeting in person, a work that demonstrates the Baroque's tendency to reach beyond what is impossible and accidentally into something transcendental. When the "Bernini" exhibition opened at Villa Borghese, Fendi threw the after party.
When our future archaeologists gaze onto Mini Karlito, the more cynical among them will judge from this artifact that our generation was entering a time of decadence. They will doubtlessly conclude that the devout extra-ness of a bag charm is the type of "let them eat cake" moment that signals a falling empire. However, what is often construed as the broad and lazy brushstrokes of our wants and needs is in fact a deeply detailed and exploratory impulse. Fendi show us that the more that we want will inevitably lead us to something smaller, cuter, stranger, and somehow closer to the future.