User Experience: Moncler Mexico City
Why an Equatorial Location Makes Sense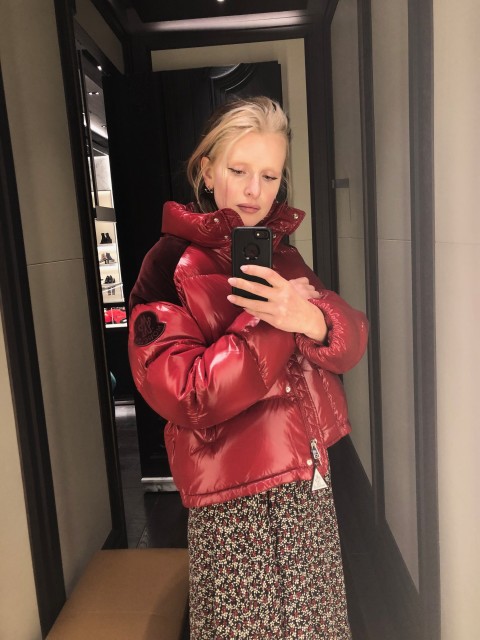 In Milan in the early 80s, a fashion subculture emerged called the Paninari, the fulcrum of which was as much the sandwich bars the members frequented as it was the Moncler puffers they popularized. A panino is a fitting symbol for the Paninari—representative of hyper-consumerism, and the disintegration of slow, sit-down traditions in favor of fast consumption. A mainstay in the Paninari uniform, Moncler was the French seasoning to a wardrobe that otherwise demonstrated an allegiance to Italian heritage brands (Fiorucci, Armani, Superga) punctuated by emblems of Americana (Levi's 501s, cowboy boots).
Traditionally regarded as a utilitarian garment, the Moncler puffer was implemented by the Paninari as pure aesthetic. Cropped, lacquered, and in vivid colors, it was the archetypal Moncler silhouette still so covetable today. Bold enough to celebrate their own cultural stalwarts while mixing in international brands, the Paninari—insofar as the realm of fashion—were making small steps toward a globalized fashion identity. Today, this ideal has become an increasingly aspirational goal for brands, in a fashion climate where doing one thing well has gone from a specialization, to a limitation.
When I arrive at the Moncler Store in Mexico City, the entrance is not flanked by the same greenery or cacti unwieldy in their abundance in the downtown core and its nearby neighborhoods—Roma Norte, La Condesa, Hipódromo. The neighborhoods where people who shop at Moncler in 2019 might choose to stay for an "authentic experience" in Mexico City. Instead, the Moncler store is in an upscale outdoor mall on the outskirts of the affluent neighborhood Jardines del Pedregal, a nearly 40-minute drive from downtown if you're lucky enough to avoid the city's notorious rush hour. The mall, Artz Pedregal, features fastidiously manicured gardens of grasses, rosemary and monstera deliciosa, with one escalator servicing all three levels of luxury shops. Everything is transported here for the purpose of convenience, rather than integrated into the surrounding civic landscape. Instead of an upgrade, it's an add-on to the already affluent neighborhood.
The concept of a mall in 2019 verges on the absurd—seemingly a constructed utopic space that isn't really rooted. In today's infrastructure of commerce, it feels particularly like a space between spaces—an airport, or a platform at a train station. Nowhere anybody wants to be for long. A specter of retail. It's all here, but do I need to be? Brands don't need to be any particular place in order to sell, most especially if they aren't offering any type of immersive experience, which Moncler in this case, isn't. I enter the store and only then begin to question my decision to wear socks with my sandals, an endeavor to be "ready for anything" in a city of unfamiliar weather. Moncler echoes my attempt at versatility, with footwear, eyewear and clothing padding their selection of puffy coats, all of which I had little idea the brand manufactured. With a legacy hinging on consistently delivering one product well—the down puffer—the plethora of other options feels like an afterthought.
Moncler (a portmanteau for Monestier-de-Clermont, a mountain village near Grenoble) was established in 1952 by René Ramillon. In 2003, Moncler was bought out by the Italian entrepreneur Remo Ruffini, current president and creative director, instrumental in the brand's makeover and its recent Genius Project. Moncler refers to itself as a "symposium." The mystique of the lone creative director is pushed to the wayside in favor of multiple, this year featuring Simone Rocha, Hiroshi Fujiwara, 1017 Alyx 9SM's Matthew Williams, Valentino's Pierpaolo Piccioli, and Craig Green, among others. "The whole idea of Genius is to have many diverse voices under one roof—to talk to many different generations and groups, and to be inclusive," reads the press release, titled "One House, Different Voices." In this instance, inclusivity seems more conceptual, more in reference to the creatives designing the merchandise, rather than those it is marketed to. A paradox in which inclusivity becomes exclusive. The same could be said of the outdoor luxury mall. It's easy to claim inclusivity through universal accessibility in an open-air space, even if the walls are high enough to block out the sun.
Eddie Bauer patented the quilted down jacket in 1940, after he nearly died from hypothermia on a fishing trip. Not traditionally an everyday staple, it has become one, even for those living in mild climates. Moncler originally manufactured sleeping bags exclusively—workers at the mountain factory in the early 1950s were the first to adopt something similar to a wearable sleeping bag to protect themselves from the cold. This caught the attention of mountaineer Lionel Terray, who was instrumental in popularizing the down jacket, collaborating with Moncler to test and perfect the garments over the course of the 50s. Finding myself in the house responsible for creating the Platonic ideal of the down jacket, I try one on, in a Paninari-style cranberry red."That's the last one available in Mexico," the salesperson tells me, "Maybe even in all of North America." He asks that I try one on in "the same color as the sea," and brings me a turquoise puffer, as vibrant as the ocean from a beach I will never wear it to. I am instantly cozy in my bag of feathers, but mildly bothered by the velvet material spread across the shoulders—a hindrance to its functionality. Of Remo Ruffini, the Moncler website says, "The strategy of the global down jacket is his brainchild." I wonder what type of strategy leads one to set up luxury shop in a mall, in a country's most affluent neighborhood, as an attempt at globalizing a jacket. It is the same strategy that condones a velvet applique on a garment meant for enduring the harsh elements. Perhaps it is simply an indictment of heritage brands bending over backward to create immersive retail experiences that aren't exactly necessary. Sitting at an elevation a third the height of Mount Everest, Moncler's seemingly absurd geographic location for this store should technically make sense. But what sense can we make of it from a cultural standpoint, beyond a fervent need to be accessible?
For the Paninari, synthesizing Moncler with Italian heritage brands lent itself to the curation of a global fashion identity: a regional representation of cosmopolitan knowledge, of world-wide influence. Just as Moncler Genius—with its many rooms, each housing a different creative—disintegrates tradition, in favor of bolstering its versatility and its expansion. The more markets Moncler aims to please, the further it gets from where it began. A display case near the front of the store contains a tiny metal sled, strikingly similar to the rudimentary sculpture by German artist, Joseph Beuys. Consisting of a sled carrying a folded wool blanket, flashlight, and lard, Beuys' sculpture carried only what he deemed crucial for survival—where Moncler's sled carries a pair of expensive sneakers. The sculpture points to the gap between heritage brands and their history of utility, the dissonance that occurs in a globalized model, as products are divorced from their design origin, from their function. If you relate to everything, you are nothing, just as that which is found everywhere is nowhere.
SSENSE. Editorial Magazine.