WHAT TO WEAR TO WORK WHEN IT'S HOT
Shared from HARVEY NICHOLS , click here to read more
Picture this: the sun is shining, the skies are blue, and temperatures are rapidly rising to what can only be described as baking hot. It's officially a scorcher and (surely) the dream scenario – that is, if you are lucky enough to be out enjoying it. Sadly, a little thing called work can get in the way. While you may love your job, there's no escaping the fact that a hot commute – plus an office that fluctuates from stuffy to arctic – is hardly how anyone wishes to spend their summer. There is, however, one area of the daily grind where you can use warm weather to your advantage: the uniform.
When selecting clothes for a resort holiday, staycation or summer in the city, we tend to optimise outfits to make the most of the sunshine. It's a rational approach to dressing that often falls short when it comes to picking workwear, with many sticking to the same suits and smart styles they've worn all winter. Now, we're not advocating you throw on shorts and sandals for your next meeting – although that would be pretty badass; however, there's no reason you can't adapt your look to avoid overheating. Here are four easy-to-adopt looks to help you keep your cool.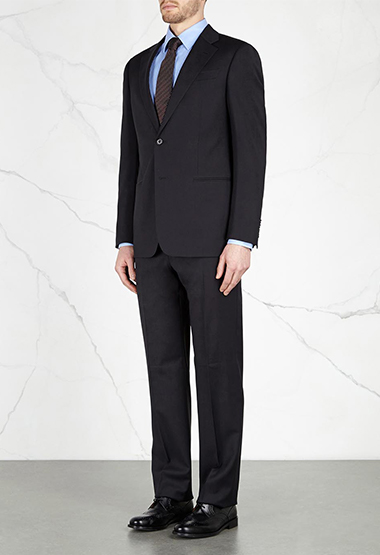 CITY BOYS
We understand that the man who means business cannot compromise on neatness – no matter how damn hot it is. The two-piece suit is a must, no arguments. Thankfully, for those who frequent the trading floor, there are alternatives to thick flannels and weighty worsted fabrics. We'd still recommend wool over cotton, as it has a more formal look, is less prone to creasing and – contrary to popular belief – is just as breathable. The trick is to look for a lightweight cloth, and a blazer that has no canvassing (the internal padding that provides the rigid structure) and is unlined or half-lined. Officine Générale's take on tailoring fits the bill. And unlike some double-breasted styles, it's cut to look just as good when worn open – ideal when you need to air out.
Likewise, for your shirt, a lightweight cotton design in a smooth poplin weave is preferable to a heavy twill. Mix up the colour palette by switching in white, light-blue or pink – all classic city-gent hues. Black leather Oxford shoes are still the footwear of choice, even in the height of summer. And while it's increasingly common to see men without ties, we suggest carrying a classic plain-weave style with you for peace of mind.
CREATIVE TYPES
You don't have to follow the same rules as the rest of us pen pushers when it comes to your wardrobe. Yet, whether your HQ is a studio, coworking hub or Soho House, your fashion sense still needs to reflect your role as the man who thinks outside the box. Colour, pattern and print are not only permitted, but encouraged – especially in summer. Noma t.d's tie-dye short-sleeved shirt is a surprisingly versatile piece thanks to its easy-to-pair monochrome pattern. It has a loose cut that's ideal for balmy days or layering over T-shirts. Chore jackets are ubiquitous among artists, and Dries Van Noten's take on the workwear staple is an energising change from the traditional blue-collar look.
One summer essential we have yet to mention is linen. The indisputable king of refreshing fabrics, it's a great option to pair with trousers, and – though you probably have the freedom to wear shorts to work – the Karl chinos by NN07 are practical when bridging day-to-night dressing. Canvas trainers are more breathable than leather, and a pair of Converse Chuck 70s maintain the theme of contemporary classics. Get them in black and white – they'll go with everything.
RELAXED OFFICE
Smart casual is high on the agenda here. Sure, you get more leeway in terms of what you wear to work – and we know how tempting it is to ditch decorum once things heat up – but you're still expected to look presentable. Where you would usually opt for a shirt, the polo steps in as a saviour. Signature Gucci stripes at the collar give a subtle colour-block contrast to clean, white piqué cotton, while Sunspel offers every shade under the sun. Navy cotton chinos in a slim cut are a reliable piece that can be worn all year – and the pleated detail on NN07's pair smartens the staple and sets it apart from the rest.
Hi-tops might seem heathens in the heat, but not if they're knitted; super-light and breathable, they're the closest thing to wearing sandals. If sports-luxe trainers are too much of a stretch for your office, then stick to plain white sneakers with less padding inside, and wear them with a pair of secret socks. If you need an extra layer for the evening, we recommend the contemporary-cut Oahu jackets from A.P.C.
ALUMNI LOOKS
If you work in medicine, law or academia, study this section closely. Because when you're not wearing surgery scrubs or in full court dress, style-hacked semi-formal attire is the best way to keep things pro-fresh. Start by investing in a pale cotton blazer from Polo Ralph Lauren for lighter layering – designs that feature patch pockets also work well. We find that a button-down collar is best when you plan to keep the top button open, so stick to a long-sleeved shirt made from linen instead of Oxford cotton. Rolled-up sleeves look suave in the heat.
Chinos in a neutral shade coordinate as easily with your existing wardrobe as a pair of black jeans. A happy medium between a slim and straight fit is ideal in the summer, and a stretch-cotton fabric offers greater freedom of movement as well as a crisp look. Loafers and lace-ups in suede provide a relaxed twist to smart shoes – we especially love styles in navy or chocolate brown. No socks is a widely accepted approach, but if you feel it's inappropriate then go for a dark-blue pair. Finish with a leather man bag from Aspinal of London – handy for stowing a bottle of water during your commute.
Shared from HARVEY NICHOLS , click here to read more