(What's The Story) Ronan Mckenzie?
Recasting British Weather-Wear with the Up-and-Coming London Photographer
Postcode E10. Leyton, East London. Right next to the Kingsmill bread factory, where on-the-rise British photographer, Ronan Mckenzie, once worked, nearly a decade ago. It's here where we set our scene.
Collaborating with stylist Nathan Klein, Ronan's project is an interpretation of London's weather patterns—portraits that reflect how one's day-to-day is impacted by the impulse to dress for (or sometimes in opposition to) the temperature outside. Our hourly weather apps dictate how we layer, why we stay in, who we might see, and of course, our moods.
It's funny: in an attempt to capture her city's perceived greyness, Ronan was presented with the sunniest London day, steeped in what feels like Los Angeles light. Never trust the weatherman, etc…
Here, in her own words, Ronan reflects on her day in Leyton.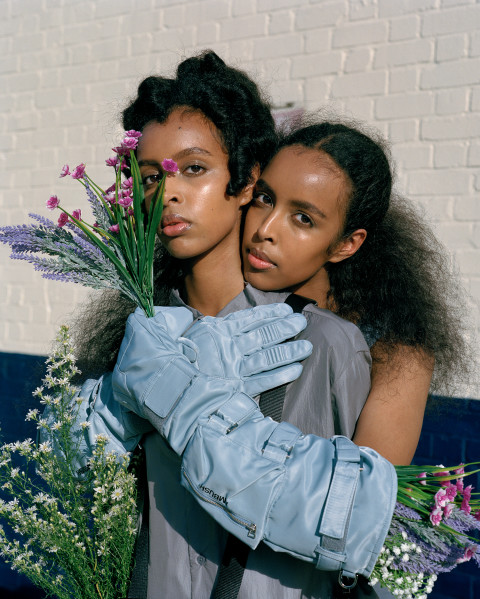 Spring Roots
The weather can sometimes be a two-headed monster: there's sun and then there's wind. The sky might open up and it begins to rain, and you're forced to just go with the flow. The flowers were Nathan's idea, and I love that they exemplify this sentiment, beauty sprouting out of what could be seemingly grey, with the backdrop of Hiba and Huda's deep sisterhood.
Sunburst
You know when the sun suddenly comes out and you just want to join it? I love the reflection of the light on her cheek, the playfulness of the pieces she's wearing, and how she looks so regal but, like, you could 100% find her on the 149 bus shining away, whatever the weather.
Luxe Commuter
Nathan put together this outfit with the ultimate business woman in mind. The last days of spring moving into summer, and you want to dress smart but still be able to go to the park after work. Stella has a sternness about her look but at the same time, an openness. She's so easy to smile. I love how juxtaposition is present within the images, as if you wouldn't be surprised if Stella was to go surfing later with her briefcase.
Heatwave
The London Underground is probably the hottest place in the UK, so these images represent one of those days when you're getting dressed—it's cold and brisk—and then you get on the train and you couldn't be hotter. You're all layered up, dripping in sweat. You're absolutely boiling…but committed, sometimes not even bothering to wipe away the droplets of sweat making their way down your face.
Grey Light
Cloudy, cloudy. But that doesn't always mean you're going to have a shit day. My flatmate would always complain when he woke up and there wasn't a speck of sun in sight, so it always made me try my best to find something to be happy about and enjoy, regardless of the sky. My friend Catarina always used to say "The sun is shining behind the clouds" and that's what I want people to remember when they wake up to cloudy days.
London Classic
It always interests me how different clothing can look person to person; Moh looks so relaxed and casual in this full Gucci look, but he could very easily seem like someone in primary school's vegetarian dad who is always at the allotment and packs their child a super stinky lunch with a ton of veggies (which I'm sure I would absolutely love now!). I'm so inspired by the variety of London and the people here, and this image really encapsulates that for me.