WHAT'S UNDER YOUR TRENCHCOAT?
Shared from SSENSE . Click here to read more
Bernie Madoff wasn't actually wearing a trench coat when he returned to his Upper East Side apartment building after posting bail, but I forgive the author of Integrity In Business for suggesting as much. Madoff might as well have been. The trench coat has long been a symbol of swindlers and crooks, but also, somehow, of hardworking detectives and The Good Guys. When Google Chrome introduced incognito mode, they did so with a trench coat wearing, fedora-clad cartoon figure. Was he meant to suggest our seedy search histories are safe, or remind us that there's no reason to imagine that would ever be the case? Probably the former, but when Chrome recently updated the logo, the character kept his fedora and lost his trench.
And yet, the trench finds traction with princesses and pop stars, octogenarians and Gen-Zers, people who care about fashion, people who don't care about fashion, and people who spend a lot of time loudly proclaiming how little they care about fashion. What is it about trench coats that make them both provocative enough to imply an impending striptease and staid enough for post-work drinks? How can a trench coat turn Picasso into the spitting image of an 80s yuppie businessman, complete with slicked over hair, and also pretty much define the word "louche"? Is there any other item of clothing beloved by both Breakfast at Tiffany's fanatics and people who use the word "hype" in conversation? Ever-present on the runway, the trench is easily definable in each era, and somehow escapes ever feeling dated.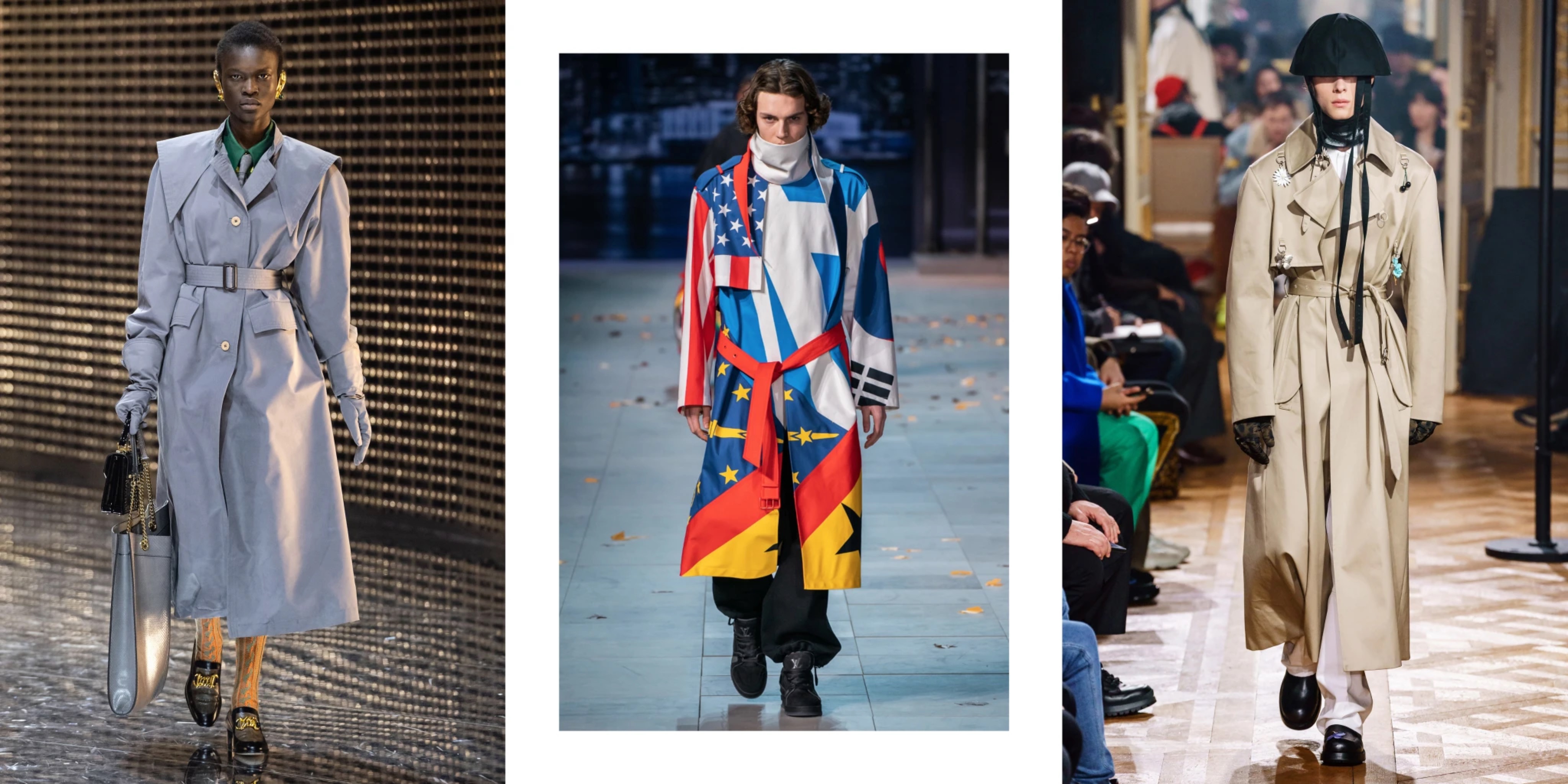 Raf Simons designed his latest collection "way before all that hassle," he explained at the January FW19 show bearing his name, offering an impressively understated description of a breakup that shocked the fashion industry just a month before. Unsurprisingly, the fashion world looked to Simons' first post-Calvin Klein 205W39NYC show for a response—the designer didn't say much, but he did offer up a number of trench coats. For a powder blue trench, he kept the gun flap, but cinched the waist with a thin black tie. Where war medals and ranking ribbons would hang, Simons pinned enamel flowers. Part peace offering, part call to arms. With his trenches, Simons gave his clearest answer—he's already on the move.
Both Burberry and Aquascutum claim to have invented the trench coat during the First World War. Though Burberry is a bit evasive on whether their coat came out as early as 1914—which is when Aquascutum's earliest one appears—their 1912 Tielocken coat looks like a proto-trench. Because both Burberry and Aquascutum already had ties to the British military and were working with trench-appropriate fabric before WWI, it's hard to pinpoint a singular creator. The fact that the trench coat takes inspiration from earlier military outerwear makes its precise origin even harder to pinpoint. Easier to move in than its wool predecessors, the breathable, weatherproof fabric became indispensable in the wet trenches that gave the coat its name. With shoulder straps for epaulets, the trench coat married function with formality, giving officers a suitable outerwear option tricked out for early 20th-century warfare. Estimates suggest that half a million trench coats were worn by British officers during WWI, a visual spectacle that today would look closer to a runway show than a war.
"THE PUSH-PULL BETWEEN THE RECOGNIZABLY-TRENCH ELEMENTS AND DISTRACTING DEPARTURES SUMMON THE FEELING OF CATCHING SOMEONE'S EYE ON THE STREET, AND REALIZING IT'S NOT A STRANGER, BUT A FRIEND YOU HAVEN'T SEEN IN A FEW MONTHS."
Though the classic shape endures, the trench coat's form has been worked and reworked. Proenza Schouler Fall 2019 embedded the sweep of a casually tossed scarf into a trench's structured silhouette while at Gucci the flaps ended in fixed points. There's Rei Kawakubo's exquisite Comme des GarçonsBurberry hybrid which looks more like a sharp-petaled peony than a coat and Enfold's delightfully double-faced trench. Equal parts cape and trench, Sacai's iteration looks like its been through a twister.
"I was thinking of this man made of glass, and that idea doesn't have to mean fragility," Craig Green said of his latest menswear collection. "It can also mean strength." Accordingly, he sent teal and terracotta coats down the runway, loose approximations of the trench with martial arts inspired belts. The push-pull between the recognizably-trench elements and distracting departures summon the feeling of catching someone's eye on the street, and realizing it's not a stranger, but a friend you haven't seen in a few months. Oh, you, is the first thought. New haircut? the second.
The trench coat's movement across gender lines rather than country borders proved most shocking in post-WWII America. In Hollywood, female stars took the trench from their male co-stars and rewrote its meaning. To traffic in stereotypes of the time, they seized a relic from the business of men—war—and employed it for the business of women—sex. Greta Garbo was an early adopter, Marlene Dietrich made it her signature.
Why were women so prone to steal from men's closets? "That is for the psychologist to ponder," a veteran apparel dealer who'd been marketing trench coats to women told a journalist in 1957. But even without an advanced degree, the answer was pretty clear. Women were trying to steal the swagger of men, potentially sullying it by wearing trenches to their boring womanly activities. "Gals are buying [trenches] as if they were members of a cloak-and-dagger operation instead of Ladies Aid," the male journalist wrote, his mocking tone exposing genuine concern. (Decades later, ambivalence towards women taking more than clothes from men bubbled up in Kramer vs. Kramer, wherein Meryl Streep and her always-present trench coat go to war with her husband and societal expectations.)
But even with a trench on, women were mostly stuck playing the role of the observed. One ad from the 50s offered female buyers a trench "guaranteed to make you feel as if you're being followed." The power of mid-century cinema's femme fatale came in drawing men's eyes away from what was important and moving them onto her body, distracting and ensnaring a victim. The coat of the watched also functioning as the wardrobe of the watcher exposes this dynamic. The slowly removed one is the sign of a sexpot while the hurriedly put on trench meant a man worked as a detective. She's mysterious, he's solving one.
Over the past few decades, the trench as a shorthand for a man's serious skill (often paired with smoldering looks and a smoking habit) has softened into the symbolic outerwear of bumbling detectives like Inspector Clouseau and Inspector Gadget. On BoJack Horseman, the show's titular character explains that Vincent Adultman is "very obviously three kids stacked on top of each other under a trench coat." Last year, two kids stacked on top of each other beneath a trench coat tried to get into a screening of Black Pantherand another pair attempted to buy beer the same way. When asked for an ID, the extremely tall and wobbly man with a six-pack said he'd left it at the "detective agency" where he worked.
During my time at a New England university, the students who lived off-campus were plagued by a flasher. The John Street Masturbator, so named for a street he seemed particularly fond of, would show up in backyards and by the garbage bins, waiting for his victims to look up from doing homework or making dinner. Thankfully, I never saw him myself, but only recently did I realize that the image I'd long carried of him now more closely aligns with attendees of a post-internet art opening than a creep exposing himself to college students. I'd pictured him in New Balances, cuffed grey sweats (this was before sweatpants became trendy), and a trench coat.
I'm not alone in making that connection. In 2012, a famous men's rights activist blamed sex crimes on "Burberry men," insisting that "[w]e should catch them, and...just make them not wear Burberry trench coats." For decades, trench-coat-clad figures in film and on TV were uncovering deceit or engaging in it. Though they've been linked to exhibitionists and criminals, negative associations don't seem to impact the trench coat's broad appeal. "The trench coat is the only thing that has kept its head above water," Jack Lipman once said. The founder of raincoat manufacturing company Drizzle, former president of the New York Raincoat Association, and a second generation coat manufacturer, Lipman would know.
In fact, the trench coat's near-universal appeal may help offset negative associations. Trenches have won favor with British gentry and goth teens, 60s radicals and stodgy old uncles. A British invention Brigitte Bardot and Catherine Deneuve wore so well the trench began to seem French. Trenches were popular with the Davids (Bowie, Hockney). "Why won't you wear your new trench coat?" the Strokes pleaded in 2001. They're a staple for women in rom coms who work at fictional women's magazines and also real women's magazine editorials on whatever number of essentials a woman must own. Today, paparazzi-primed models stepping a few feet from gilded lobbies to idling SUVs wearing them. It moves, is what I'm saying. The hardworking coat primed for war is now subject to warring factions of fans.
"You can cuddle up in it and wear it forever," Donna Karan said of the first item she made for DKNY. "It's like a security blanket." In 2019, the trench's slouchy formality acts as a shield for the gig economy army. But the real power of the trench lies in going or being gone from, in cinching the waist and slamming the doors, no time to button a thing. With pockets deep enough for the phone-key-wallet holy trinity and material for whatever the weather, the mutable silhouette of the trench equips us to move.
When I think of the trench coat, I can't help but see Piri Thomas. Thomas began writing his memoir Down These Mean Streets in prison. "I was a second-class citizen in the street, so as soon as I got into jail I was supposed to become a third-class citizen," he'd later explain. "And then, when I came out into the street I was to become a fourth-class citizen. And I said: 'Naaaayyy, baby. When I hit the street side I'm gonna be a first-class citizen.'" When Máximo Colón took his photograph on a Harlem rooftop in front of a graffiti-covered door, Thomas stands confidently in a trench. His hands come together in front of him, the energy of their movement apparent in the still. It's hard to tell if he is clasping them together for warmth or clapping them in that moment-punctuating way men sometimes do. Something just outside the frame has caught Thomas' attention. A hint of impatience playing across his face, he looks like he wants to see what's next.
Alex Ronan is a writer from New York currently living in Berlin.
Shared from SSENSE . Click here to read more