100x: Cold-Blooded Cosplay
What Happens When Fashion Gets Fishy and Coated in Scales?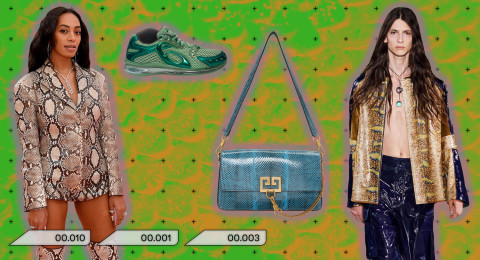 While filming her cameo in 2016's , Kate Moss emerged from the Thames in a green sequined Gaultier gown like some kind of glamourous sea monster. Wet-slicked hair, champagne glass in one hand, cigarette in the other, Moss became, as ever, the prophet for a fashion movement that would soon creep its way onto every runway. For their pre-fall 2019 campaign, Valentino painted a near identical picture, sending Naomi Campbell underground into the New York subway in a sparkling emerald ensemble (bringing to mind the legend of the sewer alligator, albeit a very chic one).
The cowboy trend of the last few seasons has gone cold-blooded—think Martine Rose's croc-embossed mules and dresses made from fishing nets via Kelela at Coachella. Pet snakes have slithered into "it" girl starter packs (most preferably in scrunchie or choker form) and resurfaced editorials. Both designers and their muses are turning scales into second skins.The FW19 runways were covered in scales. Claire Waight Keller presented her "deep dive" into menswear through Givenchy's reflective-tissue and sea sponge burgundy trenchcoats. Paco Rabanne's collection looked designed for the leading lady of a fairy , with purple sequin pants and mermaid-silhouette skirts reminiscent of childhood classics like and . The Sies Marjan show set the scene of a technicolor, underwater mirage, with models floating across a glitter-drenched catwalk (illuminated with over 3 million Swarovski crystals) wrapped in glossy fluorescent fabrics. Craig Green's man looked like he could slip right through your fingers, a shiny but tragic reflection of fashion's impact on plastic pollution.Scaly creatures have always been residents of our closets, and in more ways than one—in a recent article, Andre Leon Talley gave praise to Tom Ford, saying, "he's not like most of the cruel snakes in fashion and in cutthroat business." Emma Stone took to the 2019 Oscars' red carpet in a patterned brown Louis Vuitton number, serving up insta-memes of dinner plates piled with fried—or perhaps more suitably, burnt—snapper. For an interview on , Kim Kardashian slid into her seat in a Thierry Mugler python dress. As style writer Rachel Tashjian accurately summed up in a tweet: "snakes are a huge trend—great skin, bizarre energy, bad but appealing general demeanor, weirdly hot, constantly bringing you to the precipice of pain." Kiko Kostadinov's collaboration with Asics takes the serpent style from head-to-toe: low-top mesh green runners with gel and metallic detailing. Even sneakers have gone mutant with the rise of reptile aesthetics.
Forget spots and stripes, scales have become the new classic. To wear them is to satisfy the desire to adapt—chameleon style—to our fast-paced and ever-changing lifestyle while remaining unpredictable. A uniform for the party and indoor-aquarium-goer alike: multifaceted, but also inevitably controversial. We've seen a major departure from the use of real exotic skins in fashion. Carrying a cute croc leather handbag is no longer a token of luxury, but a crime against morality. "What's the difference between an exotic skin and a cow skin?" asks Stella McCartney. "I don't get it—that's the same conversation to me. If you really mean it, stop using leather, full stop, and then you'll see a massive, massive change in the industry's environmental impact." From TopShop to Chanel, the rest of the fashion world seems to be following suit. "We are happy to confirm that we will cease using exotic skins in all future collections as of our main fall 2019 ready-to-wear presentation," says Victoria Beckham. "This decision reflects the wishes of not only the brand, but also that of our customers." Fortunately, scales-adjacent styles are being churned out just as well. With brands like Issey Miyake and Comme des Garçons constructing garments with geometric prints that solicit an enchanting glance into morphology.The first time I used rosehip seed oil as a facial treatment felt like a sadistic, self-inflicted prank. Prior to trying the product I'd read an endless scroll of shining reviews swearing by its skin-redeeming properties: moisture-infused, packed with antioxidants. It arrived in a tinted glass jar, cold-pressed, 100% organic. The substance that oozed into my palm, though, was rather off-putting—it looked more like mucus than any floral byproduct. Despite its orange-brown hue and natural fishy fragrance, I slathered it over my face and massaged it into my pores. Immediately, I could feel its dewy glow, ridding my skin of dry flakes while taking on a new kind of scaliness—a certain slimy radiance that's seeped into the mainstream.
SSENSE