Hide and Seek: Everything You Could Possibly Ever Want to Know About the Slip Dress
Haley Mlotek explores the garment that wants to be seen: past, present, Rihanna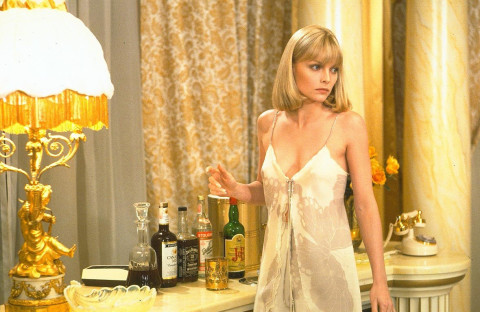 As last summer approached, a friend and I gave a name to the behavior we'd been indulging in all spring. , we called it. Privately I preferred sensible luxury, more for the sound of that low . Responsible hedonism, or sensible luxury, was good behavior — eating well, staying cool, making time alone with our thoughts — taken to an extreme that felt closer to decadence than to hygiene. Like all states of mind spun into practice, it needed an outfit. It needed a slip dress.
The slip is, in its most elemental form, a functional item with a signature purpose: to remove the friction between a body and an outfit, putting a smooth line of satin or silk or something similar underneath a skirt or a dress. Depending on the time and place, it's either the beginning of getting dressed, or the end of being clothed. It's both practical and superfluous. You don't really need a slip under most skirts or dresses, contemporary ready-to-wear and off-the-rack clothing mostly designed to do away with such additional steps.The slip dress, on the other hand, is contradictory in a different way: based off a hidden undergarment, but meant to be seen. More so than any other kind of dress, the woman makes the slip. It reveals without exposing. Wearing a slip dress, to the wearer and to the person watching, has come to mean you have nothing to hide.The moment when the distinction between a slip and a slip dress became clear was 1783, according to , the 1993 Metropolitan Museum of Art Costume Institute exhibition about the history and practice of lingerie in fashion. In the catalogue of the same name, curators Richard Harrison Martin and Harold Koda write that a portrait of Marie Antoinette attributed to the painter Élisabeth Vigée-Lebrun was the first substantive instance of the slip dress as an item considered both beautiful and respectable enough for public wear. In it, Marie's cheeks are flushed and her lips are painted in the shape of a rosebud. By today's standards, her white dress is elaborately adorned with ruffles and puffed, cinched, bracelet sleeves. This was, in the words of Martin and Koda, a "gesture of its time," referencing, in practice, Rousseau's theories about naturalism—that the human body should be free, easy, and open—as well as ancient Greco-Roman principles of democracy and fairness.
In Sofia Coppola's , the young queen, played with a sweet, graceful combination of innate royalty and brattiness by Kirsten Dunst, requests it from her dressmakers so she can have something "simple, natural…to wear in the garden." The subsequent scenes show her and her toddler daughter wearing their matching chemises in the grass, feeding dandelions to baby lambs and reading Rousseau's work to her friends. The fact that her dress was lingerie stayed the same. The only thing about it that changed was the context the queen gave it.
A closer comparison for today would be the Calvin Klein black slip, which cuts across the torso with two sheer panels just above each hip, forming a diamond pattern made of transparent tulle and lined by lace, or the Stella McCartney Black Ophelia Whistling Nightgown, with a lace bustier bodice in a sheer floral pattern, drawing attention to what it's supposed to hide. It reminds me of the costumes worn in Bertrand Bonello's 2011 film, , where the women of an elegant turn-of-the-century brothel live, work, and sleep in dark, opulent rooms. The slip dresses they wear are for sleep, or for lounging, or as a precursor to sex; which is to say they are meant to be seen.
The drop-waist dresses of the 1920s owe a debt to slip dresses. Though they have more in common with the Fortuny tea dresses or Delphos gowns of the turn of the century, they were, like Marie Antoinette's desire for looseness inside the rigid rules of palace life, about freedom. The women known as flappers wanted to dance and drink without being held back by tight, constrictive clothing. In the 1930s, Jean Harlow's champagne-colored bias-cut slip dresses were famously adaptations of Vionnet's couture collections.
But slip dresses would spend another few decades most commonly known for their protective elements. Unlike the corset, it didn't force a shape of the body, or a specific occasion, but it did work to subtly suggest both, like the strong curve of the neckline seen on this Kiki de Montparnasse Black Jersey Slip Dress, which would make itself discreetly known under any mid-length dress or skirt that required it.It reminds me of the iconic slip worn by Elizabeth Taylor in her role as "Maggie the Cat" in the 1958 film adaptation of Tennessee Williams' play , which was defined by the scenes she spent in various states of almost-undress. Her two major costumes in the film—a white short-sleeve blouse and tan pencil skirt cinched with a red belt, and then later, a virginal white party dress—are linked by the white lacy slip she wears underneath. She wears it while arguing with her husband, Brick, played by Paul Newman. Maggie's slip is the perfect costume for her character: she's obsessed with the things that lie beneath the surface, what everyone knows are there but refuse to talk about. Just like the way she pushes her husband to tell the truth about his debilitating depression, her slip dress is not something she wants kept under wraps.
A little over a decade later, in January 1969, magazine published an editorial titled "What Are You Trying To Hide?". In its ten-year run between 1965 and 1975, published essays by Susan Sontag and photos by Helmut Newton, and has been described as "a politically radical, beautifully designed, intellectual women's magazine." They were all about championing the concept of underwear made into fashion, worn overtly with the express purpose of being seen. The photos paired with the text—which argued that you should not "count on your underclothes not showing," but instead, to "choose them so if they do, it doesn't matter"—credited Woolworths for the clothes, to show that, in the right context, a simple item from a practical shop could become sex on spaghetti straps.
There is nothing practical about Elvira Hancock, the role Michelle Pfeiffer played in the 1983 Brian de Palma film , but that's not to say her character doesn't have her own logic. She says perhaps the best line in a movie filled with excellent ones (at least, it's my favorite) when she tells Al Pacino's Tony Montana never to get high on his own supply. Her coke addiction creates little tremors in her body and voice, so that even in her disaffected boredom she seems to be shimmering. Almost definitely the most beautiful woman in any room she enters, and certainly the best-dressed, yet she's barely wearing anything at all; without a word, Elvira seems to say, I'm over it. Costume designer Patricia Norris made slip dresses Elvira's signature look, and in her first scene she enters in a bright emerald green, with beaded straps and bodice seams perfect for a color named after a precious jewel. The Sies Marjan Pink Kit Dress has that same crystallized shine, in a bright pink perfect for Miami after dark.At home, Elvira moves between vanity tables in silky camisole sets and robes that match the amber drink in her crystal glass, and I can just see her doing the same in the Fleur du Mal Black Plunge Bias Slip Dress. But Elvira's slip dresses are the complete opposite of Maggie the Cat's: like the way her character eludes Tony completely, so that even after their marriage he never really knows her, her slip dresses are a way of letting people know that she could be practically naked and still give nothing away.
In the 1990s, the promise of slip dresses reached its peak. Referencing all of the significance contained in its extensive past, icons of the decade took the slip dress and gave it a future. , which begins on New Years' Eve in Phoenix, Arizona, uses slip dresses to show hope and loss. Whitney Houston as Savannah wears a long, satiny, dark brown slip dress to a blind date she's approaching with cautious optimism. Her hair is up and her earrings are long, drawing the eye to where the slimmest straps meet her shoulders, but when the man turns out to be another disappointment, she leaves immediately.Throughout the movie, slip dresses appear as outfits for talking on the phone with the friends you love, or for getting ready to go out, but it is Angela Bassett as Bernadine—"Bernie" to her friends—that gave the film its breakout, indelible image of a slip. She begins the film sitting at her vanity, rollers in her hair and half-heartedly putting on makeup for a party she doesn't want to attend, wearing a slip dress clearly intended to be worn under her outfit for the night. When her husband tells her he's not taking her to the party, but rather, he's taking the woman he plans to leave her for, she's stunned, alternately enraged and devastated. The next morning it seems to take her hours to even make coffee, every movement too slow and deliberate; but suddenly she snaps into focus, and, still wearing the same slip dress from last night, takes everything out of her husband's closet and into his car, douses it in gasoline, and then lights a cigarette before setting the whole wardrobe on fire. Her walking away in last night's slip dress and this morning's robe while the car burns behind her is still one of the most instantly recognizable frames from films of the decade. Her character's costumes exist somewhere between Maggie the Cat, who didn't want the man she loves to keep secrets from her, and Elvira, who has secrets of her own from the husband she hates—Bernie's slip dress is the last thing she wears before she starts life as someone smarter, sadder, and entirely herself.
That same year, Courtney Love attended the Oscar party in a cream satin slip dress, referencing the old movie glamour of Jean Harlow's similarly liquid look, but it became, in her wearing, emblematic of what grunge signified. Love understood that a slip dress could be just as prim as it was shocking, and she kept elements of both: the babydoll fit accessorized with a tiara, like a child playing dress-up with suggestively smudged red lipstick.The slip dress had a way of seeming truest to the person wearing it in her time. Drew Barrymore wore hers with a daisy tucked behind her ear, and Winona Ryder walked red carpets in a dress made to look like a night sky, dark purple in a crushed velvet material. Kate Moss wore a sheer slip dress in 1993, her simple black underwear clearly visible through a dress made of, it seemed, of what I can only characterize as transparent silver. Saran Wrap, even.
Gwyneth Paltrow's slip dresses referenced the consuming minimalism of the Calvin Klein and Helmut Lang era, with straight necks and severe, stiletto-esque straps. By the end of the decade, Sarah Michelle Gellar would play Kathryn in , the teen adaptation of , a movie I still can't believe I saw in theaters as an impressionable 13-year-old. As a wealthy brat who makes emotional cruelty and sexual subterfuge her hobby, Kathryn never misses an opportunity to show off the expensive lingerie she's wearing under almost every outfit just because she can. In the neverending resurgence of 1990s-era fashion, slip dresses and the women or characters that wore them are a frequent reference for fashion designers and the fans who populate Tumblr or Instagram accounts dedicated to their archives. In past seasons, Nomia has made simple white slip dresses not unlike Paltrow's, while Priscavera's metallic slip dress with a sheer lining recalls Moss.
The slip dress kept going all the way up the social ladder to Carolyn Bessette Kennedy, who wore one designed by Narciso Rodriguez as her wedding dress. Even higher up than the presumed princesses of New York society, Princess Diana wore a Christian Dior slip dress in an almost too-perfect shade of royal blue, trimmed with black lace, to the 1996 Costume Institute Gala held in Dior's honor. They would have appreciated the wavy lines of the Carven Black Scalloped Dress, with a neckline that rolls up and over the décolletage and a back that travels down deep between the shoulder blades, meeting in the middle with a seam like a kiss, elegant enough for any kind of nobility.Rihanna — today's incarnation of royalty—has a queen's ransom of slip dresses in her personal outfit archives. She really knows how to dress for a day off or a night out. A wonderful fact about Rihanna, commemorated in a Twitter thread by MTV News' Joshua Edwards, is that she's frequently photographed leaving restaurants with her wine glass still in her hand—once she did just that in a red velvet slip dress, which almost exactly matched the red wine she was taking to go. My favorite is a burnished bronzed-gold slip dress, which she wore with a lightly lined white fur jacket, silver sandals, and a navy baseball cap. It's the kind of outfit the magazines I read as a teen used to refer to as looking like you just "threw it on," as though carelessness or thoughtlessness is the ultimate sign of style, which, paradoxically, if you think about it really hard, it is. Much like a responsible form of hedonism, it is a disaffected series of choices made with such care that it feels closer to decadence.
There's also this photo where Rihanna's wearing a look styled by Mel Ottenberg, and everything is much more cohesive: she's wearing a crinkled silk jacket with a simple, ankle-length slip dress, the only flourish a ruffled hem, with delicate, thin-strapped sandals. Everything is the same shade, I think even—when I squint hard enough—her nail polish, all the color of purified, liquified metal. Rihanna once told that "If I'm wearing a top, I don't wear a bra. If I'm wearing a bra, I just wear a bra." For her, there's no underwear or outerwear; it's all-or-nothing-wear, always, and I can only aspire to this queenly way of being.
Eventually, the slip dress has become less about its contradictions and more about its complexities: rather than trading one purpose for the other, either a sensible layer or a luxurious look, it can be both to whoever is wearing it.When I went looking for the dress I knew would be the best outfit for my newly-acquired ethos, I remembered that years ago I bought a black slip dress made of two layers of silk, each one sheer on its own but opaque together. It was intended to appease my lazier tendencies when getting dressed—an item that only required me to raise my arms once in the morning, to take one step out of it at night, a single piece that could be a finished outfit—but perhaps for the same reason I like to overcomplicate something as simple as lazy leisure activities, I became obsessed with making it perfect. It was just a little too long; I had it shortened. After a few wears around the neighborhood, I felt like it was too big around the waist; I had it taken in, the first piece of clothing I had properly tailored for shape rather than length. The straps were made to be adjusted by preference, and I did just that, as though they were a thermometer for my mood: how low could I go? All of these past preparations for a single dress seemed, in retrospect, too perfect. Now that summer's long-over, I realize I wore the slip as often as I could, sometimes two or three or more times a week. It was sensible to do so—no other dress could do so much while requiring so little of me—but it felt, every time, like a luxury.
The New York Times Magazine, The New Yorker, n+1, The Ringer,