Anticipating Ocean's 8 with Gucci, Off-White, and Loewe
Fashionable Pairings for Today's Release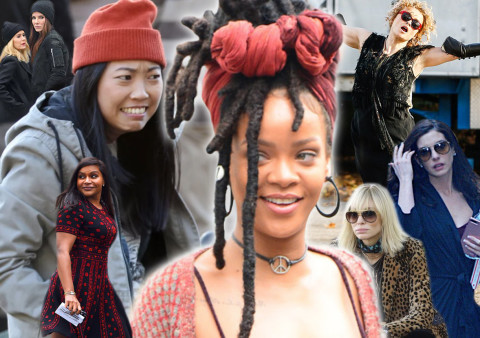 In the opening scene of , a weary and bearded Daniel Ocean, played by George Clooney, shuffles into frame to plead with the parole board that the motivation for committing whatever crime he was imprisoned for was that his wife left him—he was upset. Granted parole, what follows is a glossy, star-studded heist film, laden with celebrity cameos, slick dialogue, cash, and a lot of men. 17 years later, the stage is set with a similar premise, only this time it's Danny's sister at the crux—Debbie, played by Sandra Bullock. Rather than lament a break-up and point fingers, Debbie seems to have spent her time behind bars—"five years, eight months, and twelve days"—more constructively, figuring out the logistics of her next move.
An all-female (better late than never) six-strong roster of recruits, hand-picked by Debbie, orchestrate what appears to be a jewel heist at the Met, complete with (it's rumored many) celebrity cameos. This is what we are pretty sure of, but questions still remain: who is the eighth? Is that why Anne Hathaway is here? Is that Danny Ocean's tomb that Debbie is having a martini in front of in the trailer? What's Anne Hath doing? Can we have some more Rihanna, please? In the meantime, the SSENSE editors have paired each character with a well-suited item from the site, sharing insights and predictions of what will be revealed with today's long-anticipated premiere of .
Lou & Debbie - The George & Brad
It will be interesting to learn how well-acquainted Lou (Cate Blanchett) and Debbie are. While it's uncertain whether we'll get a hefty serving of backstory—like when Rusty (Brad Pitt) was teaching Topher Grace how to play poker as he engaged in expository catch-up with a just-released-from-prison Danny—there's bound to be some history here. As the trailers would suggest, Lou and Debbie seem to serve as the shirt and pants, I mean skirt, of the entire operation. The solid foundation for the outfit, with enough experience to discern which accessories should be recruited, and what sort of footwear is appropriate. While Lou seems to err on the side of retired rock star, Debbie is an ex-con—perhaps the plot wouldn't seem credible enough with anything less than two "badass bitches" at its helm. Either way, a shirt is nothing without its skirt, and an outfit is little without either, solidifying Lou and Debbie as fundamentally suited to coordinating the heist.
Amita - The Jeweler
You can decipher whether a diamond is real or not with a quick test of thermal conductivity. Exhale on the stone, and the fog should disperse immediately. If it lingers for more than a few seconds, you're likely looking at a fake. Perhaps Armita, the pro jeweller played by Mindy Kaling, employs this technique to avoid any mixups when swapping out real gems during the film's big heist. Or maybe Kaling tried it when she chose her headwear for this year's Met Gala irl—a bedazzled gold crown that sat on her head like an enormous emoji. She certainly sent a message regarding self-ornamentation: the bigger, the better. And when it comes to the gemstones, let's face it, in 2018 fakes are cooler anyways.
Constance - The Con Artist
"A deceptive and evasive action or ploy, especially a political one," is the second Google definition that appears if you search "shell game." And shell game is pretty apt when it comes to Google searches concerning plot spoilers or key characters—the plot in itself is one big shell game and the characters are its agents, especially Constance. Played by Awkwafina, Constance is something of a street-con-artist, hustling and making a living off the art of deceit. How she does it isn't entirely clear—are there clues hiding in her baggy beanie? All we know is that she's sleight of hand, and enough of a master of tricks and illusions to have been vetted and recruited to the heist's roster by Debbie and Lou. Where the deception and evasion will go from there, and to what extent—only today's release can tell us!
Rose - The Fashion Designer
Helena Bonham Carter plays Rose the fashion designer, but let's face it, she plays herself. In her signature Victorian, Tim-Burton-muse, ragdoll granny looks, no matter what her part, she always seems to inject her own aesthetic. Black layers, volume, bloomers, springy loose curls, a FRUiTS goth Lolita with a Bridget Jones brand of English frazzle. She is the clown that paints faces at the birthday party, but she's wearing Galliano. She is the Comme des Garçons Mary Poppins. Whatever you want to call it, it's a look she embodies so wholly and deeply that it follows her into every role. So, what is Rose wearing? She's wearing Helena Bonham Carter.
Nine Ball - The Hacker
Is she Nine Ball or is she Eight Ball? We'll have to wait and see, but if the paparazzi photos are any indication, one thing we do know about Rihanna's character in is that they pushed her Bajan hacker wardrobe to the utmost stereotypical. Bob, weed, peace, love, tie-dye—Caribbean characters in television and cinema have long been reduced to these same signifiers, and the same, strange, contrived accent. In fashion it's no different—red, green, and gold, the lion of Judah, weed leaves. Divorced from their deeply religious connotations, these symbols have become a style that represents more stoner-party-person than actual Rasta. Rih on the other hand is actually Bajan, and for that her character is already a breath of fresh air, clichéd wardrobe aside.
Tammy - The Fence
For holding one's hair in place. For keeping things just so and categorizing a look as "streamlined," or "tidy." For enjoying the sometimes harsh satisfaction of a snap! A barrette is the most curt (albeit efficient) beauty accessory. More than merely adornment, a barrette provides security, sharing sartorial genes with monogrammed weekend bags, driving shoes, day flats, silk scarves, cotton cable knit, Barbour, Bottega Veneta, needlepoint belts, and nautical-themed flourishes. For Tammy, the expert fence played by Sarah Paulson, the barrette typifies her job's demand not just for entrepreneurial competency, but for keeping transactions stealth. The fence is, after all, the middleman. Or middlewoman, in this case. The person charged with making a profit by moving stolen goods. The person who knows what will sell, and to whom, often conducting her business through a legal-seeming front (or three-car garage where she stores her kids' bikes and beach toys.) Appearing legitimate—or stereotypically innocent—is essential. Blonde waves, side-parted and gently clipped—Tammy appears neat and organized. Because Tammy the Fence is orderly as disguise. It's her way of life—a mechanism for concealing some inner restlessness. Suburban-chic is, after all, the greatest con.
Daphne Kluger - The Target
Anne Hathaway has been an easy target since (making Julie Andrews playing a queen seem gritty) and she was a child then, her reputation as a ceaselessly smiling martyr-y drama nerd unsolidified. In she (once again) plays the easy target as Daphne Kluger, the starlet victim of the group's jewel heist. How meta is this story-line? Pre-release rumors that her character is actually in on the job have weary haters hoping Anne might be in the throes of a rebrand. It would be thrilling to see her attempt a Face-Heel turn, to for once derail the Hathaway hate train instead of responding with abhorrent, fire-fueling grace. Let us hope that starring in a movie alongside Rihanna will spur Anne's own moment, so she can finally remove that bullseye from her back.