Apocalypse Now-ish: Six Moments of Sustainability and Destruction from SS20 Womenswear
Featuring Marine Serre, Maison Margiela, and Off-White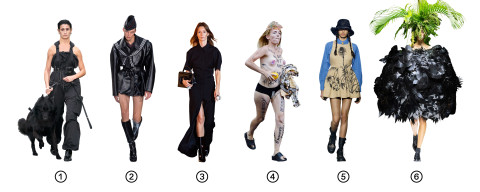 With the climate emergency looming heavily on the collective conscience, this September saw record amounts of people strike for climate action internationally, their posters and chants dominating our social media feeds. The UN also hosted its 2019 Climate Action Summit, with a knockout call to action from Greta Thunberg. Oh, and it was fashion month, too. It's not surprising that this newfound global momentum seeped its way into the SS20 women's collections. We saw nature referenced in ethereal flower accessories, headpieces made of foliage, and all-over plant prints. Simultaneously, some designers focused on the end of days with collections for tumultuous times, designs that reflected an era of oil slicks and pollution. More brands than ever felt the need to address sustainability in some capacity, oftentimes superficially, but overall, the SS20 womenswear season was a step in the right direction. It's clear that the end is near...or is this just the beginning? Below, we take a look at six apocalypse-adjacent fashion moments.
1. Marine Serre Oil Slick
Marée Noire translates to "oil spill" in English and was the chosen title of Marine Serre's SS20 collection. Presented outdoors on a rainy day during Paris Fashion Week, this perfect, organic intervention accentuated the black catwalk, constructed to look like a literal oil slick. Half of the garments were made out of upcycled materials, with the show starting in a procession of all-black outfits, like a funeral for planet Earth. Heavy, yes, but it's the sobering reminder we need right now. Most importantly, Serre understands that it's how her clothes are made—from fabric sourcing to construction—that plays the biggest part.
2. Maison Margiela Army
For SS20, John Galliano conjured nurses and soldiers with a military-inspired collection. Brooches and ribbons were pinned to long heavy peacoats with berets and helmets perched on top, completing the uniform. Model Leon Dame, tapped to close the show, created one of the most viral moments of fashion month with his spellbinding stomp and piercing glare. This is the focus and determination that we all need when fighting back in the Anthropocene.
3. Off-White Meteor Strike
Where Galliano was looking at history from the trenches, Virgil Abloh was looking up into outer space. His SS20 Off-White collection, titled Meteor Strike, sought to explore the calm and the chaos of space, with dresses and tops that looked like they'd been hole-punched, bringing to mind the potential for future Earth-side calamities. The cut-out purse, rendered almost completely impractical, is at once a campy statement piece, and a reminder that things are falling apart. Time is running out, and our resources are disintegrating. This purse, with its fragmented configuration, is the luxury version of sand slipping through your fingertips.
4. Collina Strada Helps Out
Guests at designer Hillary Taymour's Collina Strada SS20 farmer's market-themed show were greeted with a reusable produce bag and a pamphlet reading "Ways to Help Me" that listed tips to reduce your environmental footprint. Taymour's work has been greeted with enthusiasm by editors and influencers alike since her debut in 2018, with attendance and coverage of this show at an all-time high. Her work is all about slowing down, checking in, and finding a way to contribute to the fashion design dialogue without being toxic. It's a welcome, overdue approach that's worthy of embrace.
5. Dior Forest
The set for the Dior SS20 womenswear show was something out of . Hundreds of trees were placed along the runway, creating an irresistible, dark, and serene forest. The trees were provided by Paris-based environmental design collective Coloco, and were to be replanted in projects around the city after the show. Nature has long been used as a prop in high-fashion presentations, with no acknowledgment of the negative environmental impact of such extravagant, and temporary, productions. Is fashion's never-ending obsession with plant aesthetics a symptom of our disconnection with the wild world? Are we nostalgic for nature? When it comes to luxury fashion, it seems that the fantasy of the natural still reigns. A coping mechanism for a bleaker reality.
6. Noir Kei Ninomiya Rebirth
"It was a beginning," said Kei Ninomiya of his SS20 collection. "Actually, I wanted to focus on creation." The show opened with giant white dresses emerging from a black abyss, their forms expertly sculpted like cumulonimbus and cirrus clouds. Garments then quickly faded to black, like an invasive algae bloom. The third act brought brilliant green, models subsumed in a triumphant return of moss, ferns, and other prehistoric plants covering their heads and faces, reaching all the way down to the floor. Through this collection, Ninomiya told a moving story of perseverance, grounding the human form by bringing it back to the start. Connection over consumerism is clearly the way forward.