Market Research: Prada's "Spazzolato Pointy Heel"
Kaitlin Phillips Considers a Series of Parentheticals While Wearing a Practical Shoe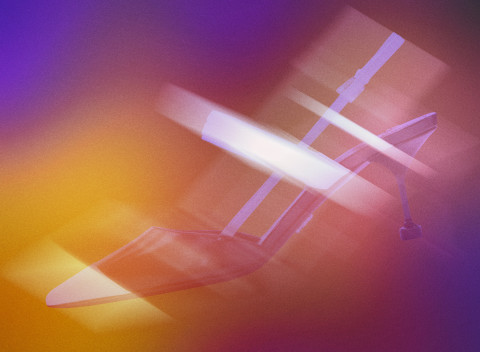 Sylvia Plath took a train to New York in June of 1953, writes one biographer, armed with "a tube of Revlon's Cherries in the Snow and black patent leather kitten heels." Ingredients for a 24-hour look in a cosmopolitan city. Bright red lipstick and practical heels alternatively code as demure or coy, depending on the lighting (the fluorescent-brightness of the deli demands a different temperament than the veiled sconces of a cocktail lounge). Mules or clogs are likewise democratic and un-obnoxious, but they lack the protean functionality of the kitten heel, which easily transitions from office shoe to nighttime dalliance, or even primetime TV.
Kitten heels are an open invitation to wear clothes that would otherwise be too interesting to pair with 4-inch Louboutins: a cape (fastened with your grandmother's brooch), a plastic mackintosh with bare legs (and no umbrella), the newsprint Galliano dress (with a newspaper tucked under the arm for effect), a frilly apron dress (and a stove full of magazines), a cascade of furry animal keychains, a bouffant hairdo. Dressed airily, it's easy to get short-sighted about one's career. You are primed for a martini lunch at Lucien, a members-only matinee screening of , a pirouette. Kitten heels, in other words, tempt us to be cheekier than we might otherwise think to be. They're the "driving heel" for an entire generation of non-drivers. (It has never been reported, to my knowledge, what shoe Princess Grace was wearing when she drove off a cliff to her death, but I have my suspicions.)The extra millimeter on the heel and the rubberized Prada logo require of me an assured air of jauntiness. Not the kind you feel during the game, but afterwards, racket swung over the shoulder, grass stains on the knees. (Have you ever had a crush on a boy absentmindedly twirling a lacrosse stick?)
I wore them frequently with black Balenciaga leggings and an XL white button up pilfered from an ex's father. I was thinking of Elizabeth Taylor's slacks phase, and a life spent on the veranda. I took to heart the reference in the design to black and white saddle shoes. "Sporting" footwear for golfers in the 1920s. If we can imagine a matronly woman (in low-heeled Manolo Blahnik slingbacks) going uptown to museums before noon, then likewise, I picture the woman who wears these Prada kitten heels joining her, in the spirit of Anna Karina running akimbo through the Louvre in . It seems to me these shoes encapsulate a joke Miuccia once told a graphic designer who asked her to come up with a fake Prada show. "What's an idea in fashion? It's a little 20s, a little 60s, a little Russian woman on a horse." Ha! (I have wanted to look like I ride horses since .)An invention of the 1960s, kitten heels were meant to satisfy the yearning of young girls who couldn't wait to grow up. Initially marketed as "princesse heels," they still evoke sweetheart necklines and peter pan colors, pastels, Sunday school, diaries with faux Victorian locks, a litter of kittens in a wicker basket, and Valentine, Texas (the location of Prada Marfa).
The kitten heel perfectly channels what Cintra Wilson once referred to as Prada's "hormonal lunacy." These shoes combine the saccharine aura of girlhood in a Tudor house with the hard-edged femininity of a woman who doesn't want to "totter" on heels. A pair of heels for women who want to walk home after a bad date. This woman, alone on the street at night, was Miuccia said inspired her latest collection. A woman who does not need to call her an Uber! It fits. Unlike training wheels and the "trainer" bra, braces, the tartan prep school uniform, the kitten heel has a functional second-life for adult women.Beyond serving a child's aspirational fantasy, the kitten heel was adopted by feminists in the "low heel movement in the 1960s," when women saw fit to wear a functional shoe "as a to the stiletto." In a page out of Elena Ferrante's Neapolitan novels, Miuccia Prada herself was an active voice in the political turmoil of 1960s Italy. She famously earned her PhD in political science, and wore Saint Laurent on the barricades. (It is a to me that these Prada kitten heels are reminiscent of the color palette of Neapolitan ice cream!) Famous for problematizing questions of taste with a casual insouciance, Miuccia puts real ideas on the runway. She has cited "a post-socialist aesthetic of warmth and human pace" as an inspiration for her clothes. ("The bourgeois woman is dead," she once told a journalist.)
The utility and studied modesty of the kitten heel are its defining qualities. The woman who wears them—as opposed to flats ( practical) or platform heels (not )—can elect, if she should so choose, to dress appropriately without sacrificing her personality. reported that Tavi Gevinson wore smart Prada kitten heels to Bill Cunningham's memorial. Weddings, meeting the parents, dinner with your boss, yes, but I love too how the kitten heel accommodates the woman who wants to feel elegant and unhindered while running errands. It will be a defining trend of the Post-Obama era, like plastic bags and luxury cargo pants.
In 2014, asked why he created a mock supermarket as the backdrop for his runway show, Karl Lagerfeld seemed to shrug: "Why a supermarket? It is something of today's life and even people who dress at Chanel go there." Again,, recently applauded the French-American actress Lily-Rose Depp—born 1999 and Chanel's doe-eyed muse —for pairing kitten heels with ratty cutoff jeans and a T-shirt in Los Angeles recently. She was car shopping!A few weeks ago I flew to Paris to visit old friends—a rather treacly errand of the heart that posed low-level sartorial decisions; I had several dinners with my past. For cocktails and sardines with my two ex-best-friends, in town for fashion week, I wore a cropped shearling jacket in candy apple red and my Prada shoes with black drugstore tights. I guiltily spent my daylight hours in bed, hungover, writing in ripped Vetements Jeans and a Lucien sweatshirt. For my final night—the —I curated a boozy men-only affair with an anorexic Hegelian (a formative crush), a military historian from California (with an affected continental accent), an elegantly mannered French art dealer (divorced, collects rare arrowheads), and a conceptual artist I had met the night before at Café de Flore (I had liked a video he made a few years before, of a woman wandering in a technological wasteland). I sat in the middle, nails unvarnished, wearing a long-sleeve snakeskin shirt unzipped to my midriff, bellbottom jeans—and my Prada shoes that, with a hint of retro futurism, mirror the city itself. And my mind.