Marques Almeida's Americana Deep Cuts
Marta Marques on Denim, Dolly Parton, and 90s Vulgarity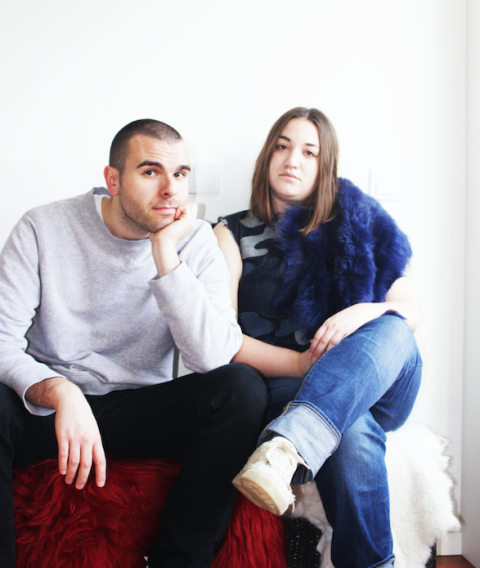 . It's the word that's used most often to describe what Marta Marques and Paulo Almeida—the four hands behind Marques Almeida—do with their fabrics. Distressed denim, with edges torn as if by teeth. Distressed silk, no longer an oxymoron. Distressed is supposed to mimic years of use—a counterfeit for . But with Marques Almeida, it's as if the materials themselves are in distress, which really, they are. The designers dip, dye, rip, and pleat their fabrics to unexpected ends, spinning the material of classic American workwear into luxe London streetwear. "I think the denim started it all, to be honest," Marta tells me. "The way we approach denim is with the meaning it brings—the baggage it brings. We had to work with pretty much just denim for a few seasons to really understand it, and to be able to multiply it and apply it to other things." Marques Almeida are drawn to this quintessential fabric of Americana—its charm, its vulgarity, its emotional baggage.
Since launching their brand in 2011, the pair have frayed common sense ideas of what a material like denim can do under pressure. "We had to just approach it without preconceived ideas—like that denim needs to be jeans," Marta explains. "Or that a jacket should be constructed in a specific way. If you look back to 90s street style, and the editions of where you had kids in the club or the skate park or whatever, they're always wearing jeans. Fitted jeans, or baggy jeans, or a jean jacket—it's just so heavily connected to youth and streetwear, and that's what we felt connected to."Marques Almeida won the 2015 LVMH Prize for Young Fashion Designers in a cohort of finalists whose names are now on the lips of anyone with even the lowest-key interest in fashion: Off-White, Jacquemus, Vetements. "I forget that was all that year!" says Marta, still a bit stunned by the win, two very full years later. "I think that's still the thing that shakes us the most. We were in that season with all those brands, and judged by the people we so admire—Phoebe, Raf, Marc, and Nicolas."
The Marques Almeida studio sits on Hackney Road in London's east end, and their recent 2018 Spring ready-to-wear show was held nearby under a bridge just off Brick Lane. Marta is from Porto and Paulo, Viseu—and nearly everything they make is manufactured in their native Portugal. The couple first met and fell in love 12 years ago in Porto at CITEX Fashion School, but the brand has always been a London joint. They interned there (Marta at Vivienne Westwood; Paulo at Preen), before both attending the Fashion M.A. program at Central Saint Martins, under the renowned and brutal instruction of the late Louise Wilson. It was at CSM that Marques Almeida was conceived and challenged. Of Wilson, Marques admits: "We do owe her pretty much everything. We owe her the existence of this brand. She made us figure out why we wanted to do this. Why is it meaningful? Why is it authentic? Why does it matter, and is it relevant? It flips you inside out completely until you find something. And that's Louise."
Love and business don't always make the best bedfellows, but Marta and Paulo don't know it any other way. For them, it's weird to not do things together: "We met when we started to think about fashion and what we wanted to do with our careers, so we kind of developed together and have always done things side by side—even though we're very different in our perspectives and personalities. Paulo is very much product-driven. He has all the technical knowledge, he understands the product, he understands the garment, he has an eye for detail, for texture, and for construction that is impeccable. He drowns in research, he knows every collection, everything we've talked about since 1993." For Marta, her influence on Marques Almeida comes in the way of a concept and vision that drives each collection and the direction of the brand. "And in terms of aesthetic, my plans are always much more boyish. Paulo's are always much more feminine. Mine are more relaxed, where his are more constructed."Speaking about their punk-aristocratic Spring 2017 collection, with grunge slip dresses and leg-of-mutton sleeves in red tulle, Marta explains, "It started with vintage clothes. Pinning vintage underwear on the board next to some tulle sleeves and a basketball t-shirt. We wanted to start from the product and not from the girl for once—then the girl was built around it. After that came this whole idea of baroque sportswear. With pictures of Marie Antoinette next to screenshots of the movie . It started by pinning stuff, and collecting all the vintage garments, and patch-working them together."
More and more, the pair cast their friends as models, referred to affectionately as MA girls, in their shows. Much like Eckhaus Latta's friend-crushing method, Marques Almeida casts interesting people they hope will become pals through the process. Their inspiration comes as much from these friend-crush encounters as it does from a concern for the state of the industry: "With Autumn/Winter 2017, we were worried about this idea of diversity. What are we doing in fashion, and how is that molding people—girls especially? Then we started looking at the pictures of Malick Sidibé from the 60s in Mali—like this one of this young couple dancing and wearing fancy costumes for a night out. Things like that. And then it builds onto this whole idea of black culture in the 60s and 70s. It really varies, but what ties it together in the end is the girl that comes out of it. It's their attitude that ties it all together."It's looking like Marta and Paulo will return to building from the girl for their next collection. Their daughter Maria is the newest MA girl, whom the designers welcomed into the world six months ago. Their lives, their space, and the still life of their bedroom is looking very different these days. "It's been a bit crazy. We've stayed home a few months since she's been born, but we had to come in fairly quickly because seasons don't really stop—so that's not much of an option. You just kind of have to find your way," says Marta. Open tabs on their laptops betray that even fashion designs trade in the mundane. Meal planning and . On her bedside table you'll find a half-read copy of Zadie Smith's , an almost 500-page novel Marta optimistically began reading before Maria was born. There's also "a lavender spray that you put on your pillow to calm down at the end of the day," and "some candles on Paolo's side because he loves that, and his Helmut Lang handcuff bracelet."
The designers describe themselves as coming from the Helmut Lang school of thought that believes "fashion is about attitude, not hemlines," and they continue to go back to his collections from the 90s for inspiration. Lang isn't the only one. Marta and Paulo often look up old Comme des Garçons collections, or Galliano shows from 1995, and early 90s McQueen.Tacked onto their latest moodboard, alongside a cut of springbok leather dyed in a crisp bright yellow—"which is a very Marques Almeida color"—is 90s princess Kate Moss. "It's always like that. We're obsessed with the 90s and Kate Moss represents the whole ethos—so she keeps coming back to our moodboard and making her way into it, but this season there was a hundred of her. I think it's because there was an Americana vibe—a kind of trailer park vibe. She came to some of those shoots with a really effortless, young streetwear vibe."
The Marques Almeida affinity for Americana is not of the sugary sweet Mumford & Sons variety, thank god. There's no fetishization of the American West that happens sometimes when Brits imagine the Californian frontier. They're in it for the vulgarity. "We have this attraction to the mundane, slightly vulgar side of life, and the fact that it's real people. This was the first season since having Maria, and it is tricky to balance it all. Oh, and I was listening to a lot of Dolly Parton at the time."
Dolly Parton—"the epitome of coming from nothing; that simple rural family, just making it but keeping a bit of realism and vulgarity"—is as much a muse to Marques Almeida as Moss. Parton, who's as American as apple pie. Parton, who's rumored to have full-length tattoo sleeves concealed always from the press by full-coverage shirts or dresses. Parton, whose live album the designers play for their baby, and whose songs Marta's dad used to play for her. The vulgar mundane—where grit and pearl are side-by-side. This is the Americana of Marques Almeida.