Why Collaboration Dominates Fashion in 2017
Calum Gordon Makes Sense of This Era's Co-Branded Chaos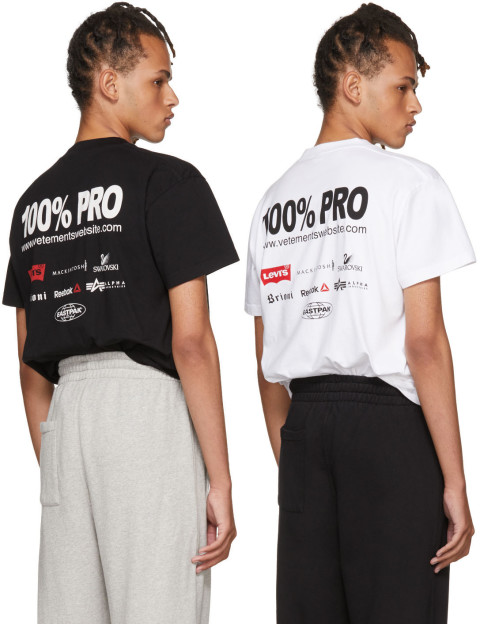 In 1999, then-nascent New York label Supreme wanted to make some sneakers. They didn't have the resources to make their own, so they approached someone who did: skate brand DC Shoes.
The result was sold in Supreme's Lafayette Street store to little fanfare—no snaking queues round the block, no incessant online coverage. This was a collaboration. Sounds quaint, doesn't it?Cross-brand collaboration has become one of the defining features of fashion in 2017. This past season alone has seen Nike partner with Off-White, Junya Watanabe team up with The North Face, and Sacai and Undercover present a joint show at Tokyo Fashion Week. Balenciaga even tapped Crocs to create footwear for their Spring/Summer 2018 show. How exactly how did we get here?
As always, the internet has played its part, both in how we understand and how we consume the collab. Now more than ever we define ourselves through a process of cultural aggregation. Online we take a bricolage approach—in the articles we post on our Twitter feed, the people we follow, the places we tag on Instagram—to create a complex public perception of self. This has also seeped into our offline lives and wardrobes. 90s fashion was underpinned by the idea of "the Margiela woman," or "the Yohji woman," but that notion of unrelenting loyalty to a singular label or aesthetic is no more. Understated consistency is often perceived as a little dull, whilst stylistic juxtaposition, like mixing dirty Jordans with Dries Van Noten, is lauded.For brands, collaborations are an ideal way to speak to the visual and cultural complexity of this consumer, while also allowing designers to communicate the varied and even dissonant aspects of their vision. Much of Demna Gvasalia's work for Vetements, for instance, has been characterized by collabs, whether it's ongoing partnerships with the likes of Levi's and Alpha Industries, or with unexpected partners like shipping giant DHL—which went from unauthorized homage to an official Spring/Summer 2018 capsule collection.
There's a structural element to the Vetements cooperative ethos, too. Its Spring/Summer 2017 collection, debuted at Paris Couture Week last January, was comprised entirely of products that took a similar approach to Supreme's DC sneaker, working with 18 brands to put a Vetements twist on what each brand does best. According to Guram Gvasalia, Vetements' CEO, it was a way of accessing the expertise of others, rather than starting from scratch on each garment. "Our initial flight jacket done ourselves in Italy ended up having so many technical mistakes that we hope no one used them piloting a plane," he told Vogue earlier this year. "It was clear [Alpha Industries'] expertise was much needed, as our goal is to create the best possible product in its category." Collaborations of this ilk have always existed in fashion—whether it was Hermès under the guidance of Martin Margiela enlisting Scottish outerwear experts Mackintosh to make their coats in the 90s, or milliner Stephen Jones' work with Alexander McQueen—but they have gone from playing a supporting role in expressing a designer's vision to, in many ways, defining it.The noisiest collab of this past year was undoubtedly Louis Vuitton's with Supreme. It was fitting that the show notes paid tribute to Dapper Dan, whose unofficial logo-jacking and deft tailoring throughout the 80s and early 90s influenced today's mainstream luxury aesthetics. Dan also outfitted a glut of hip hop's early icons, such as Eric B., Rakim, and L.L. Cool J. Like the work of the Harlem-based tailor, hip hop itself has transcended its niche origins, becoming contemporary pop culture's main driving force. It has influenced how we talk, how we dress, and how we express ourselves creatively. With a new wave of designers raised on rap music assuming positions of prominence, the fashion industry has begun to mirror hip hop's time-honored approach to creativity.
Hip hop has been a deeply collaborative art form since its early days in the South Bronx, where the interplay between DJ, MC, and crowd was integral to the success of a party. Even in the era of pre-internet rap, there was an openness to exploring new sonic spheres by enlisting the help of other rappers or producers. Just as Raf Simons called on Peter Saville to evoke the hard-edged minimalism of Manchester's post-punk scene, Jay-Z added a new dimension to his sound when he put Houston legends UGK on his massive single "Big Pimpin" back in 1999.But more than that, it has also been a subtle way of flexing either your connections, your knowledge, or credentials. The best collaborators harness them to exude cultural savvy and authenticity. Part of Drake's continued relevance comes from his ability to identify and associate himself with ascendant stars before they go mainstream, from Migos to Skepta. DJ Khaled has carved out a full career from a seemingly innate knowledge of which musical partnerships will work. For each, collaborations are an exercise in branding as much as a creative endeavour, and in many respects fashion has come to view collaborations in a similar way. Bejeweled platform Crocs on a Paris runway? Well, that's just fashion's answer to a 2 Chainz guest verse—an unexpected flourish to stir up interest and draw an audience.
The new landscape of digital media has helped drive this attitude. In particular, content behemoths like Hypebeast and Highsnobiety have left traditional publications playing catch up in a world where clicks mean cash. The result is that it's now harder for brands and artists to be noticed without creating something that will make news and turn heads. "The way media works now, you can't just do a collection and hope people care six months later—you've got to always be on. Collabs are a handy way of doing that," says Alec Leach, Highsnobiety's Digital Fashion Editor.But luxury brands looking to portray themselves as a little bit more Canal Street than Paris catwalk tread a fine line. With any collaboration, it's essential that there is a meaningful cultural exchange at the heart of it—otherwise it's merely a crass cash-in. Burberry and Gosha Rubchinskiy have drawn heat for their recent collaboration, which drew aesthetic inspiration from the reviled 'Chav' stereotype in the UK. It was the very same loutish caricature that Burberry actively distanced itself from in the early 2000s, when working class kids developed a liking for the British luxury label's iconic nova check pattern. But here, it was being repackaged up for a new audience, described by streetwear sage Gary Warnett as, "Class tourists and fancy dressers playing at poverty."
With branded collaboration settling in as the new normal in fashion, it's just a matter of time until it begins evolving. Heron Preston's recent work with New York City's Department of Sanitation is one variation on the form. What began as a one-off series of redesigned uniforms in 2016 reappeared in Preston's first official collection, created in response to fashion's failings in addressing its own impact on the environment. Working directly with DSNY rather than weaving references into a collection helped Preston to make his point more explicitly, suggesting a greater sense of purpose behind his label.While the co-branded collaboration may eventually lose steam as a marketing tool, the practice is here to stay. It's baked into the creative processes of the generation of designers just reaching maturity. The best ones will continue to come from those adept at navigating a myriad of reference points and merging diverse influences to communicate a unique point of view—something that might surprise you, but still fundamentally makes sense.
Contemporary Menswear. Dazed, Another Man, Kaleidoscope.