Open Format: A Filmed Experiment for Bottega Veneta
Navigating the Creative Process With a Site-Specific Video Art Installation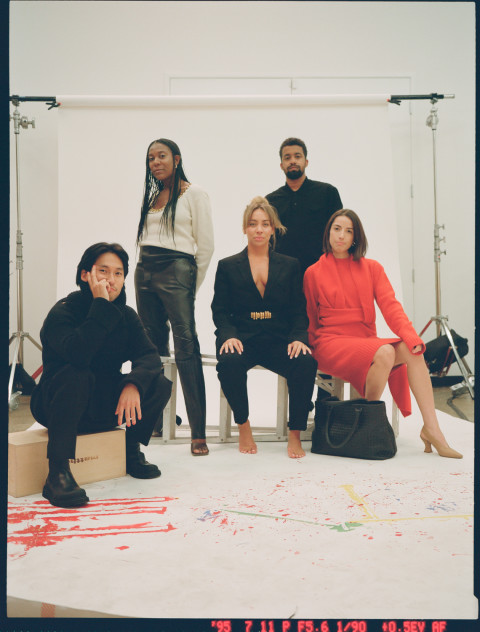 Some questions. How are you? What are you listening to on repeat? Which question is asked more frequently: or When was the last time you made something and didn't immediately share it? When was the last time you chose to do nothing? Do you ever say ? Describe your ideal chair. Describe what gives that chair character. When was the last time you experienced stillness? Is procrastination essential to your process? How many books are you reading at the same time? When was the last time you made something with your hands? Provide an example of what "lived-in" means to you.
In our increasingly digital age, where productivity is often confused with value, real life interaction feels rare. Collaboration without an expectation or demand for output, is even more rare. Attention to detail is almost unthinkable. The supposed of compulsively seeking out what's next has attenuated the impact and meaning of the creative process. So, what now? How do you respond by devising the opposite of a response?At its core, Daniel Lee's inaugural collection for Bottega Veneta was, in some ways, the opposite of a response. Principled design that honored the brand's heritage, while elevating the notion of luxury beyond its cursory connotations. Lee's vision is sharp yet open, boldly confident yet quiet. Incubated ideas as perceived through the brand's signature intreccio weave. Design that playfully interprets desire as a totally ambiguous, secret state—design that doesn't impose but tempts you to touch.
Last month, creative director, Phil Chang, asked five people who work in different creative disciplines to meet and interact for the first time. Set in a former Los Angeles warehouse turned workshop, the project was—as the title suggests—simple and almost shockingly straightforward. Show up. Stay for 24 hours. Create something. Or don't. There are no rules except for one: stay off social media.Shot on video from many static angles, the filmed experiment was an opportunity to create a space that was free of production for the sake of it. To conjure TBD energy, let's call it.People arrived with cameras, sewing kits, notebooks. Someone arrived having just moved to Los Angeles from New York.... Enzo Mari chairs were built on site. Interviews took place. A shoe was made from an old baseball mitt. Another shoe was sewn together using an upcycled FedEx jacket. There was a photoshoot, lunch—there were long stretches of quiet followed by the kind of laughter that bubbles up after having spent too much time with the same people. There was the sort of laughter, too, that arrives because connection, in person, is joyful. There were guests who visited...with their newborn babies. There was mutual appreciation and the sharing of skills. There was a drone bird that nobody really got the hang of, but even that—the chaos of it flying into walls, people—was sweet to experience. Everyone ducks—all at once—and suddenly, there's a new caliber of energy in the space.As a group, everyone involved in this project is striving not just to grow and excel in their respective industries, but interrogate them, too. These are people who think deeply about the implications of their work, who take the time to tell their stories, and who are recasting what it means .
They are: Jaimie Sanchez, Director and Producer Nicole McLaughlin, Product designer Jin Ha, Actor and Activist Jessica Willis, Stylist Rembert Browne, Writer