Tailor-Made: 8 Writers on the Most Iconic Suits in Film
Power, Sex Appeal, and Dressing the Part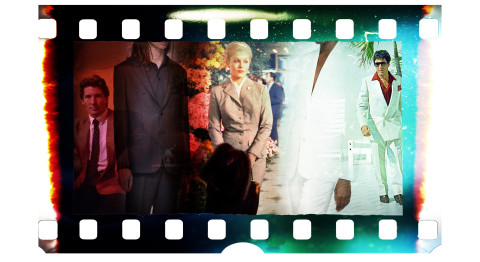 Cinematic suiting has made a full-force return in fashion. The Pierre Cardin Pagoda and roped shoulder suits of James Bond will die another day, thanks to Balenciaga and the red carpet looks of Marc Jacobs. The roomy, double-breasted, dance-friendly suits of Fred Astaire are seen peppered on the runways of Gucci, while the tweedy grays, bone whites, and sandy tones of 80s thriller costuming are refreshed for present day by Acne Studios, Jacquemus, and Lemaire. At NYFW, high drama suiting appeared at Vaquera and Maryam Nassir Zadeh, and even Eckhaus Latta couldn't resist throwing in a few neutral, luxurious takes.
The outfit of power, of courtroom dramas, of Martin Scorsese's American gangster films, and Michael Mann's oeuvre—the suit is a genre of its own. Consider Katharine Hepburn, Marlene Dietrich, Kim Novak, and the look of the burgeoning Strong Female Lead. Whatever the era, whatever the occasion, a suit indicates an enviable level of control, intention, and self-respect. Here, eight writers breakdown their favorite suit moments in film.
, 1997, Dir. Quentin Tarantino
Quentin Tarantino's titular heroine (played by Blaxploitation icon Pam Grier) enters the frame from profile, a moving treadmill carrying her through the Los Angeles Airport. Calm, confident and collected, she is wearing the marine blue suit of an air stewardess: proper, it matches her professional politeness. But her uniform is a costume in another sense: using her job on a Mexican airline as a cover, Jackie has been smuggling money into the U.S. for drug dealer Ordell Robbie (Samuel L. Jackson).When the police unmask her, the suit stays: together with agents Ray Nicolette (Michael Keaton) and Mark Dargus (Michael Bowen), Jackie plans a sting to catch Ordell, a staged money exchange in a shopping mall. Going into a dressing cabin, Jackie tries on a fitted black suit, with a crisp, white spread-collar shirt, before discreetly sliding the money to Ordell's envoy.Before the exchange, Jackie catches herself in the mirror: time stands still as she admires this image of integrity, as though she could be a normal woman, simply shopping. But the moment passes. This new outfit is only another disguise of respectability. Jackie is double-crossing everyone: she keeps most of the cash, and accuses Ordell of having betrayed their deal.In the film's final scene, having successfully fooled both the authorities and Ordell, Jackie can finally be herself. She visits Max Cherry (Robert Forster), the one man devoted to her liberty. With him, she had been quick to drop the suits that trapped her in her professions; wearing nothing but a robe, she had played him some of her favorite records. Before she leaves for Spain, she kisses him goodbye, radiant in a pair of jeans, a white top, and an oversized white jacket. The black suit was sharp, but too constricting for someone fighting to be neither lawless, nor lawful, but simply a free woman.
Little White Lies, the Ringer, the BFI Sight & Sound
, 1984, Dir. Wim Wenders
When we first meet stricken drifter Travis (Harry Dean Stanton), he's in spiritual and sartorial shambles: stranded in the Texas desert clad in a dirt-spackled suit three sizes too big, a shabby red cap, and shoes so worn they're no longer really shoes. He's soon rescued by his brother Walt, who welcomes him into the sleek San Fernando Valley pad he shares with his wife Anne, and 8-year-old Hunter—Travis' estranged son—who the couple have been fostering for years.Travis' first attempt at reconnecting with his son is a disaster. He's rejected when he tries to collect Hunter from school, dressed in a sensible brown shirt and blue jeans. Following a heartrending scene in which the clan assemble to watch years-old 8mm footage of family frolicking—it's the first time Hunter sees proof that this odd, fragile man was once a joyful, loving father—Travis resolves to improve his game.Aided by maid Carmelita, Travis raids Walt's closet for an ensemble that'll make him resemble a real, "rich father." He begins with a natty light gray waistcoat. A sudden, shocking cut delivers a low-angle shot of Travis outside the school gates. The waistcoat has been joined by a soft cotton single-breasted jacket, muted pink shirt, dark brown patterned tie, and a fedora hat that Travis, after some fiddling, transforms into an amusing sombrero/bucket hat hybrid. Light years from the film's opening scenes, Travis is now a picture of dignity and class, laced with a flash of winning humor. Hunter approves, and the pair set out for home, on opposite sides of the street, with Hunter mimicking his father's strides. Bond sealed.Finely balanced between affecting whimsy and stark emotional brutality, the suit scene proffers a complex spin on the old idiom "clothes maketh the man." Hunter's real father has become his real father only by borrowing the suit of his brother Walt, who selflessly played the role of father for half the boy's life. Minutes of screen time later, Travis and Hunter—and the film itself—abandon a distraught Walt and Anne altogether, in search of a new adventure.
.
, 1973, Dir. Robert Altman
For a long time in movies all suits were gray. Some were lighter, some darker, sometimes they got inky, but they all appeared in shades of gray. When color film was introduced, black suits were not the first thing Hollywood thought to photograph. Crime films were in black-and-white because they took place at night, in cities, in a milieu where the shades were pulled down or slatted, and they were cheaper to make. They were brutal, and black-and-white was the medium of documentaries, too, so it seemed more realistic.In Fritz Lang's noir (1953), Glenn Ford wears a funeral suit as he hunts for his wife's killers, but it was in a color Western made the next year, Nicholas Ray's , that the black suit asserted itself as black, black as night in the garish Trucolor used by Republic Pictures, a B-studio. In , a lynch mob departing a funeral descends in V-formation on Joan Crawford at her saloon. Led by the wrathful Mercedes McCambridge, this group of townspeople, each clad in black, comes toward Crawford (and toward us) like ravens. Their blackness has the power and threat of the crows in .In the 1960s the black suit reached its cinematic apotheosis on the hitman characters Lee Marvin played in and . The latter movie's modernism led in the direction of Robert Altman's (1973), in which Elliott Gould plays detective Philip Marlowe in a Raymond Chandler adaptation for the New Hollywood, for the sun-poisoned Los Angeles of the 1970s, not the shadowy 1940s. In , Gould's Marlowe is the opposite of Humphrey Bogart's Marlowe in (1946). The hangdog Gould shambles and mutters, lighting cigarette after cigarette in his black suit, even in the Malibu waves or when he's reluctantly eating a dried apricot. He sleeps next to an ashtray in his suit pants and white shirt, donning his jacket and tie to shop for cat food at 3am.A wealthy writer insists Marlowe remove this "JC Penney tie." Marlowe refuses to take it off, then refuses again when a gangster insists that Marlowe, along with the gangster's henchmen, all strip naked to bare their souls. Altman sets nudity against Marlowe's black suit. This detective's neighbors are candle-dipping hippie chicks who practice topless yoga on the landing of their building. Gangsters and hippies link nudity to truth, but Marlowe's recalcitrance and unwillingness to change (his clothes) are what lead him to the film's white-suited villain, a man who explains to Marlowe that he's a loser for wanting to know the truth, for caring about it at all. Earlier in the film, this man had made Marlowe his chauffeur, typical profession for the wearers of black suits that reappears in Altman's oeuvre exactly twenty years later, in the Los Angeles of . When Marlowe confronts this man, he arrives in what he calls "a golden chariot," a huge, shabby Cadillac with a black replacement door, driven by a corrupt cop. Fashion is like revenge. What goes around comes around.
n+1 magazine. The Earth Dies Streaming: Film Writing, 2002–2018,
, 1958, Dir. Alfred Hitchcock
"I just want a simple gray suit," says Jimmy Stewart's Scottie, perched on the end of a chaise-lounge in a department store fitting room. A ladies' fitting room, with Kim Novak's Judy beside him. A model twirls and catwalks a fashionable cut, cinched belt and scalloped Peter Pan collar. Judy likes it. For Scottie, it won't do. "Judy, I just want you to look nice," he pleads. "Judy, just do this for me."In , nice means desirable, and desirable is demure. The suit Scottie covets is made of stiff wool, comprising a structured jacket and pencil skirt with one central knife pleat and a small, conservative slit. Designed by Edith Head, the jacket features a sharp, notched lapel, cuffed sleeves and five buttons, always worn closed. As per Hitchcock's request, it is the misty harbor gray of a San Francisco fog. At a private auction in 2016 it was sold by Bonhams NYC for $28,750.Scottie has seen this suit on another woman's body. A mysterious, now-deceased ice-blonde named Madeleine, with whom he developed an obsession. Worn with high-heeled black pumps, lavender leather gloves, an hourglass figure and a luxurious fur stole, this "simple" suit appeared glamorous. Yet Madeleine's neat, coiled bun, or the flash of white turtleneck peeking out from beneath her jacket suggested primness, too.This is how he wants her (Judy, that is). Covered. More appealing when more is left to the imagination. More appealing the more she resembles Madeline.Novak famously hated the suit. The gray washed her out; the tailoring felt restrictive. She didn't like the black pumps either ("I don't wear black shoes," she once said). I think of Novak, feigning ease in the suit, and her Judy, also uncomfortable, dressed up as Madeleine."I don't like it," Judy whimpers, of the suit. "We'll take it," Scottie tells the clerk.Red lipstick wiped clean and auburn hair a newly-dyed white blonde, Judy arrives at a hotel dressed in the gray suit. But something is off. She is still Judy. Scottie instructs her to fix her hair into a slicked chignon and so she disappears into the bathroom, re-emerging moments later as ghostly approximation of her lover's dream girl.
The Observer .
, 1980, Dir. Paul Schrader
Never has spiritual sickness looked as stylish as in , Paul Schrader's neo-noir that sees a preening male escort framed for murder. Richard Gere became a sex symbol and full-blown movie star playing Julian Kaye, no doubt in part to the Giorgio Armani costume design. Throughout, he wears a rotating wardrobe of pristinely-cut, narrow-lapel suits, in russet brown and charcoal and cornflower blue.Director Paul Schrader rubs our noses in the excess of Julian's lifestyle; in his wardrobe drawers filled with silk ties, his plushly-carpeted luxury apartment, his lush, pillowy-lipped physical beauty. In one scene, we watch him get dressed, coordinating his jackets and shirts in various arrangements on his bed. The camera climbs up Gere's sun-browned torso as he grooves, singing along to his expensive sound system, deliberating over shirt and tie coordination. There's a pan forward and then backward over his options; not since Gatsby has so much loving attention been given to a man's shirts.Eventually, he chooses a beautiful Armani suit in a color somewhere between taupe and delicate sage green. His leather shoes and socks match perfectly; his tie is a complementary dove gray wool. Julian has sculpted himself to perfection, from his lightly muscled body to the elegantly wide shoulders and trim waists of his Italian tailoring. In a film built around the edifice of wealth, Julian too is a luxury product. He sells himself to elderly rich women in Beverly Hills, and he's top of the line merchandise, adjusting his slim tie in the mirror. takes as its subtext bone-deep malaise and empty materialism. But Schrader's most ingenious flourish—after, perhaps, hiring Armani—is making those material goods as lustily attractive as they are ultimately hollow.
Sight & Sound, VICE, Hazlitt,
, 1930, Dir. Josef von Sternberg
After coming to Hollywood in 1930, Marlene Dietrich's first film was . The gorgeous Dietrich had made an impression on studio bosses in Josef von Sternberg's German-made film as sexy chanteuse Lola Lola. So when the new star appeared in her first cabaret number with not only her legs covered, but wearing a full men's tuxedo, it was provocative.Dietrich, as Amy Jolly, arrives on a one-way boat passage to Morocco, fleeing some unknown tragedy. Her weariness is transformed to nonchalance when next seen backstage at a nightclub, adjusting her bow tie and popping her top hat. This blonde in drag slowly staggers out to jeers from the audience. She doesn't care. She walks up to a table, takes a white gardenia from behind a woman's ear, sniffs the flower deeply, and kisses the woman. She then tosses the gardenia to large and lanky Gary Cooper.The sexiness of the scene is pure androgyny, the constant shifting of power and roles. This scene sets the inevitability of their sexual connection, but also of the eventual tragedy. While Amy Jolly and Cooper's gallivanting Légionnaire Brown are equals in terms of life experience, he will always be the cad and she the fallen woman.This imbalance, this double standard is what Dietrich alludes to in her autobiography, when explaining how the tuxedo became her signature in her later life singing career. (This was a direct inspiration for Yves Saint Laurent's Le Smoking.) Dietrich acknowledged the influence of menswear-donning British music hall greats like Vesta Tilley and Ella Shields. She then went on to write, "If I have often appeared in tails, it was also for the reason that the best songs are written for men."
.
, 1983, Dir. Brian De Palma
"What's he got that I don't have?," Tony Montana (Al Pacino) asks fellow "Marielito" Manny Ribera, looking out from the Cubano sandwich stall at a couple entering the ritzy Little Havana restaurant across the street."Well, he's very handsome, for one thing. I mean, look at the way he dresses, man. That's style. Flash, pizzazz. And a little coke money doesn't hurt nobody."Barely a beat later, Tony ingratiates himself in the world of yayo. Impressing his new boss, he rapidly forays into a life of cars, cocktails, and nightclubs, leaving behind the tropical shirts of a small-time Cuban immigrant for the fitted suits of a Miami highroller.Although he accumulates many, Tony makes his biggest moves in his white suit, the color of the beach, of cocaine, of the faded stucco of Ocean Drive. Heeled shell cordovan shoes, and a peaked-lapel shirt in a deep red complete the hyper-80s picture of American success.In this look, Tony negotiates, hustling in red and white, in blood and cocaine. While in Bolivia, he makes a spontaneous, $18 million dollar deal with a drug lord. Poolside, he tries to convince his boss' wife, the stunning blonde Elvira (Michelle Pfeiffer), to marry him. In the latter half of the film, as his dream starts to sour, as he becomes increasingly drug addicted and out of control, Tony's suits darken. In the film's infamous final scene, the chalk-stripe black suit is a corrupted inversion of the white pinstripe of his idyllic days."In this country, you gotta make the money first," Tony tells Manny, a lesson in picking up girls. "Then when you get the money, you get the power. Then when you get the power, then you get the women." But, of course, you have to get the suit at some point, too.
SSENSE.
, 2000, Dir. Wong Kar-wai
Tony Leung Chiu-wai looks good wet. The internationally adored leading man (who grew up a quiet and ashamed child in a single parent home in Hong Kong—divorce was unheard of in those days, as he tells it), gets caught in the rain twice, as Mr. Chow, in Wong Kar-wai's finely calibrated tale of adultery, . The first time is for cool points, during one of the film's sensual, slow-motion noodle-runs; the second breaks your heart.If, as the critic Li Cheuk-to has argued, the tight qipaos of many patterns worn by Maggie Cheung Man-yuk allow for passion to intrude in this otherwise restrained masterpiece, Leung's clothing represents the ever-orderly facade: the expertly tailored suits Hong Kong is famous for, in black and gray; the gold tie clip; the keys he wears on a thin chain hung from a belt loop, just to the right of the buckle.Mr. Chow's suit never looks better than when it's dappled dark with rain, outside the underground noodle shop. Just a little mucked up, he smokes a cigarette, its cherry the brightest spot in the moment. Later, near the story's end, he finds Mrs. Chan taking cover from a sudden storm in an alley near their apartment building. He stares at her, wanting; she won't return his look. Vulnerable and open, he's soaked through his jacket and shirt—you have to imagine the thin white fabric going sheer against his skin—but he's only interested in taking care of her. His own comfort is now a lost cause.After having met during a hectic simultaneous move into their cramped multi-unit flat, Mr. Chow tells Mrs. Chan, "I'll leave you in peace." Like shuffled mahjong tiles, the two couples' belongings are mixed up by the movers, foreshadowing the melancholy spouse-swapping to come. Befitting the upstanding man he strives to be, clad in his neat gray suit, his language feels polite, a stiff set phrase issued automatically. But his words accumulate meaning in the wake of their brief, self-sabotaged love. Sometimes I think that "I'll leave you in peace" should be the guiding principle for all romantic entanglements when they end—it is perhaps the only promise worth keeping.