The Almost Definitive History of Reebok Classics
Gary Warnett Chronicles How Subculture Created a Sneaker Giant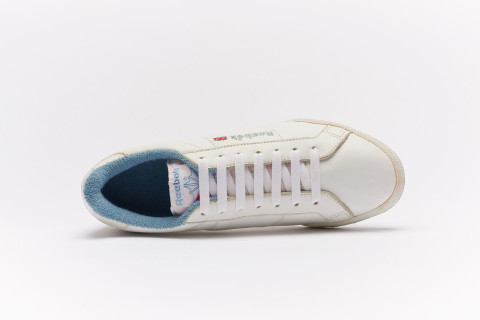 Behind the selection of Reebok Classics sneakers at SSENSE, there are multiple subcultural narratives that span decades. It is a story that begins in 1895, when Joseph William Foster founded J.W. Foster & Sons, a small-scale brand based in the north of England. His sons took over the business in the 1930s, before Jeff and Joe Foster Jr. left to form Mercury Sports Footwear in 1958. Mercury initially created cycling shoes, but when they could not register "Mercury" as a patent, a dictionary browse brought a speedy South African gazelle to their attention. Reebok was born.
Inevitably, the freshly renamed company entered the running market. After exporting overseas, its innovative breakthroughs like 1969's orange suede World 10 became real runner's favorites. In 1970, Ron Hill won the Boston Marathon in a pair of Reeboks, and their distinctive stripe branding became familiar as new export deals were put in place. When an American camping wholesaler named Paul Fireman approached Joe Foster at the National Sporting Goods Association trade show in 1978, he secured exclusive rights to distribute Reebok in the United States, Canada, and Mexico. That deal also included creative input based on consumers in these territories. Initial growth was slow, as the early 1980s became a battlefield for intense competition in the sportswear industry. adidas and Nike competed with new technologies, from removable pegs for custom support to encapsulated air that provided a new—and costly—form of cushioning. Their running-centric, masculine business models failed to capitalize on a booming women's aerobics industry.While some dismissed these energetic group cardio and stretch sessions as a passing gimmick, Californian Reebok sales rep Angel Martinez saw pure potential, and a shoe to match: a supple design in stretch glove leather with a nylon backing and terry towel lining, specifically for women. Released as the Freestyle in 1982, the shoe was an immediate hit in both Lo and Hi forms, complete with double-Velcro strap ankle support. It was particularly timely. The VHS series helped turn aerobics into a billion dollar industry by the mid-1980s.
This was also the decade of body beautification. With an explosion of health club openings, the classification of a multi-activity mode of cross-training emerged alongside a growing population of jogging disciples. Yuppies had expendable income, while the new celebrities were a muscled and hard-bodied bunch. Reebok retained its commitment to hardcore runners, but its garment leather builds created their own sub-category. What about the casual athlete looking for something that blurs fashion and performance, for a normal price? It was a sweet spot for a brand to position a significant chunk of its product in, and by the time other brands could launch their response to the Freestyle, it was too late.1983 would be the year that Reebok introduced a single-strap men's version of the Freestyle called the Ex-O-Fit, as well as a running shoe called—rather ambitiously—the Classic Leather. This garment leather reinterpretation of true performance favorites like the Aztec defied the market's shift to suede and lightweight nylon, with a style-conscious, unisex audience in mind.
Somewhat paradoxically, having specifically requested to have the Union Jack on new models just a few years prior, Fireman would make Reebok an American company when he purchased the hugely successful brand from the Fosters in 1984. That same year, Reebok introduced the Workout Lo and Workout Mid for multi-purpose gymwear. Designer Edward Lussier and the team applied a unique H-shaped support strap to the shoe for a custom fit that became iconic.In 1985, the Newport Classic shoe (renamed the NPC in recent years) expanded Reebok's pristine aesthetic to the tennis courts as the game's modern stars, Boris Becker and John McEnroe, popularized its footwear on the streets. Tennis' dress codes demanded a level of minimalism that Reebok's bestselling output answered. After the Newport Classic line's debut, the Revenge Plus (later renamed the Club C) built on those designs with a club favorite that, once again, became a bestseller with casual athletes.
When Reebok superseded Nike to dominate in domestic athletic shoe sales in 1986, a growing blood feud intensified. It was here that technology became a selling point, twinned with aggressive marketing and trash-talking commercials. The days of visible air and pump-to-fit shoe additions were on the horizon.White Reeboks had long resonated with some key figures operating on the wrong side of the law. In former Harlem hustler Azie Faison's memoir , the author makes a point of mentioning deceased street legend Rich Porter's preference for fresh-out-the-box, white-on-white Reebok Classics. When the infamous NYC mob boss John Gotti surrendered himself to the authorities in 1986, he opted to switch shoes to put on a pair of white NPCs.With gimmicks, an abundance of neon colors, and a lot of big-budget noise invading the industry, it should have been the end of Reebok's 1982-87 garment leather rollout. Crazes passed, the Freestyle's sales slowed, and Reebok's reign in sales would fall behind Nike once again. It would fall to a handful of subcultures operating with no official brand endorsement to keep the Workout and Classic alive in the coming years.
For Europeans, a clean pair of Reeboks has long been an everyday accessory. Ideal with jeans or a full tracksuit, they are true streetwear. The shoes are a challenge to keep pristine, but recession-proof enough to replace. If youth cultures operate in their own lanes, shaped by local conditions, laws, slang, and what's available in the shops, they are united by a quest to dress cleanly in difficult circumstances. When all eyes were on New York as a hip-hop epicenter, other ignored territories were wearing Reeboks on their own terms. It sounds improbable in 2016, now that the trap sound is prevalent enough to infiltrate pop, but New Orleans' music output remained regional but profitable in the late 1990s. Slain local hero Soulja Slim mentioned Reeboks regularly. The Workout Mid—preferably with an ice sole—was nicknamed the "Soulja" and celebrated in titles like "Souljas on my Feet." The Hot Boys, an early Cash Money Records supergroup including a young Lil Wayne and Juvenile, frequently name-checked Souljas and abbreviated Reebok to "Rees."Around the same time in the UK, dance music shifted from hardcore and jungle into a mutant house strain with soulful choruses. The work of American producers like Armand Van Helden and Todd Edwards, plus swaths of British bedroom musicians like M.J. Cole, led to the UK garage sound, which settled into an unorthodox two-step rhythm by the late 1990s. Unlike the roughneck attire of previous scenes, UK garage's mixed dance floors meant dressing up in Moschino, Iceberg, and crispy footwear mattered. Reeboks became part of a British uniform that wasn't confined to London, regardless of the much-hated "NO HATS, NO TRAINERS" pub and club rules. Garage would ultimately spawn grime, where a tracksuit took the place of slim-fitting denim and a printed shirt. But Reebok—with a newly launched Classics division catering to a new appetite for retro footwear—still held its own, with icy Workouts worn by scene pioneer Wiley and Streets frontman Mike Skinner.
The Classics line's legacy is reflected in recent collaborations. Palace's Classic and Workout follow a lineage of local pride in Southbank style, with skater Reese Forbes wearing Classics, Stevie Williams' mid-2000s DGK Workout signature model, and the Club C's brief moment as the shoe of choice in the scene. West Coast phenomenon Kendrick Lamar continues the hip-hop patronage of white leather Reeboks. Gosha Rubchinskiy's Ex-O-Fits and reworking of 1984's Phase 1 tennis shoe take it back to the aspirational time when Reebok hit Russia and made its mark years before Nike arrived.With snobbery overruled, there has been a realization that the Classics line's role in underground movements is making significant steps aboveground. Paul Fireman and his team's early 1980s risk-taking is still paying dividends. Reebok's organically occurring roles in divergent subcultures happened through accessibility rather than any attempts to crassly force-feed the shoes to an influential audience. Younger brothers and sisters, nephews and nieces, and sons and daughters all witnessed the Classic's role as a status symbol on older feet, ensuring that the legacy continues. Straightforward looks defy a specific era. This is proven by a shoe like the Workout, Club C, or Classic, which are simple surfaces on which to project the spirit of the times. This is how a shoe attains immortality.