User Experience: Eckhaus Latta's Los Angeles Store
How to Turn a Hive Mind Into a Retail Space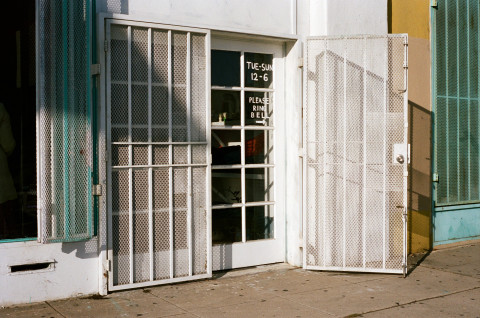 People will continue to go to museums and galleries to see art in person so long as light can emit from oil on canvas in a way no photographic technology can capture. The same can be said for shopping in real life and shopping online. There is an irreplaceable experience to materiality—to the look and feel of porcelain, angora, plexiglass, flower petals, and paper—and it is this sensitivity that bicoastal American designers Eckhaus Latta work with in their Los Angeles retail shop.
The brand's sole physical store is photogenic, like their collections, but what inspires its return customers is the living texture of the space. The clay-tiled floors come in miscellaneous grids like an Agnes Martin work. Fine window grates cast fish scale shadows along the white walls. Matthew Lutz-Kinoy's Promethean-in-pink felted painting is like one of our desert sunsets. Two copper clothing racks are grounded in mock crystal weights, like heavy cuts of amethyst (it's actually painted concrete, made by Riley O'Neill, Latta's fiance). The shop is filled with local flora. Once or twice a month, Sophia Moreno-Bunge of Isa Isa, replenishes the shop with her bouquets. Allium, anthurium, birds of paradise, foraged citrus on the branch, gloriosa lilies, magnolia, fig branches, poppies, and smoke bush. Her assemblies tend to be wild and asymmetrical, sometimes somber and even lewd. At Eckhaus Latta, Moreno-Bunge is encouraged to experiment.
This is how Mike Eckhaus and Zoe Latta treat all their collaborators. Once invited in, they are given free reign. I know because I supply the books. Ready-to-read by Hard to Read is "a diffusion line," a spin-off of my local reading series, Hard to Read, hosted at The Standard Hotels. Ready-to-read consists of thematic collections of books presented alongside the fashion-seasonal calendar. "Pre-Fall 2017" was our first collection. "Couture" will be art books. The bestsellers, so far, have been Octavia Butler's , Gary Indiana's , and by Juliana Huxtable, who often models for Eckhaus Latta. The books provide an excuse for events, the most recent of which was a launch for , curated by Eckhaus Latta this season. Stacks of the publication remain on display alongside select others like the epic and satirical , academic , and futurist .
If you are trying to find the shop, it recently moved five miles from Little Armenia/East Hollywood, where Eckhaus, Latta, and their go-to architect, Emma Price, had transformed a former medicinal marijuana dispensary into a sunshiny cave for clothes. Now on West Washington Boulevard, a quiet thoroughfare perpendicular to many homey residential streets, the shops signage, like that of its neighbors, is low-key. You'll know you've found it if you see a peeling sign that barely reads "UPHOLSTERY," above an intricate white geometric façade. The façade is titled "Vibe Compression," and it's a site-specific installation by artist Cayetano Ferrer, a relic of the storefront's last leaseholder, Michael Thibault Gallery.A hand-painted windowpane directs you to the doorbell. Ring it, and unless there's already someone shopping, one of the all-female staff will emerge from a thick curtain to let you in. Behind the curtain is a working studio fit with walls of yarn, knitting and sewing machines, a few desks, and a back-season archive. Eckhaus Latta knits are made in-house in the studio, then they're shipped all over the world, or else walked a few strides and hung on copper rods. Between their own garments, many of which can't be found on the e-shop or in any other store, you'll find artful wares by Come Tees, Susan Cianciolo, Election Reform! by Brendan Fowler, and more. Jewelry made in collaboration with Zoe's father and brother is displayed in plexiglass tubes, and propped around the shop is Camper x Eckhaus Latta footwear. All of these designers share Eckhaus Latta's material sensibility. It's a small, intricate shop, worth attending-to like an art-piece (the finish on their register desk is like fleshy slime, and the dressing room like a plant-womb, green and tubular). Except here you can touch and try things on—and it's recommended that you do. Eckhaus Latta's clothes come to new life on the body.
It's almost too L.A. to say, but one of the greatest things about the store is how easy it is to find parking. Whereas before, Eckhaus Latta neighbored a cornflower blue Church of Scientology and a Self-Realization Fellowship temple, now they're near another kind of place of worship. From their new shop, you can walk to three contemporary art galleries: Ochi Projects, Shoot the Lobster, and Kristina Kite. Karma International—another gallery exhibiting members of the extended Eckhaus Latta family, is also nearby. And then there's my personal favorite, The Underground Museum, created by artists Noah and Karon Davis. Like Eckhaus Latta's shop, the Underground Museum doubles as a community center, with a backyard garden, regular talks and screenings, and a genius bookstore.Eckhaus Latta have always created alongside the art world, presenting runways in art galleries and collaborating with visual artists. They print paintings on textiles and are collected by curators and their store reflects this. Whether by asking their friends and family to model, or by sharing their floor with independent designers, the community they foster is one of the most alluring and unusual things about them. It is also essential to their success. For six expansive years, Eckhaus Latta have remained inventive, in large part because they work graciously with what (foraged vintage fabrics), and who (artists like Bjarne Melgaard), is at hand. Zoe Latta estimates a minimum of five friends and family from their extended creative community pass by the store every day, lending the space an infectious collective energy. When you visit, it's likely you'll get a glimpse into their world, where relationships are treated with the same reverence and delicacy that makes object into art.