Vibram's Rubber Soul
Melvin Backman Wants You to Know About the Prestigious Logo Seen on Every Shoe, From ROA and 1017 Alyx 9SM to Margiela and Random Identities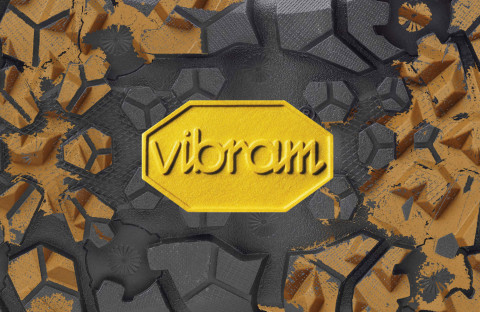 I am the kind of person who is hard on my things, and I would not describe myself as particularly graceful. So, six or so years ago, when I bought a pair of longwing bluchers—Florsheim x Duckie Brown—that purchase was doomed from the swipe of my debit card. I was wearing a lot of sneakers then, and I needed some dress shoes for a summer internship in the city; the strips of grey, perforated leather secured my approximation of adulthood. But those bluchers had leather soles. I tried to be gentle, wearing them once a week, twice at the most, but every walk to work greeted me with an unsettling crunch crunch crunch, every turn on the sidewalk a , muffled perhaps if it had rained. (I wore them in the rain.) When I went back to school that fall, my longwings had gotten the life scraped out of them. I made a mental note that me and leather soles and city living were not compatible, and I resigned myself to a life of rubber.
Enter Vibram, which makes rubber soles, and whose yellow octagon logo is a subtle, yet recognizable symbol for quality. The company manufactures tens of millions of pairs of rubber soles a year, and has been doing so since 1937. In college, I got a pair of crepe-bottomed desert boots resoled with some thick, white, #menswear-y Vibram Christy soles. They lasted longer than the rest of the boots did. The guy I go to for resoles now uses Vibrams, has been for 30 years—"best soles in the business," he tells me. For about 20 of those years, Vibram has been collaborating with fashion houses: Comme des Garçons Homme Plus Wingtip Brogues, Margiela Security Sneakers, Dries Van Noten Derbys, Random Identities Worker Boots. My shoe guy showed me a pair of Pradas he was working on the last time I went in, residue of Miuccia's early adoption.
The first Vibram soles went on the bottom of mountaineering boots. Before that, hikers would jam hobnails into their soles in the hopes that it would help them grip the ice they encountered at high altitudes. But hobnail holes make for poor insulation, and they often hindered mobility in freezing conditions, which is how six of Vitale Bramani's friends froze to death in the Italian Alps. Saddened, Bramani set about designing a rubber sole that could better insulate feet from the cold. Vibram—Vi(tale) Bram(ani)—was born! Lawrence Anastasi, the company's US head of sales and marketing, told me that mountain-climbing and outdoor are the company's strongest markets to this day. In Japan, the customizers at Recouture have made a name for themselves adding a Vibram chunk/clunk to everything from Air Force 1s to Vans Slip-Ons, showcasing their sneakerhead hybrids to 42,000 avid Instagram followers, but the most widely proliferated examples of Vibram's handiwork might be the sole on Timberland's 6-inch construction boot, its lugs as much a part of its iconography as its padded collar, its gold eyelets, its honey nubuck. It's supposed to be a tough, go-anywhere shoe, sturdy enough to accompany Biggie Smalls to hell. (Virgil Abloh did his three-percent thing with a pair of Timberland 6-inch boots, his Off-White collaborations rendered in velvet. All that toughness for naught.)
The U.S. military loves Vibram as much as fashion houses do, and Vibram does a solid business outfitting American troops. It makes sense. Vibram produces good, tough soles that don't kill people in hazardous conditions: Mountain-climbers, soldiers. Mountain-climbing soldiers. There are tactical urges afoot—straps and pockets are everywhere these days—which are most pointedly evidenced by the work of designer Matthew Williams' 1017 Alyx 9SM, which frequently features Vibram branding. "Vibram is timeless quality and function," Williams told GQ last year, a lesson he picked up from hiking shoes he wore as a child and a decade-old pair of Nom de Guerre x Russell Moccasins safari boots. The latter's non-fashion co-signs lend an air of authenticity that draw in designers seeking to tap into something less frivolous than the runway. Its yellow logo peeks out from the bottom of 1017 Alyx 9SM sock-boots and trainers alike; for Williams' own label and in a collaboration with Nike, he enlisted Vibram crampons to drive home his warcore cosplay.
In 2019, the high fashion market is all about collaboration: it allows brands to augment the goodwill they've gathered, or failed to gather, with the goodwill accrued by another brand. The more unexpected the better. Rick Owens x Birkenstock. Louis Vuitton x Supreme. Dapper Dan x Gucci. But before there were collaborations, there were sub-contractors, whose brands were enlisted to provide functionality and a sheen of seriousness. Like the capital-c Fashion Collab, they provide reputational augmentation, and as a byproduct of that augmentation, these sub-brands often acquire fame in their own right: That's how you get Big Boi purring "YKK on your zipper" or George Costanza chirping "it's Gore-Tex!" Though bringing in an outside manufacturer might be more expensive than just making something in-house, Enrique Corbi, the senior men's design director at Ugg, laid out the appeal of subcontracting a Vibram sole. He's been working with them since the early 1990s—through stints at Lacoste, Wolverine, and his current gig—and though Vibram soles cost more than their competitors, it's a cost that companies are willing to front and customers are willing to swallow. Enlisting another posh military icon, he told me: "People drive Mercedes G wagons, and they get the AMG version, the G63, with 600 horsepower. Who needs 600 horsepower in a car? That car is essentially equipped to go into the most extreme conditions anywhere in the world, whether it's going through water, snow, or mud. You can climb mountain roads in those cars. Yet people use them in the city center, to go and buy their groceries. Vibram is exactly the same...If you can afford it, it feels really good knowing you have something so 'performance' on your feet."
The New Yorker, Garage, GQ, Spook.