Wearing Your Greens with Cabbage Fashion
Why Designers Like Molly Goddard, Versace, and Balenciaga Are Going Leafy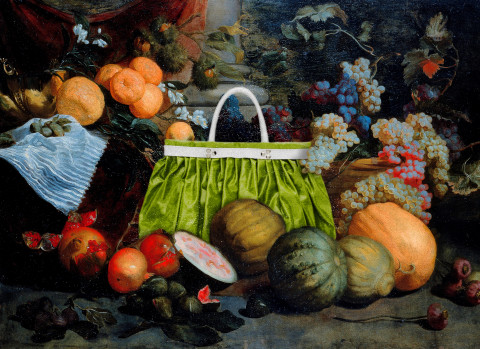 At the Molly Goddard SS19 presentation, I took a photo of a model clutching a vegetable. I later posted the photo to my Instagram story with the caption: "i forgot i took this picture of this model holding lettuce.""It's cabbage," an editor friend responded. I felt embarrassed. Of course it's a cabbage. "Isn't cabbage a type of lettuce?" I asked, ashamed. It isn't.Set in an imagined market filled with stacks of fruit boxes and milk crates, Goddard's runway showcased ruffled dresses, bunched so as to look vegetal. A prime example: this brownish-olive dress, overflowing at the bust and descending, heavy with layers of fabric. Goddard's Green Amelia Bag—a top-handle purse with white leather cinching—is slick in a serious green, like a crown of leaves left to boil for too long.
Yuhan Wang at Fashion East, in that same city and season, was equally green-thumbed. Silky layers of pink, white, and blue, fever-dreamed their way down the aisle, evoking the hazy bourgeois yesteryear of a Watteau painting—something you'd wear in a garden, but to hold a champagne flute, not a trowel. There were the dresses, of course, some wrapped in emerald—and fern—and kelly-colored sheathes, like crepes of ivy coiling about bodies, climbing like live vines up a fake column in an English garden. Bonnets appeared in pale lime, but the shoes in particular swaddled the models' feet like leaves growing up from the earth.Cabbage may seem modest today, but its cultural history is anything but. Diogenes reportedly ate the plant exclusively and Captain Cook kept sauerkraut on board his ship to fend off scurvy. The Romans thought the plant couldn't be grown close to grapevines without causing them to rot, and because of this cabbage was thought to be a hangover cure, or, according to Cato, the perfect meal before a night of indulgence to prevent the consequences altogether.
Caesar's armies used cabbage leaves to bind wounds. The assassinated Ottoman Emperor Sultan Selim III, in a poem, said no Helva party could be had without it. It's long been a global staple: colcannon, bubble and squeak, bigos, kimchi, curtido, coleslaw, suan cai—infinitely versatile, the green has traversed the earth for millennia, and is perhaps as, if not more, pervasive than dairy, rice, or wheat. Ubiquitous and open to many uses, cabbage is, above all, practical.Practicality is in general, antithetical to luxury, and even, perhaps, to decoration. Especially in the West with the vegetable's associations to the peasant food of Eastern Europe and the British Isles, the lowly cabbage has little sex appeal. It's simple, salt of the earth kind of stuff. No bitter arugula, or sharp kale, begging to be worked over, massaged with oil and lemon; it is not a power green, the sort of masochistic thing that forcing yourself to masticate makes you better than. It's not an Avocado toast, spirulina powder, green juice, Sweetgreen, green is good type of green. Baby spinach fuels you at Equinox, cabbage fills you back up at grandma's.
Still, the cabbage is trending, and not just on the runway or the layered limes of Issa Rae's recent Essence feature. The plant in question is, according to one report, an "up and comer." That same report lists also another popular leafy green derivative, CBD. Soon perhaps boiled cabbage, too, will be a big seller at sans serif–typefaced health-conscious fast casual chains. Souen's legendary Soho location may be closed, but at New York's younger, celebrity-lite restaurant Dimes, there are already "Earth Tacos" incorporating the leaf in question. No vegetable is more or less of the earth than another, but we've alienated ourselves from our planet, and in the process, made our food alien to us. Once a third of the U.S. lived on farms, now less than 1% do. Snacking on muted roots and leaves has all the nostalgic joy of a fireside re-reading of a Brontë novel, those well-heeled sisters who likely never set foot in a field either.Why this fascination with the hardy thing? A recent study suggests that U.S. shoppers over 59 are nearly twice as likely to buy a cabbage than the under-39 crowd. But this is precisely the appeal of the plant as a visual motif. It's a return. Maybe to heritage, maybe to bygone time, or more directly, to the soil. If a single label had to be chosen as the mascot of this cabbage revival it would likely be Batsheva, that brand so inspired by (ultra)orthodoxy. Their dresses embody modesty glowed up, with a price tag to show it. Sandwiched between two characteristically homey-luxe dresses on the designer's FW19 runway was a green-and-white–striped number, typical high collar with ruffles, a little fabric flower on the matching hemline. This skirt reveals: opening with crinkled edges like the mouth of a cabbage head. How honest. The dress appeared to be paired with white Reebok Classics and tube socks. In his still lives, van Gogh paired his cabbage with wooden clogs, and maybe Danskos would do, but Batsheva's Upper West Side buyer wouldn't want people to think her so serious, nor would she want her feet getting sore on a lunchtime paleo grain bowl retrieval, no doubt complete with red cabbage for contrast.
Maryam Nassir Zadeh has rendered leafy forms in her Green Glory Dress, but its cotton-blend is a bright, synthetic "lemon green." Balenciaga's padded robes embrace with all the comforts of a cabbage wrap, but in a blue-green so unnatural. And there are other strange greens: Riccardo Tisci's faux-alligator pumps released in advance of his first Burberry collection in a pale pistachio; pea green Versace; actual peas in Moschino's nostalgic TV dinner kimono; radioactive chartreuse Christopher Kane bags; green silks from Sies Marjan, electric and sick; or the Easter pastel rebirth of Tibi's "crispy" mesh polo, the new-beginning green of Collina Strada's tie-dye Ritual dress. Earth-loving Hippies resurrected. It's Woodstock's golden anniversary, after all. We're living in a Green New Deal moment and we've got the palette to show it.But in a GMO era there are always new hybrids on the market. Rombaut's athletic slides, deep green soles with panels of lettuce where the stripes should go on an Adidas Adilette. They come packaged in clear plastic like vegetable bags, and their label exclaims "SUPER GREENS!" Rombaut's shoes are vegan, made of plant-based materials. Certainly I don't think we should suspect the shoes of saying they are salad, but in pointing out the absurdity of these one-to-one material readings, making light of our alienation by paradoxically reducing and enhancing it, Rombaut demonstrates the uneasy relationship between simulation and the real. Lime green doesn't look a thing like a fruit and you can't snack on a "vegan shoe." No one puts on loafers and expects to look down and see a cow.What's at stake in all these homey vegetal clothes is not precisely nostalgia, not honesty, nor even simplicity. There is nothing simple about so many bunches of fabric. Maybe it's comfort, but even more so it's probably authenticity, that difficult word that, overanalyzed, always winds up falling into itself. Sometimes I think authenticity's earnest promise is little more than comic impossibility, much to my therapist's frustration. But when truth is as processed as food, there's little more consoling than the labeled lie of "100% natural." Cabbages are real and we—so used to faking it, so accepting of un-fixedness, the mutable and distributed nature of our identities—we want real.