How to Wear Sandals "Like a Man"
Michael the III on This Season's Footwear, from Gucci to Ganryu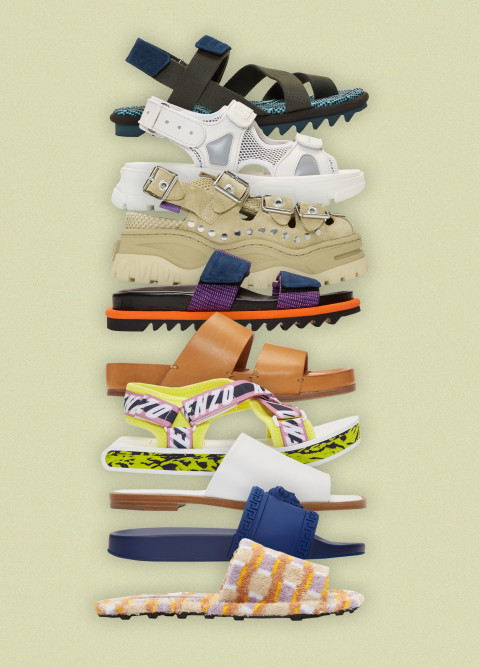 On the subject of men's feet I have been admittedly apathetic. When they're in sandals, however, I'm a devotee to the highest degree. Sandals are, you see, the most flamboyant category of all men's fashion—second only to hats, given their likelihood of feather embellishments. With categories as beguiling as thongs (c'mon), flip-flops (such an onomatopoeia!), sliders (I support anything that connotes miniature food), and mules (who doesn't love interspecies love-children?), men's sandals have a strong foothold on me, they're my heart and sole, they've swept me off my feet. If that weren't enough, there's no sensation more deliriously gratifying than the precious flow of wind between one's toes—at least, none I'd care to mention here.
But what exactly is a ? Whatever it is, it seems to garner attention from both advocates and adversaries. When critics of sandals are not lurking in the shadows, they are vocal and well-documented. Fran Leibowitz, writer and noted critic of well, , told in 2012, "You know what—I have to say that in the case of sandals, I feel equally against them, men and women. They're worse on men." Thom Browne, an icon of men's fashion, once declared, "I would never say never, but I don't wear sandals." Tom Ford told that sandals in the city drive him crazy. Justin Theroux told Amy Sedaris in that sandals bum him out, and if you thought that was a rather tame remark, he added, "anything that exposes a man's feet is …" His sentence lingered, incomplete, but I knew what was to follow.—did Justin Theroux know anything at all about sandals? Though they were not destined to get a foot in the door of modern men's fashion until the 1960s, humanity's first shoes, according to the oldest ever found, were actually sandals. An entire stock of them were discovered in the middle of Oregon (what they were doing there I do not know, perhaps they belonged to an antique shoe fetishist, or the owner of a prehistory Sandals Hut™, or they might simply be the lifelong collection of a regular old—no, —Carrie Bradshaw). The 13,000-year-old sandals were fashioned from woven sagebrush and date back to a time when Planet Earth had just experienced an unanticipated (I'm sure) period of global warming—the good kind, at least for humans—which welcomed the first civilizations, agriculture, cattle-rearing and most significantly: sandals. That is to say, sandals are classic footwear of humankind: dusty toes be damned!When I wear sandals, they appear alongside gold toe-rings and anklets fashioned from delicate, decorative chains, because even feet deserve accessories. When onlookers observe my fashion forward toes, I give them a wiggle, my pedal wink. I tend to like attention. I prepare my heels with a moisturizer of my choosing or more effective still, the foresight to exfoliate. The nails are trimmed back, a task no harder than what is performed for the hands, and when the digits of the foot are not covered by the sandal itself, I comb their delicate hairs forward, though you may slick it back with a bit of gel, tie them into petite ponytails or be edgy and buzz it all off, whatever you desire.Today "for men"—specifically this season, which is how I choose to tell time—we have chunky, action-packed sandals such as the Gucci Black Tinsel Sandal, whose lines, athletic straps, colors and materials recall a sneaker, only far sexier with flesh-baring cut-outs. There are the exquisite sandals of Fumito Ganryu in materials like "transparent tube." There are sandals with hard, sharp treads and soft color palettes—such as those by Dries Van Noten. There's grace in the smooth, black wave of a Rick Owens sandal embracing a foot. And if it's mere airflow you seek, there's the Eytys sandal—with clunky heels, noticeable straps, studs and all, it boasts every hallmark of their oeuvre. There's just a bit less of it in certain places. For those more modest than I, the patent, full-coverage sandals Maison Margiela has created in white or black, offer near-full Prince George coverage. They're the type of elegant sandal one imagines Cary Grant to have worn in his infamous 1935 poolside photoshoot with "roommate" Randolph Scott: all big smiles and abundant gaiety.
It frightens me, though, to consider myself—or anyone in 2019—an arbiter of "men's trends" in the traditional sense. Whatever happened to the precious little boy in his mother's tube top? If he's not careful, he'll soon be crafting an opinion on cufflinks, ranking basketballs in his spare time. Suddenly, he'll be re-organizing ankle socks in his sleep, in a strange room, awoken only by his own mutterings on the subject of leave-in beard conditioners, dim moonlight reflected in his eyes. Is he more or ? Is there even a difference? He'll soon know.And yet, if men's sandals exist—which I think they actually do—it presumes that there must be a manly way of wearing sandals, which I think there isn't.To wear sandals , you must hold in your possession a minimum of one sandal. It also will help to be human. If you are not human, you might still wear sandals , though you'll have a harder time at it. If you are a fish, it'll be nearly impossible, and anyway not all sandals are waterproof. Birds of larger varieties may find success, so I'm warning you now to beware of falling clogs. Should you be a crested macaque—or any other primate—it may be no trouble at all to wear sandals , but by design homosapiens will have the likeliest of chances. Having affirmed your humanity (do this by pinching yourself in a mirror whilst reciting poetry of your choosing or, simply refer to your certificate of authenticity) and a readiness for wearing sandals, you must then attach them to your personhood by whatever means necessary: laces, buckles, straps, bows. A flat piece of leather lacking none of the above is hardly a sandal, let alone a , silly. Lastly, you'll need to keep them on for a decent amount of time. Let's just say: no less than one minute. That concludes .At this very moment you may be noticing its equivalence to wearing sandals , wearing sandals , wearing sandals , wearing sandals , wearing sandals , wearing sandals , and so on and so forth.As a category, and according to our critics from earlier, men's sandals are frequently regarded with disgust. Perhaps in some cases, it's deserved. Most often, it's judgments on the state of one's foot or more foolishly, one's masculinity. Of seeing Jay-Z in sandals, DMX once declared, "Thugs don't do flip flops … I'm never that comfortable, not even in my own house." What a pity. My barista, who is 38, single and totally gay, told me if he were in a relationship with a man in sandals he'd cut them to shreds. What a catch. And this from a person who believes I'm called "Michael the Turd." Perhaps it's time I start brewing my own coffee.Men's sandals are any type of open-concept shoe crafted for a foot between 8 to 18 inches in length. This may fit a male foot, or not. A male foot may also fit into women's sandals and you may also not ascribe to any of these categories and still wear men's sandals. There are no rules here. Just please, clip your toenails.
Gayletter, Document Journal, THEFINEPRINT